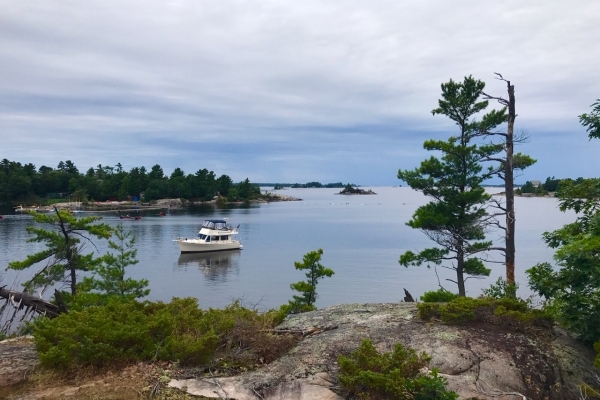 Feature Story: Sailing the Great Loop // 2018
Published by
Kayleigh Ebenrick
on December 31, 2018
Seniors traveling and having adventures like sailing 'round the America's Loop? Seems like a crazy idea to some. However, members of the Evergreen Bed & Breakfast Club think otherwise. We hope you enjoy this special article about Evergreen members who are staying true to the club's mission to express ageless activity, no matter how many years have passed.
Evergreeners Mark and Lynn Prebble sail the America's Loop
From what Lynn Prebble writes, it sounds like the trip of a lifetime. In a letter recounting their adventure, Lynn wrote, "Cast off!!! The cheers went up from our Evergreen Club host in New Smyrna Beach Florida as we started our Great Loop trip on a boat from Florida, up the east coast and Hudson River to the St Lawrence Seaway, across Canada via canal systems and the Great Lakes, down the River systems including the Mississippi, then traveling back around to Florida across the Gulf of Mexico. We even watched a rocket launch from our boat at Merritt island!"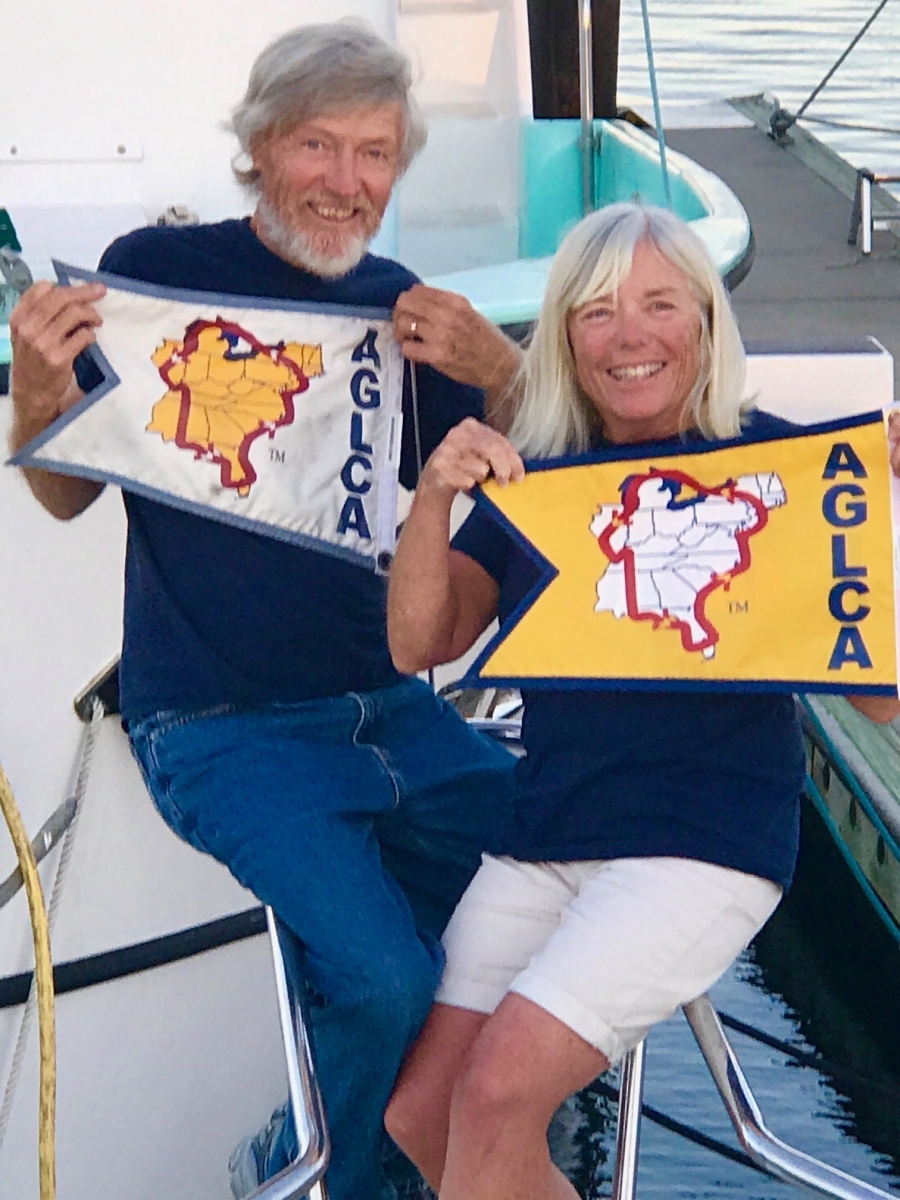 As you can see, the gold burgee (flag) means they completed the loop! Quite the accomplishment! It took them a year... and we hear they made good time!
Kayaks and collapsible bicycles allowed them maximum freedom to pursue anything of interest they saw along the way. They could go on mini-adventures within their larger adventure! Imagine that... just exploring for an entire year.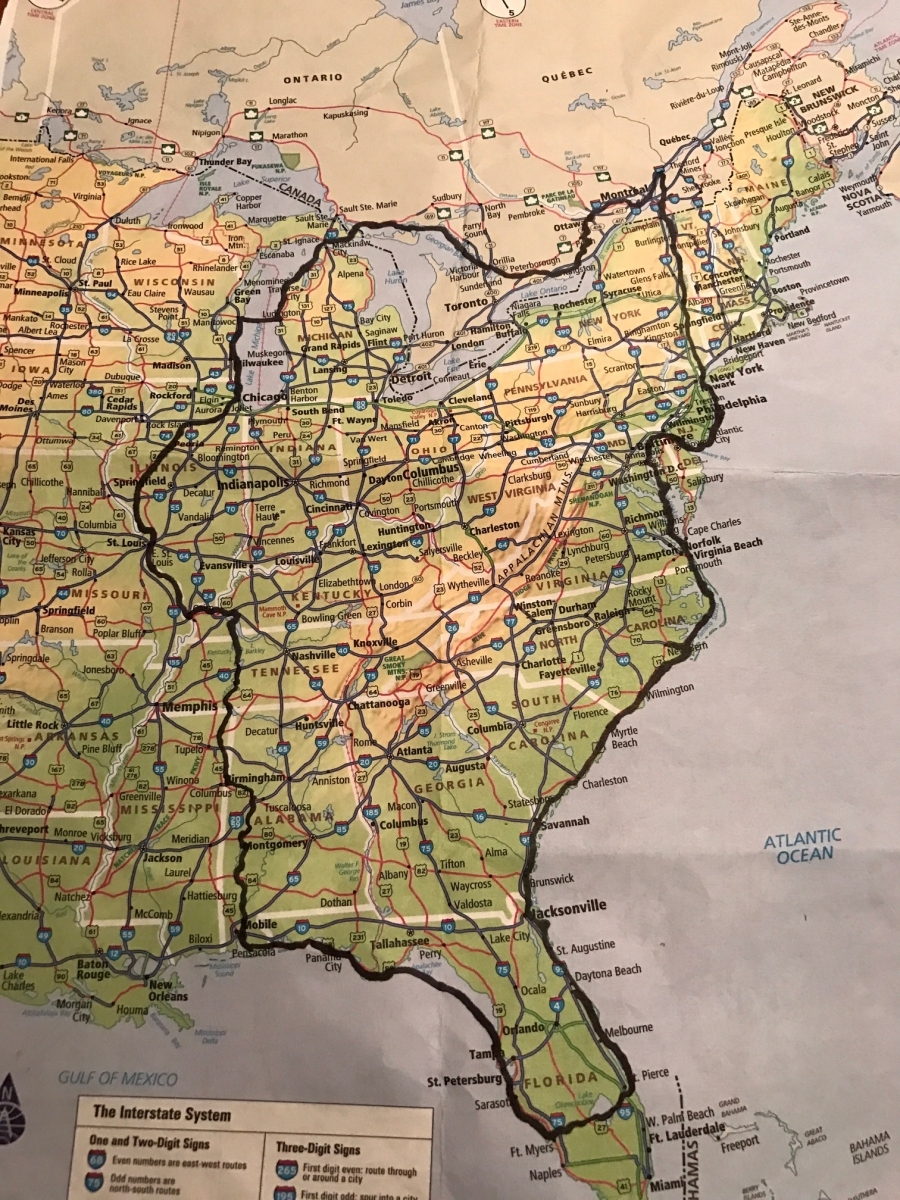 And what is the America's Loop? According to The America's Great Loop Cruiser's Association, "The Great Loop is a circumnavigation of the eastern U.S., and part of Canada. The route includes the Atlantic Intracoastal Waterway, the New York State Canals, the Canadian Canals, the Great Lakes, the inland rivers, and the Gulf of Mexico. "Loopers" take on this adventure of a lifetime aboard their own boat."
The greatloop.org website goes on to say, "The Great Loop is a minimum of 5,250 [miles], but depending on which route choice and which side trips you do, it can be extended to include thousands more miles."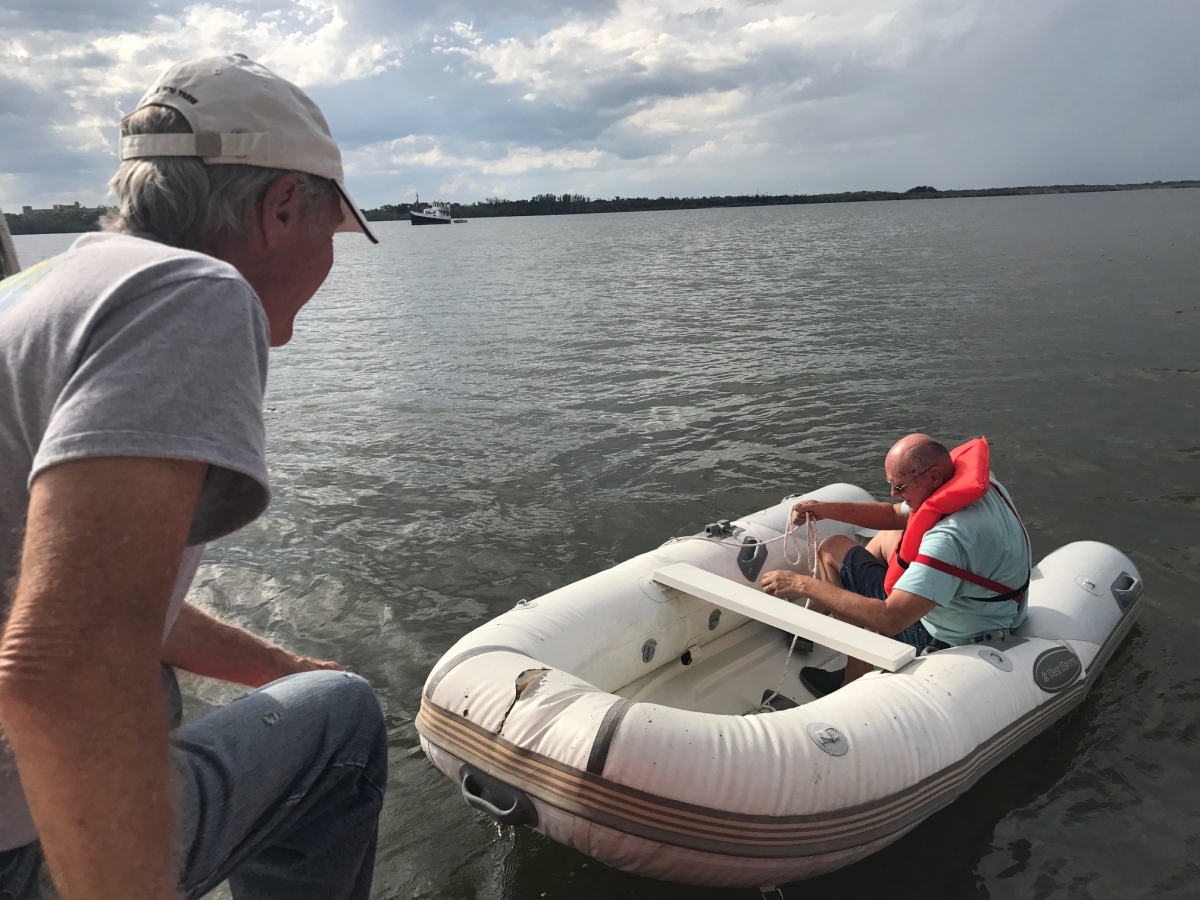 Lynn continued her story, "That was our longest stretch traveling 27 hours in an all nighter from Apalachicola to Tarpon Springs Florida. Circling back to New Smyrna Beach we had traveled 5,524 miles and had gone through 153 locks on our year-long trip on water. We were welcomed back as we crossed our wake in New Smyrna Beach by Evergreener friends Steve and Tennis Wright" (pictured below).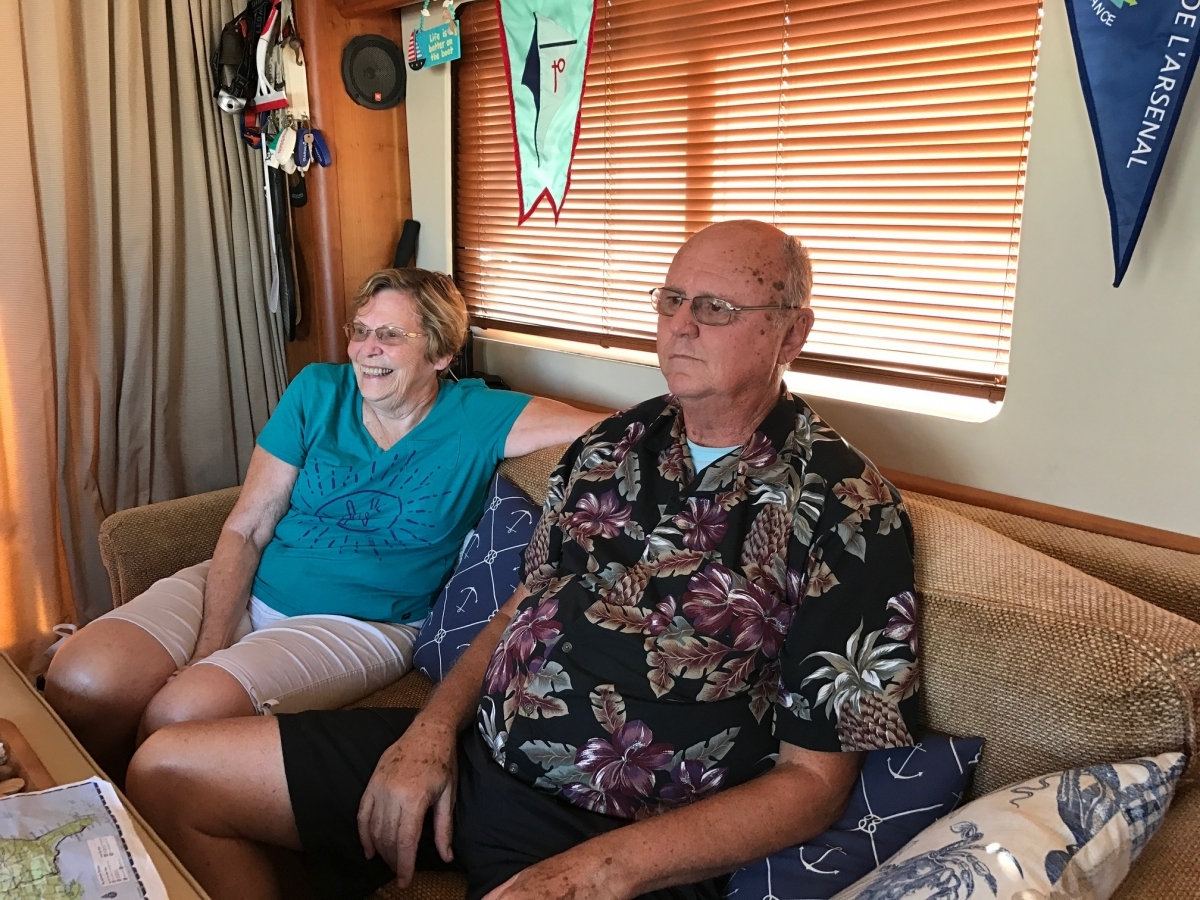 When asked about the trusty boat that let them accomplish their expedition, Lynn said, "Our journey started two years earlier when we searched for a boat from Galveston, Texas all along the waterways to Florida, and from Annapolis, Maryland south along the coast. During these two years of searching we were so grateful for our helpful Evergreener posts all across the country. Our home is in Colorado, so we traveled many miles in our search. Steve and Tennis were there for us, and Steve's boat expertise was invaluable as we prepared "Happy Wanderer", a 34' Mainship trawler for her journey."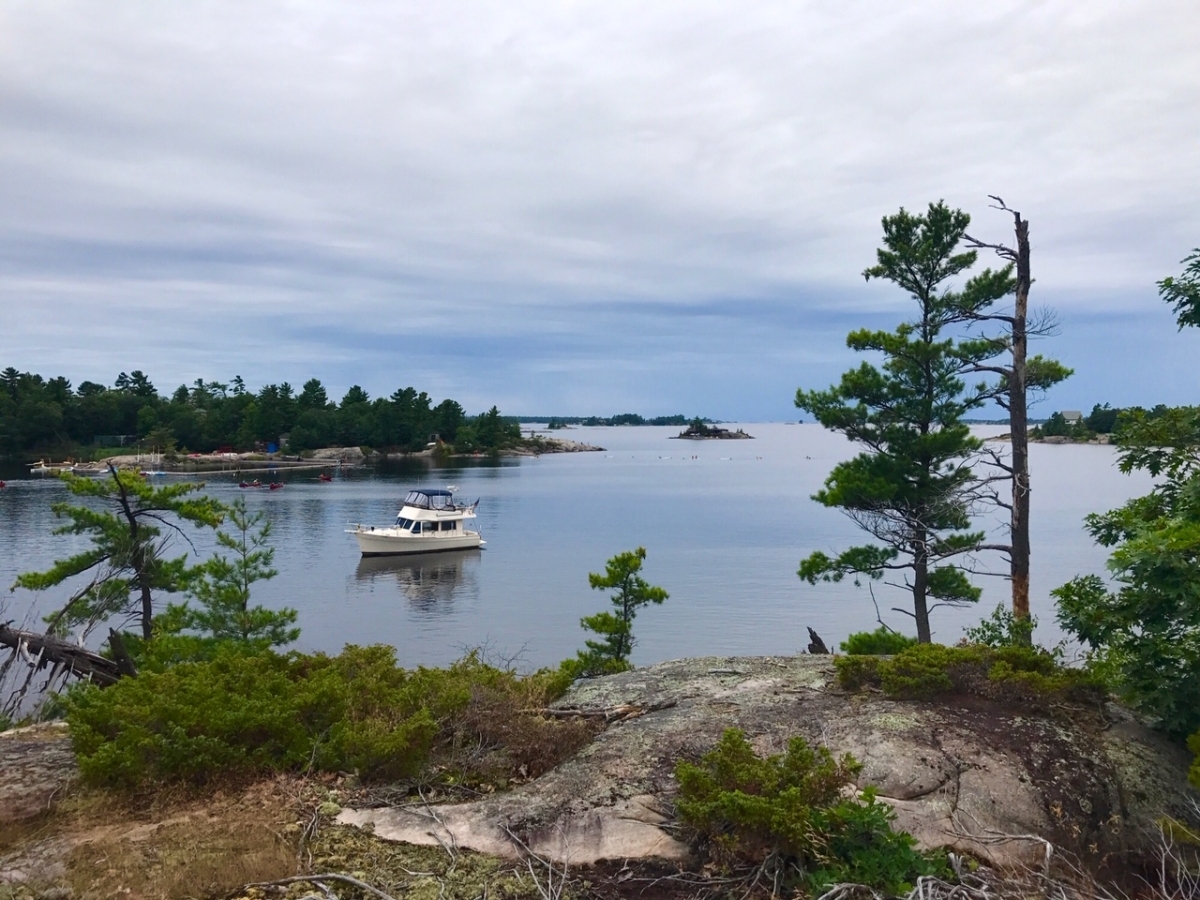 It was so great to hear about the help Mark and Lynn received on their journey. It was even more wonderful to hear that they made some dear, lasting friendships with fellow Evergreen members Steve and Tennis. Lynn recounted, "Steve travelled with us up to Brunswick, Georgia, helping us shuttle our car for the first part of our year long voyage on our boat."
Now, that's not something just any concierge at a hotel would do, but that is something an Evergreener would do. Becuase it's more than a membership... it's friendship. Friendship that goes above and beyond to help others on their journey.
She went on, "As we reentered Florida, we enjoyed several Evergreener friends who came to visit us and cheer us on as we neared the completion of our journey. As we came back to the east coast of Florida, Steve and Tennis visited us several times. Our highlight was as we crossed our wake in New Smyrna Beach, there was Steve and Tennis welcoming us back with champagne and popcorn!!"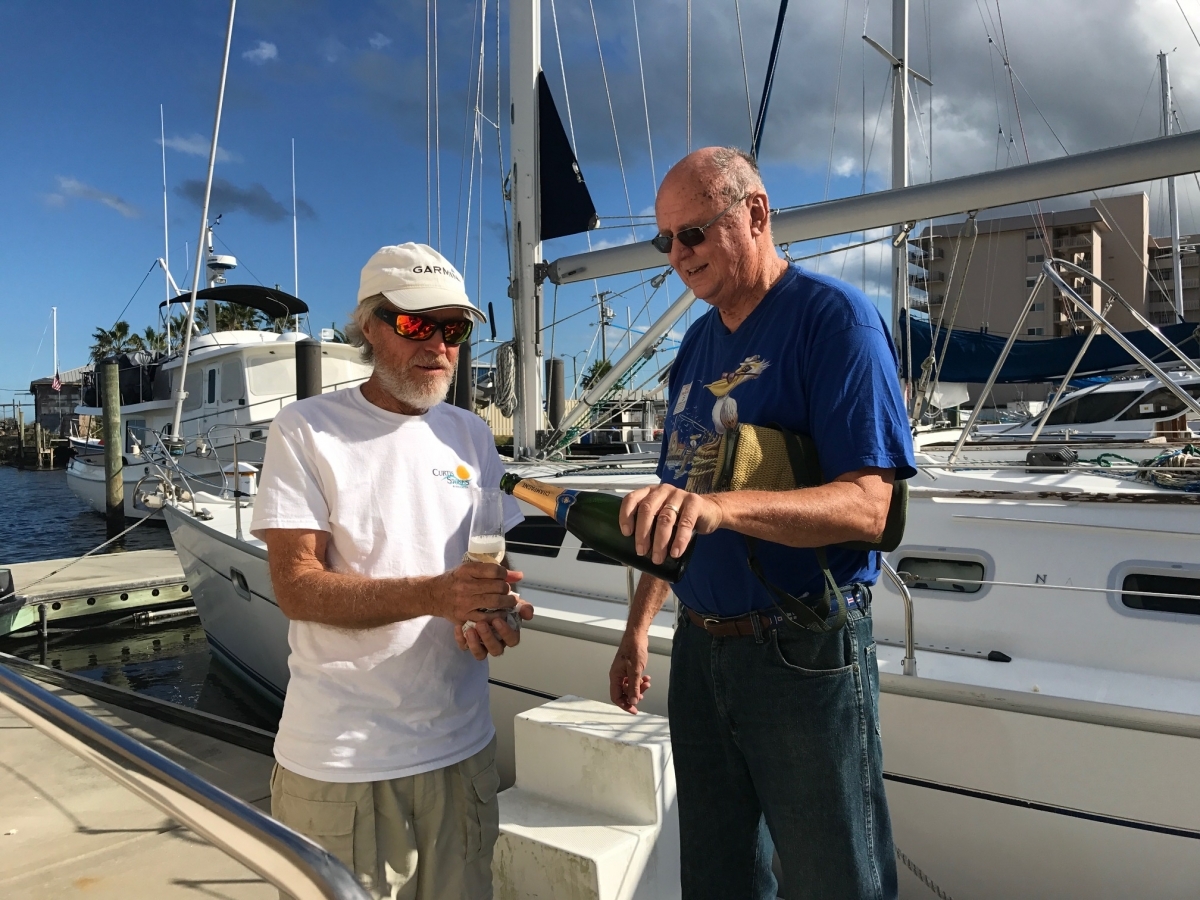 Lynn left us with some heartfelt words, "We've made several lifelong friends from the Evergreen Club, and we are so grateful to meet such wonderful people on our journeys!"
So thanks to Lynn and Mark for sharing your wonderful story with us. It's so inspiring to learn that Evergreeners are out there having epic adventures. And it's wonderful to know about the unselfish Evergreen members who contribute to each others experiences. A big thank you goes out to Steve and Tennis, and all the friendly, helpful Evergreeners along the path for going out of their way to make this epic adventure possible. That's the heart and soul of the Evergreen Club -- expressing generosity, kindness, and goodness while fostering a sense of adventure and ageless activity, no matter how many years have passed.
Happy Travels,
The Evergreen Team
Click to DOWNLOAD an abbreviated version of this Evergreen Feature Story in PDF form.
Mobile / International: 1+813-551-3197
USA landlines: 1-800-962-2392
A publication of the Evergreen Bed & Breakfast Club: A homestay travel club for people over 50 & seniors. Make friends. Host well. Travel savvy.