Great Travelers: Grandma Gatewood
Published by
Kayleigh Ebenrick
on February 6, 2019
Well, if you're looking for some motivation, here you go!
The Evergreen B&B Club honors great travel and Great Travelers
Today we honor the inspiring Grandma Gatewood.
Emma Rowena Gatewood, known as "Grandma Gatewood", was the first person to hike the entire 2,191-mile long Appalachian Trail three times: first in 1955 when she was 67 years old, then at age 72, and again at 75!
She had 11 children and 23 grandchildren! One day she simply announced to her crowded household, "I'm going for a walk," and she did. Evidently she had had quite enough of all those kids and grandkids.
Successfully solo hiking from Springer Mountain in Georgia to Mount Katahdin in Maine made her the subject of a 60-minute film Trail Magic: The Grandma Gatewood Story (PBS documentary). Emma Gatewood was indeed one tough traveling cookie and would have been a fine addition to the Evergreen Club.
We're grateful for the can-do attitude and spirit of adventure that Mrs. Gatewood expressed. It's awesome to see many bold Evergreen members expressing this same vitality and courage in their own ways.
Was she too old?
Clearly not! Mrs. Gatewood certainly proved that age is nothing more than a state of mind and that age actually has nothing to do with life or one's prospects. She wasn't about to let a number tell her that she couldn't hike the Appalachian Trail (one of the world's most famous and lengthy hikes). She went out there and broke through the limitations - three times!
The best thing is, that she's a person, just like any of us. She didn't have a special super power. She certainly didn't have any high tech gear. She just had a goal and knew where she was going. Mrs. Gatewood's success should show us that we are all capable, if our motive is pure and we simply set a goal and work toward it.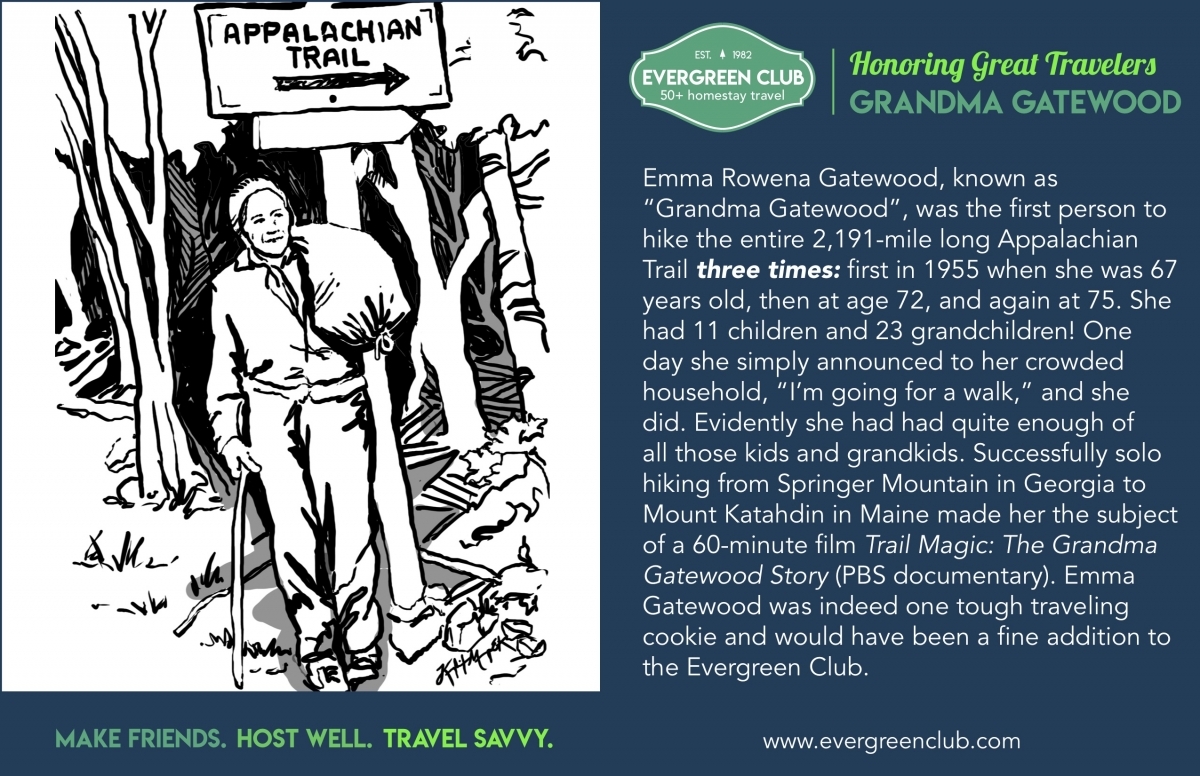 Click here to DOWNLOAD a PDF of this Great Travelers page.
Make friends. Host well. Travel savvy.
www.evergreenclub.com