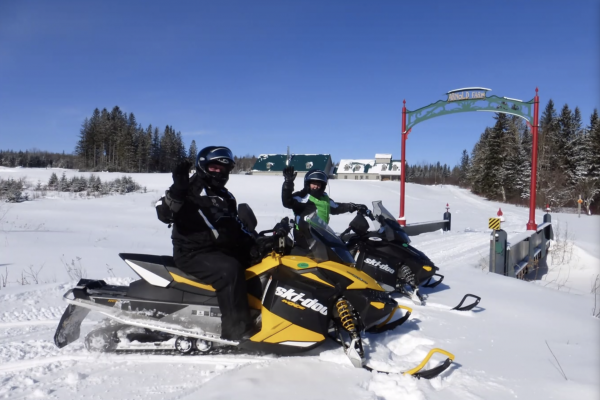 Snowmobiling in Maine
Published by
Kayleigh Ebenrick
on May 12, 2020
Evergreen Member Mike H. hosts fellow Evergreeners in two parts of the country. Mike and his wife, Valerie spend summers in Houston, TX and winters in Jackman, Maine. This may sound backwards to some people, but for Mike, it's how he leads incredible snowmobiling tours of New England all winter long. Tours usually run from the beginning of January through the end of March.
Mike has owned Sled Head Ventures, a guided snowmobiling tour company for about 13 years now and has just fallen in love with it.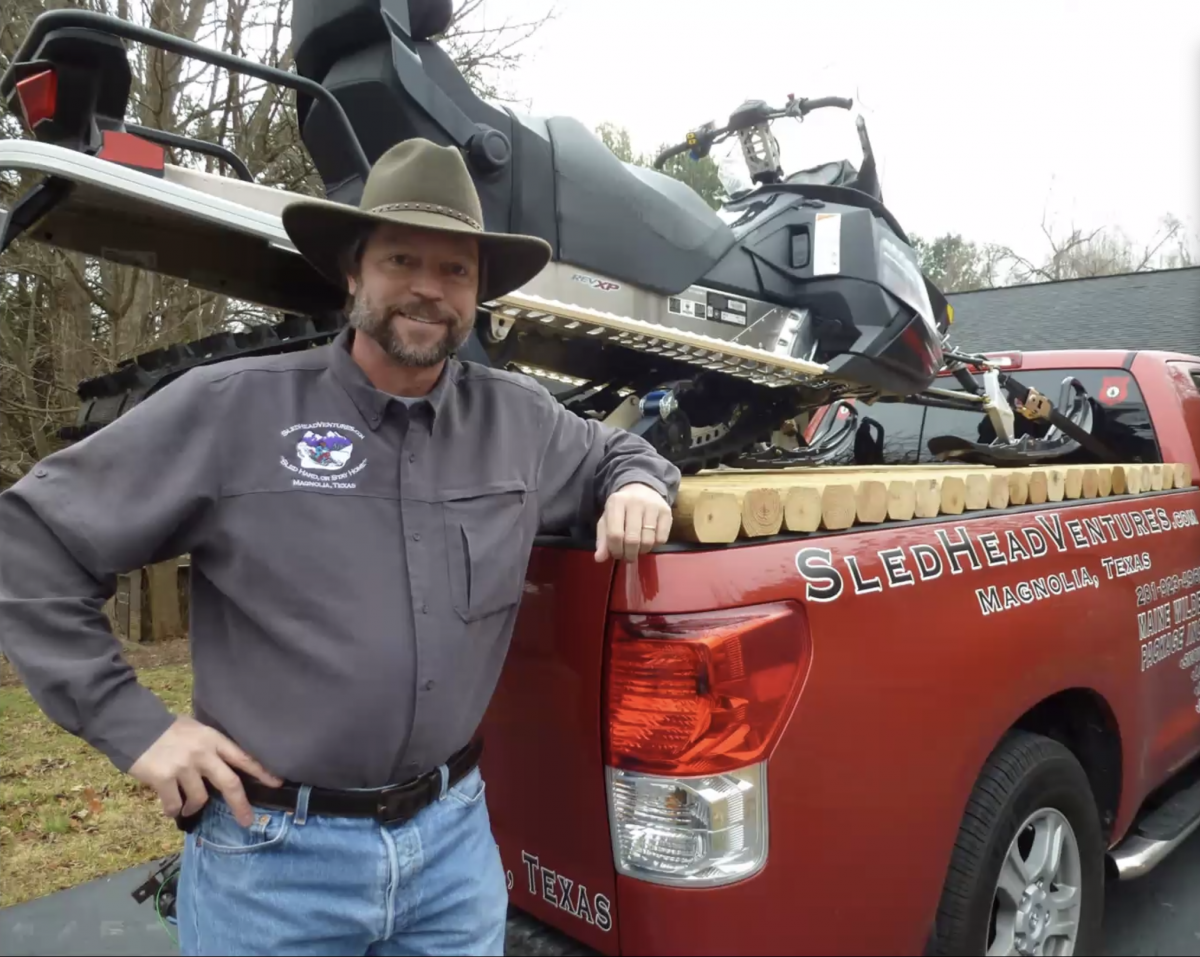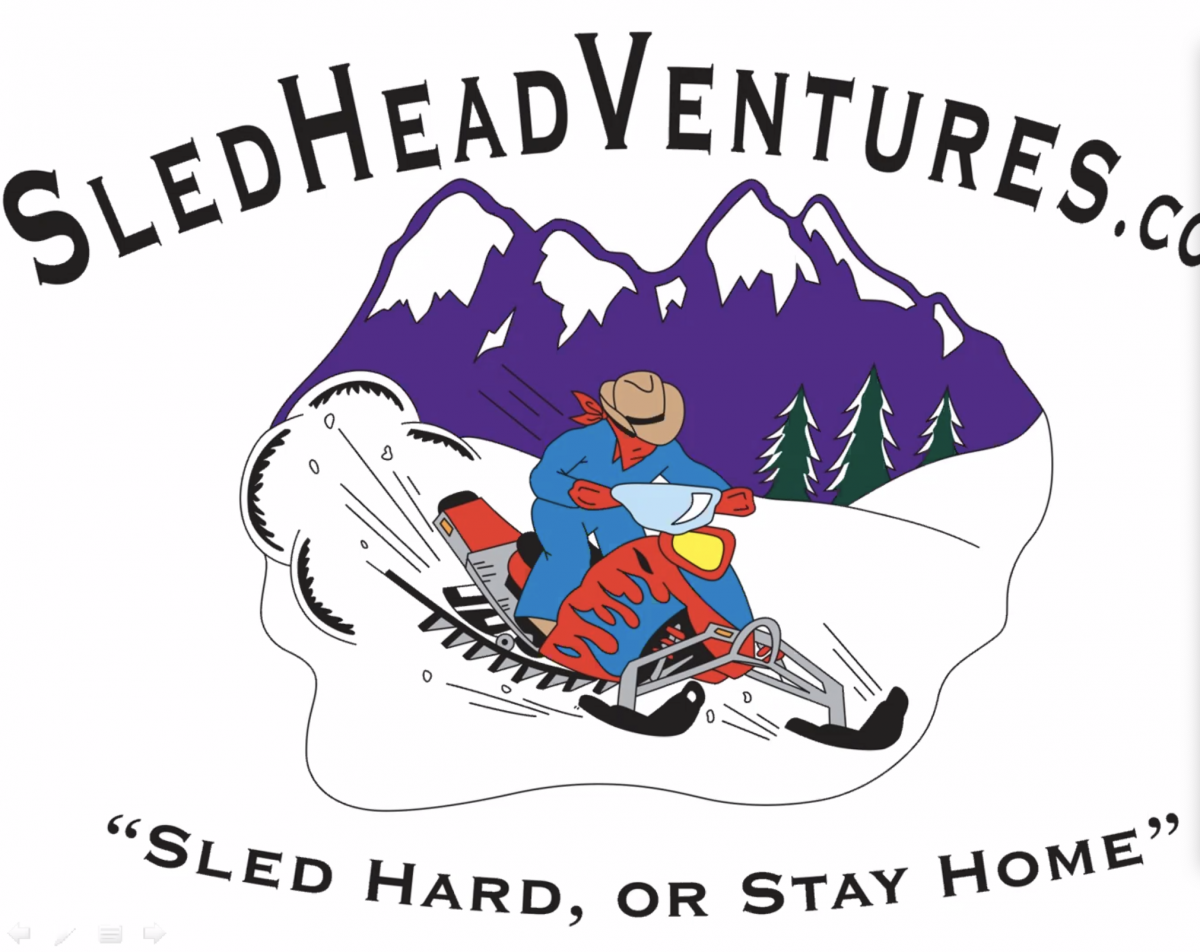 Why Snowmobiling?
Mike answers this question best on his own website:
Wicked Fun.
More access to the wilderness backcountry on a given day than by any other means of transportation.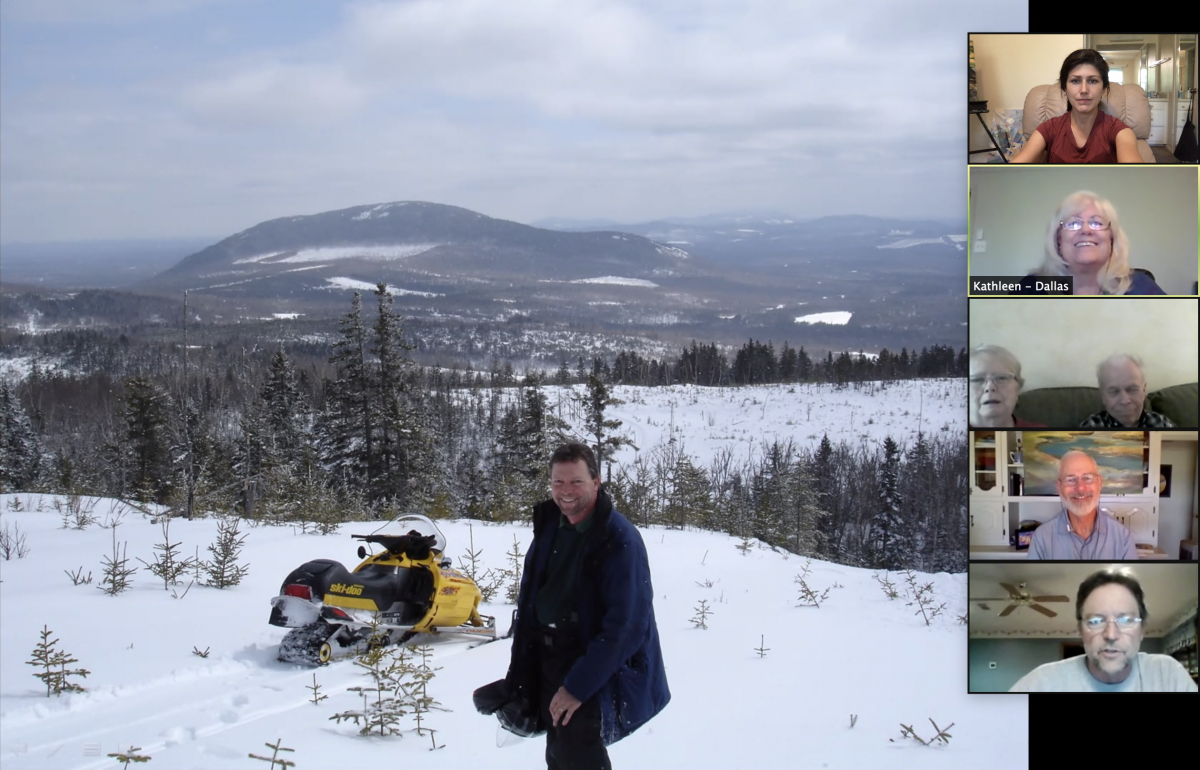 Mike writes about the motives and makings of Sled Head Ventures on his website:
"Many times since I conceived this snowmobile vacation project 13 years ago, people have asked me, with a look of disbelief, yet inquisitive curiosity, "Snowmobiling?"... "Why snowmobiling?". Those questions are then shortly followed up with "…but you live in Texas…"- as if I had forgotten. The look of concern on their face says, just as StarTrek's Dr. McCoy used to query,…"Are you out of your Vulcan mind?".
"So, "Why Snowmobiling?". Well, first of all, snowmobiling, or "sledding" as we like to call it, is just flat out outrageously fun! Period! Whether you have a need for speed (many sleds can easily exceed 60 mph, "out of the box", from the factory), or you just enjoy the simplicity of an all-terrain vehicle that glides through the forest, you're going to find that your sled is a blast to ride. I assure you, it is something that you will tell your grandchildren about!"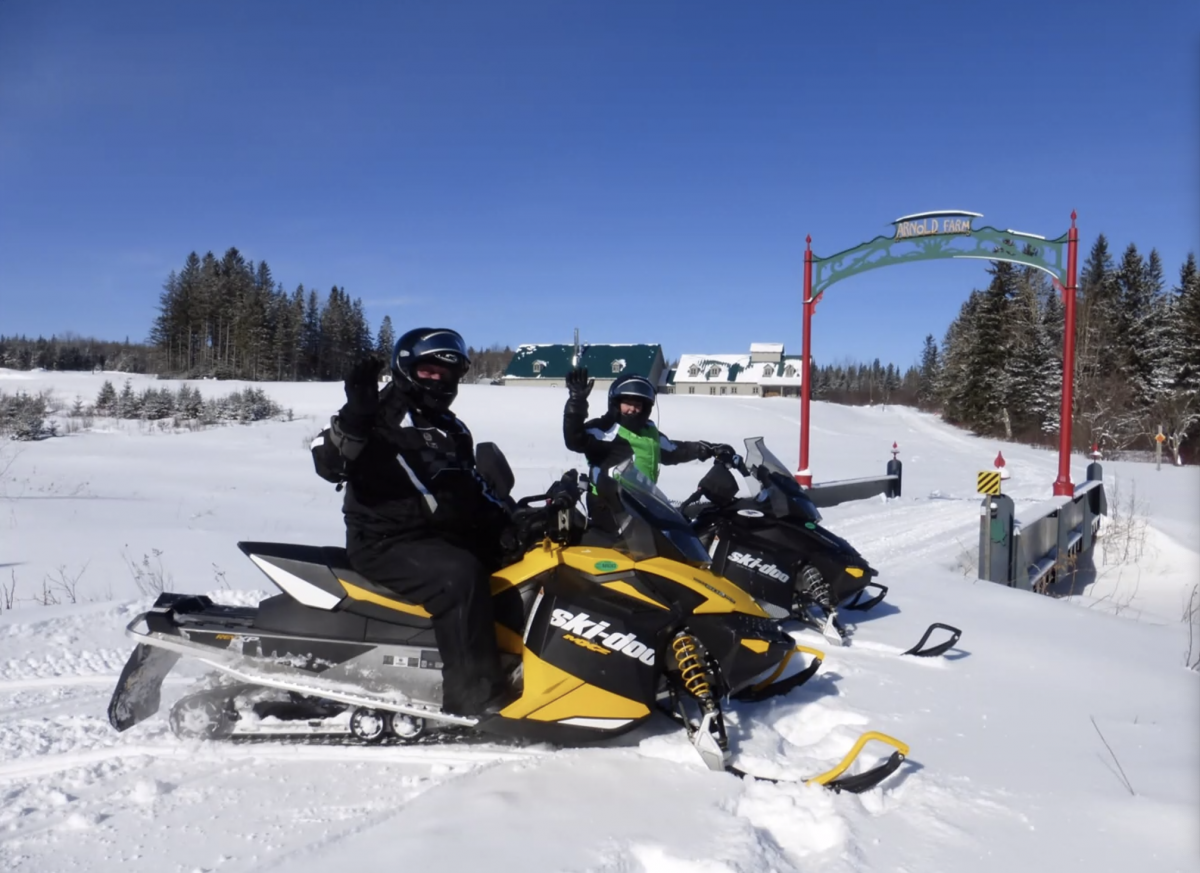 Mike goes on to say, "Secondly, and for me, the larger answer to "Why snowmobiling?":
For the last 44 years I've explored the finest off-the-beaten-path treasures that America has to offer. I've traveled on foot, bicycle, skis, horseback, canoe, raft, powerboat, motorcycle, ATV, and Jeep. I've also been fortunate enough to have seen even more by helicopter, as a result of my 30-year career as a pilot. Given all that, I've got to tell you that, pound for pound, you're going to see more of Mother Nature during your wilderness experience, on a snowmobile, than by any other mode.

"You'll see more terrain, vegetation, animal life, water, rock, vistas, excitement and wonder in a single day on a sled. Really! And, by the way, you'll have less impact on Mother Nature, arguably, than with any other method. Everything you touch, grind, push, bump or smash…melts in the spring. You've gotta love that!"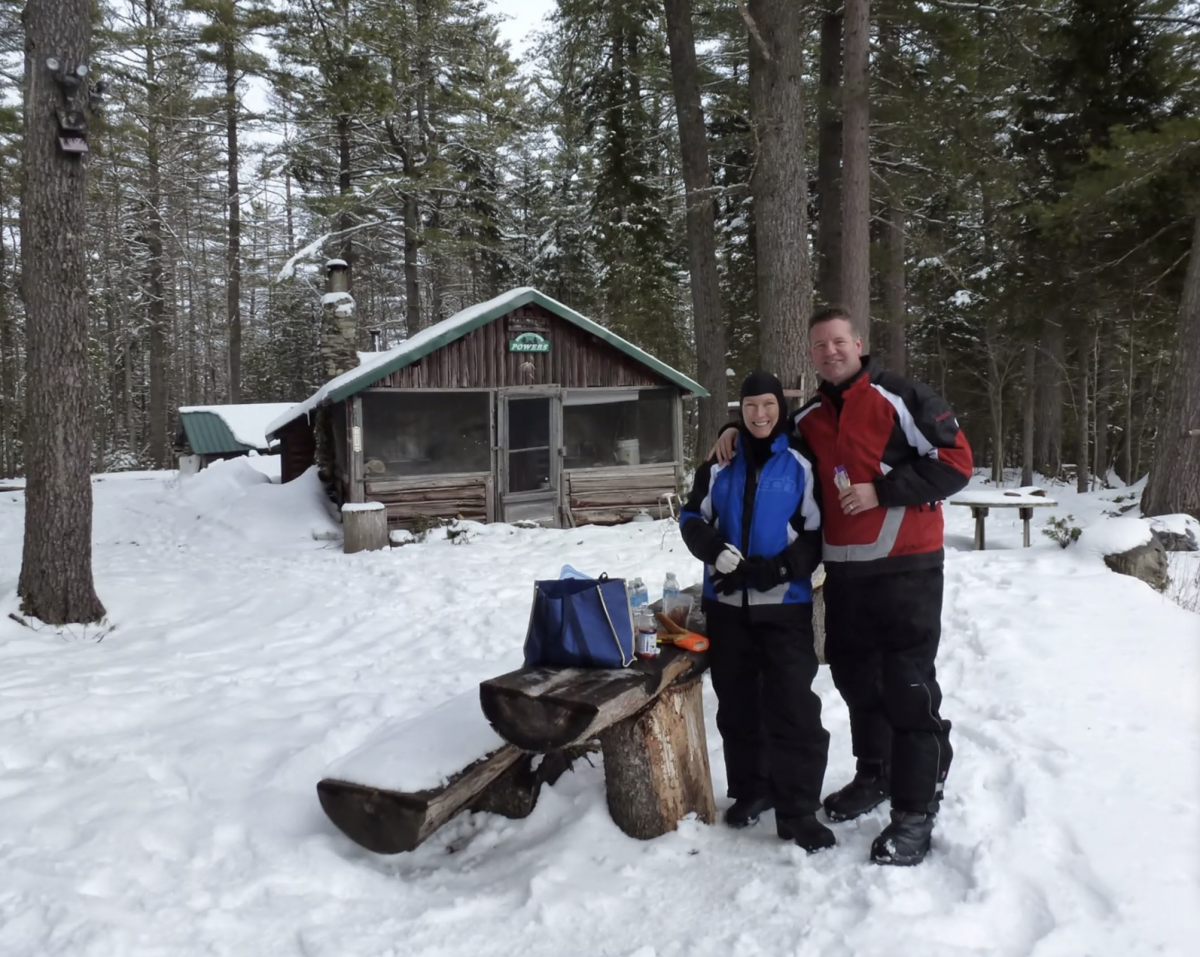 So what makes a snowmobile?
Here are some of the key components that you'd need to know before driving a snowmobile. As Mike said, one of these bad lads can go 60 MPH straight out of the box! So be prepared to go fast!
According to Mike's website:
"A "snowmobile" aka "snow machine" aka "sled" is easy to drive. Newcomers to the sport quickly become comfortable with maneuvering our sleds along Maine's finely machine-groomed trails. Within a day or two, you will probably even find yourself ready to ride off the groomed trails and boondock through the forests with your guide.

"Riders straddle a very comfortable, wide, softly padded seat with steering handle bars similar to a bicycle. You'll tuck your feet forward into recesses that keep them out of the wind and provide some warmth from the adjacent engine. There are no hot metal exposed surfaces like on some motorcycles. You don't need balance and you don't need strength. Getting the picture? It isn't your living room recliner, but it IS quite comfortable and very easy to operate, particularly when you consider what this finely engineered machine is about to do for you- unlock the wilderness and deposit memories into your memory bank that will stay there for a lifetime."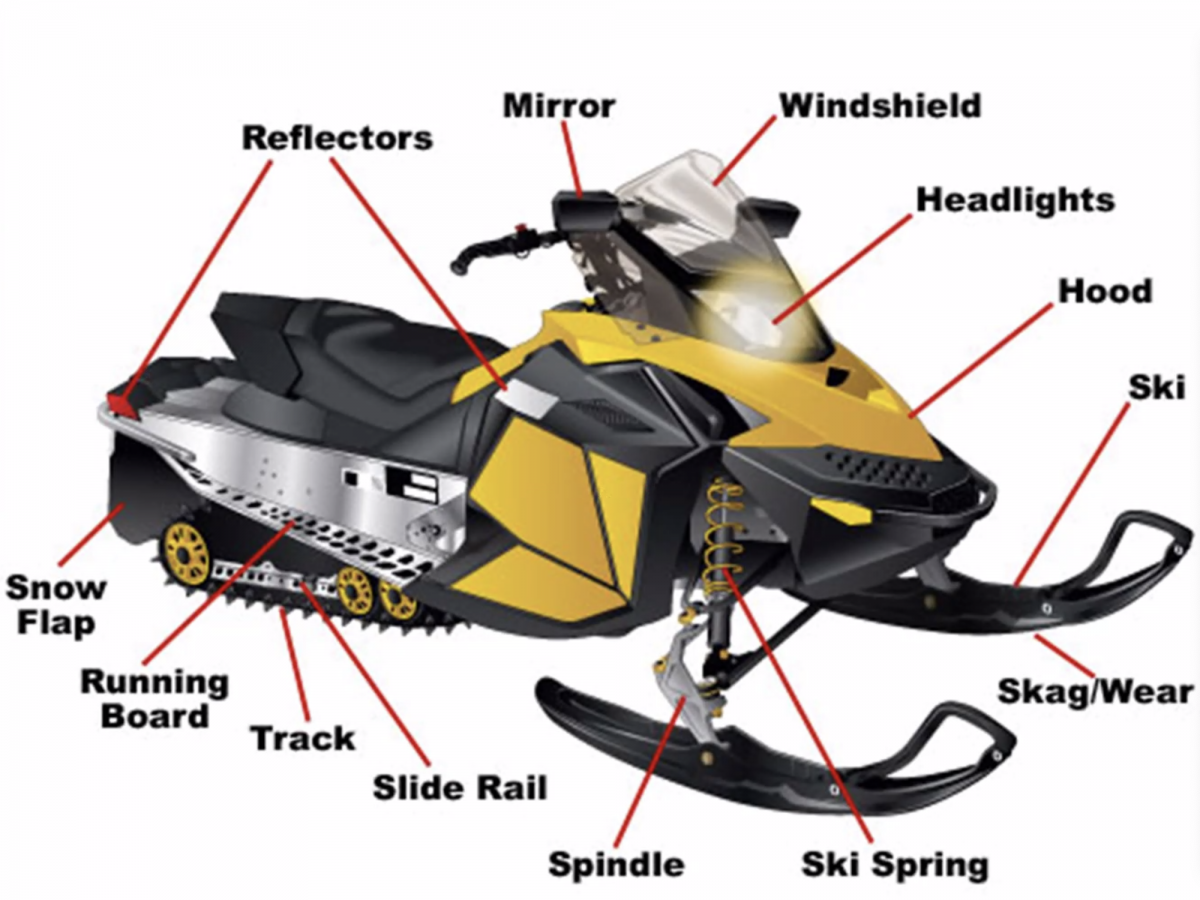 Mike continues, "Controlling your speed is accomplished by simply pressing the throttle lever with your right thumb. A second lever can be squeezed with your left fingers to brake, but you will only use it a couple of times each day since the sled gently decelerates after simply easing off the throttle lever."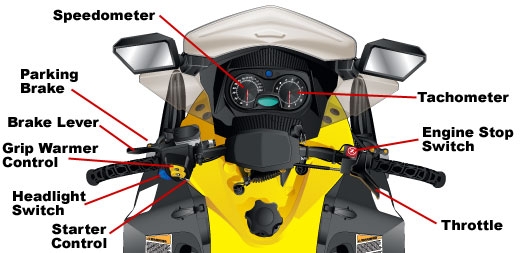 Mike notes, "The handle bars and throttle are electrically heated to two levels, but the "low" setting is generally sufficient to keep your hands warm when wearing the high-tech snowmobile mittens that I will provide for you (although sled rental outfitters generally do not). It really is as simple as thumb pressure to accelerate, or releasing thumb pressure to stop.

"You do not have to change gears, nor operate a clutch. There is a reverse lever, but it is rarely used. Steering is accomplished via very strong plastic skis slipping through the snow-- the handle bars don't offer much more resistance than the power steering in your car."
Got it? Good. Ready set go!
Just kidding. Fortunately, Mike always goes with his customers to show them the way and help them operate their snowmobile. That's the beauty of a guided tour. You're never alone and have the assistance of an expert to lead the way. This is part of what makes Mike's tours so good for beginners. You get to have all the fun without worrying about remembering the technical details.
Mike offers, "My job is to pull the plan together so you don't have any worries, and I do that well. You're not going to have to deal with being lost, finding gas or a warm meal in the wilderness, fixing stuff that doesn't work, or grumpy employees. You are going to learn some new skills, experience the rush of zipping through the forest, and see things that no one in your office or your neighborhood has seen before."
Let's take a moment to talk about where you could stay if you chose to go on one of these snowmobiling adventures.
The big lodge
As a Sled Head Ventures customer, you can stay at this big nice lodge or one of the surrounding small cabins. Everyone parks their snowmobiles out front so you can just hop on and go!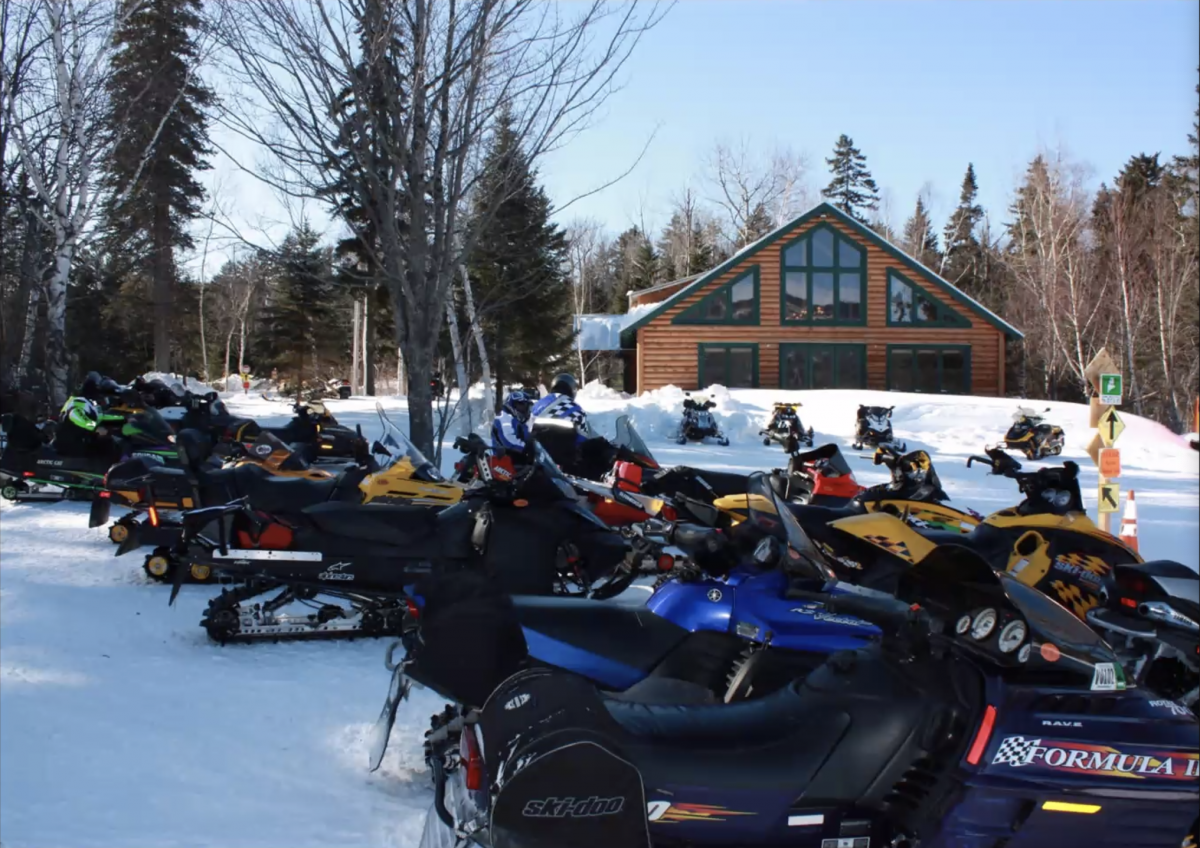 And you're sure to meet all sorts of fun and interesting other adventure seekers during your stay.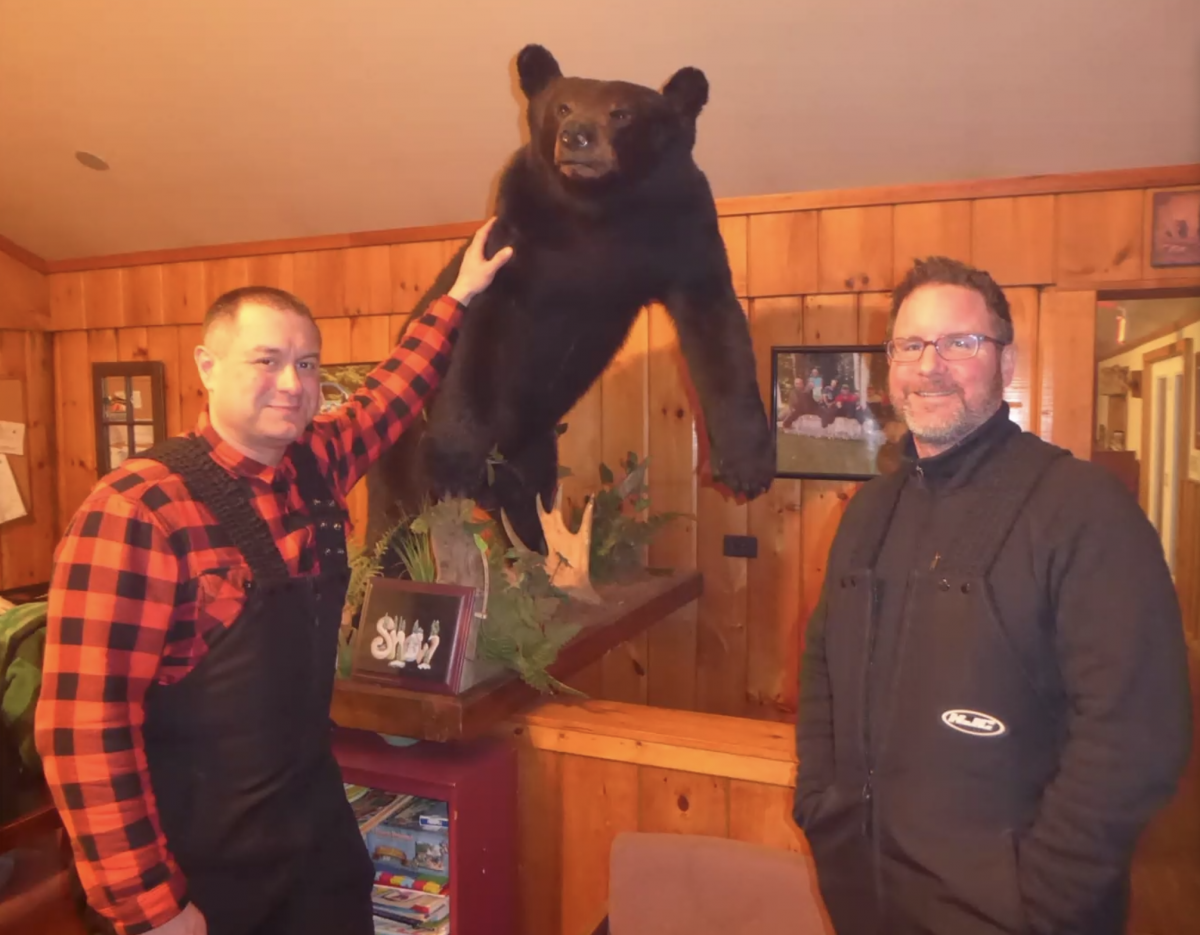 As an Evergreener, where would I stay?
Mike and Valerie do host Evergreen Members at their home in Jackman. This is a view from their living room.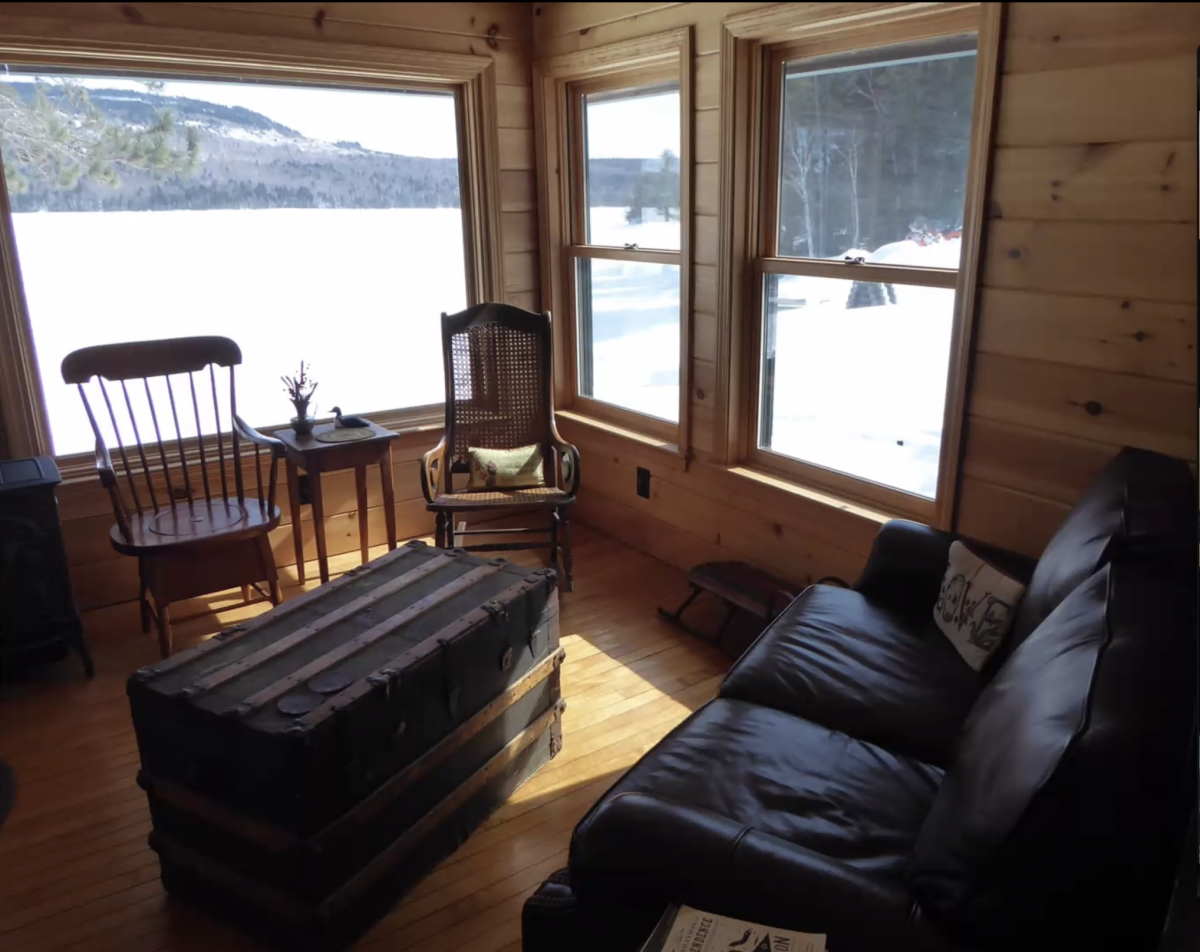 And here's the view from the kitchen. Imagine waking up to have breakfast with this as your view!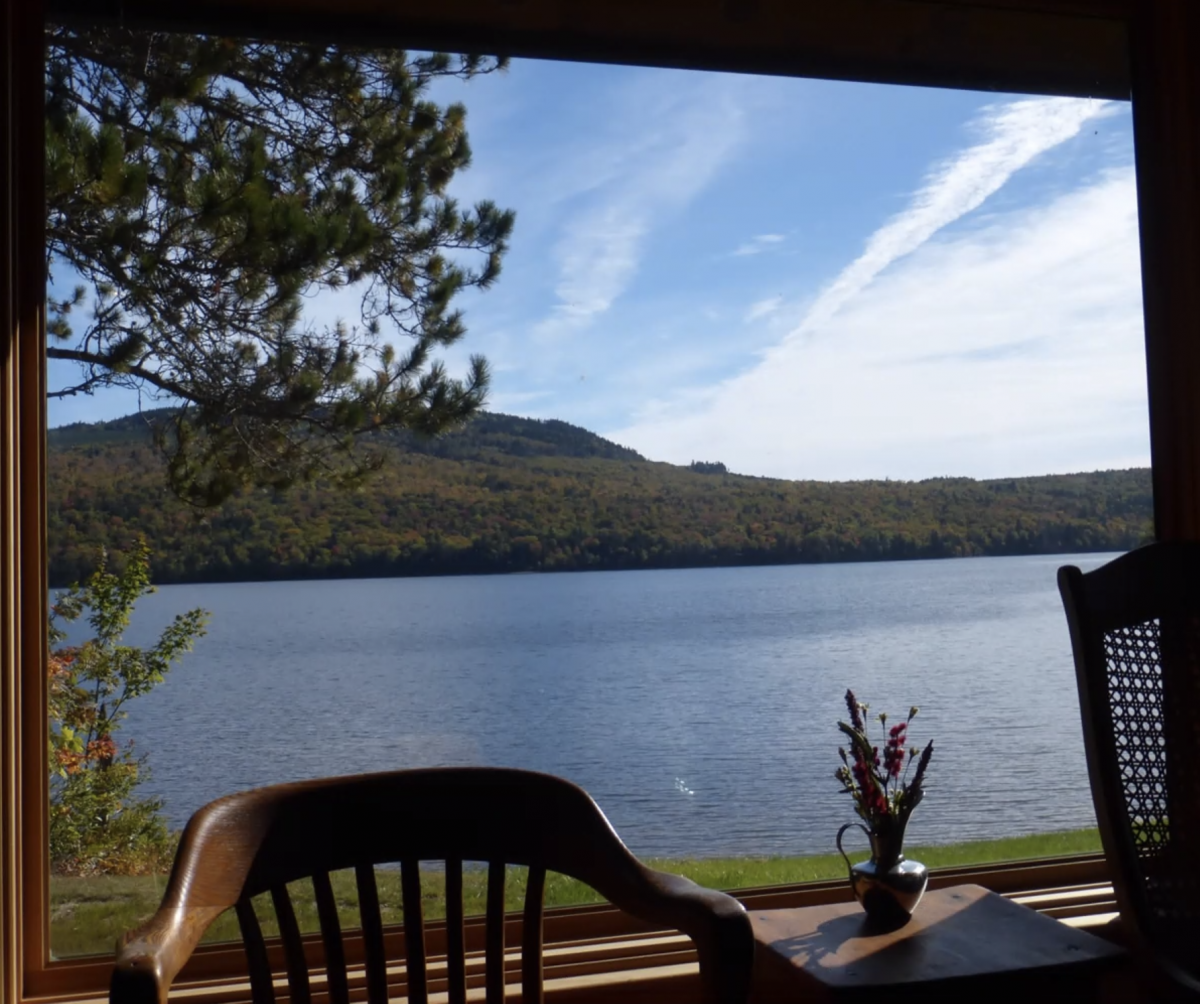 Here's the guest room where you could stay. It's so cozy and rustic! Look at those cool hand carved wooden beams! This just makes me want to go stay there.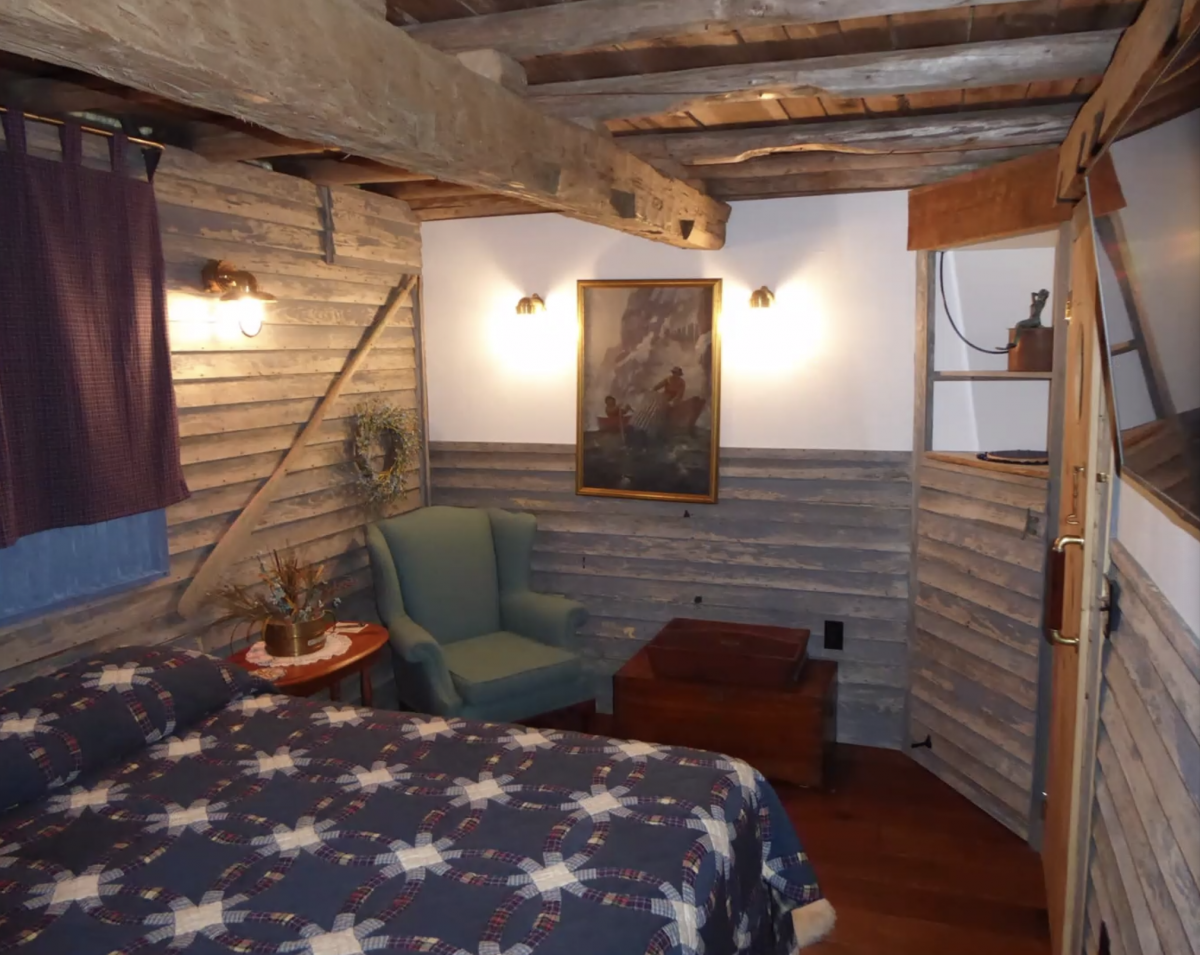 Pretty nice, huh? Just soak it in... Ahhhhh...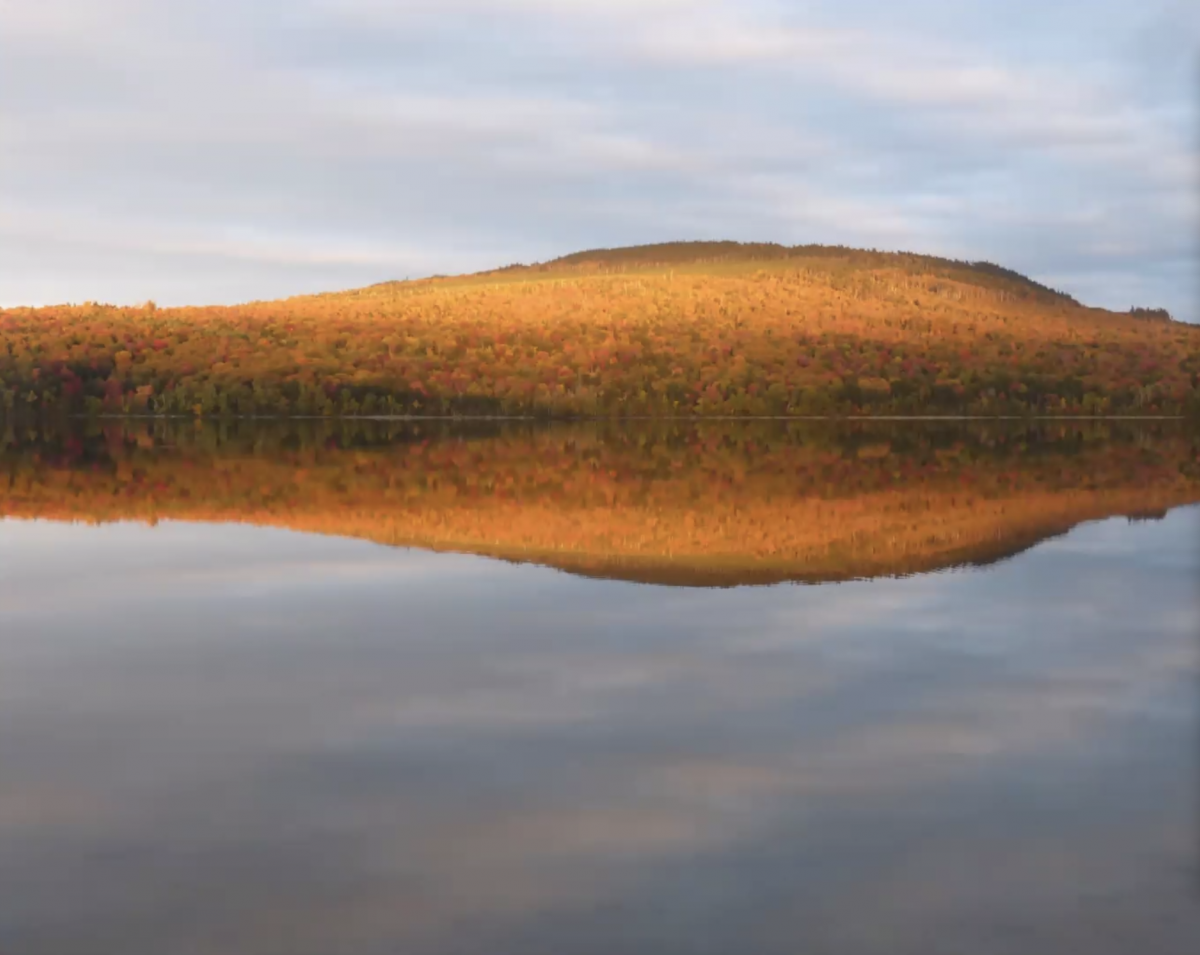 Back to the adventure
Well, now that we're completely relaxed from seeing the excellent accommodations available to Evergreeners and patrons of Sled Head Ventures, let's talk about what you'd see on one of Mike's snowmobile tours.
The Trails
Grooming the trails is a large part of what Mike does. Grooming means driving a big tractor-like machine (called a Groomer) that smoothes out the snow to make compact snow roadways ideal for snowmobiling.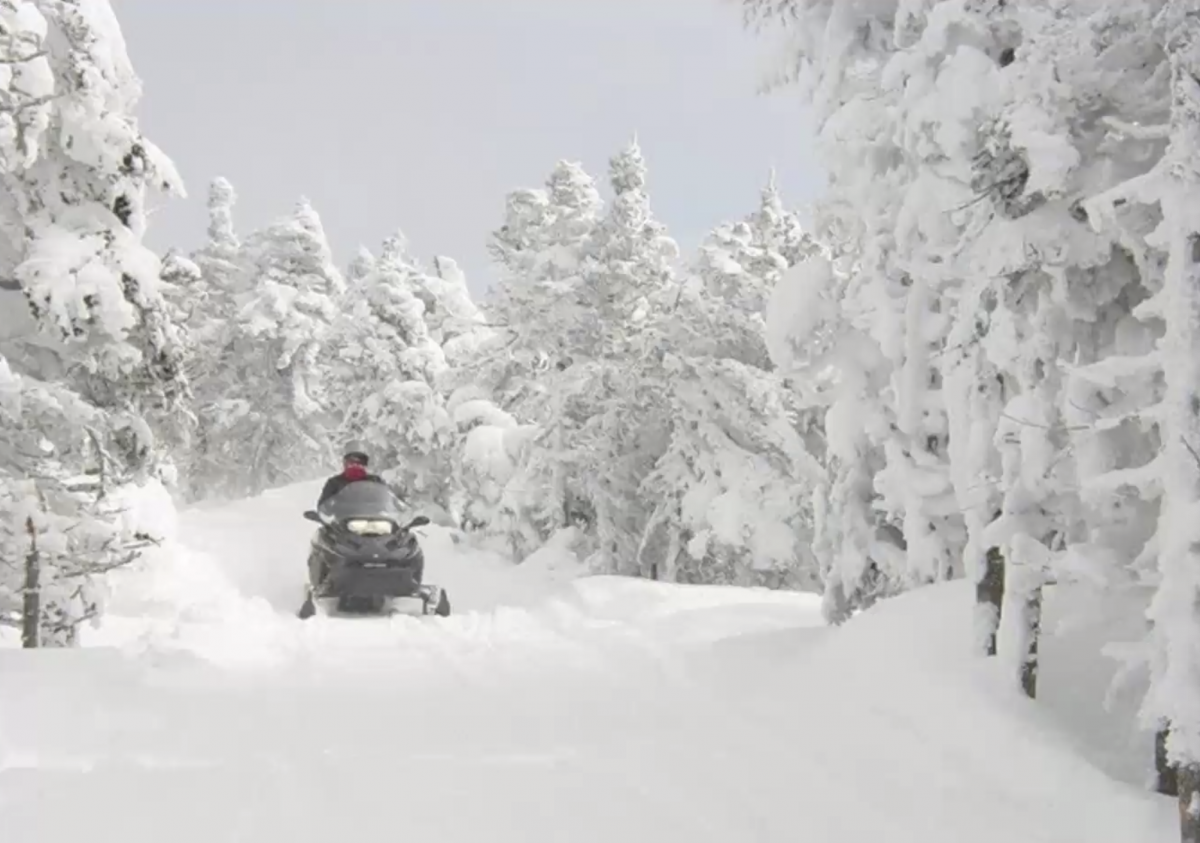 The Scenery
Snowmobiling isn't just about going fast. Sometimes, it's about going slow. It's about pausing to take in the exquisite nature around you. Mike took this series of photos of a waterfall on the course at 3 different times of day. Isn't it stunning?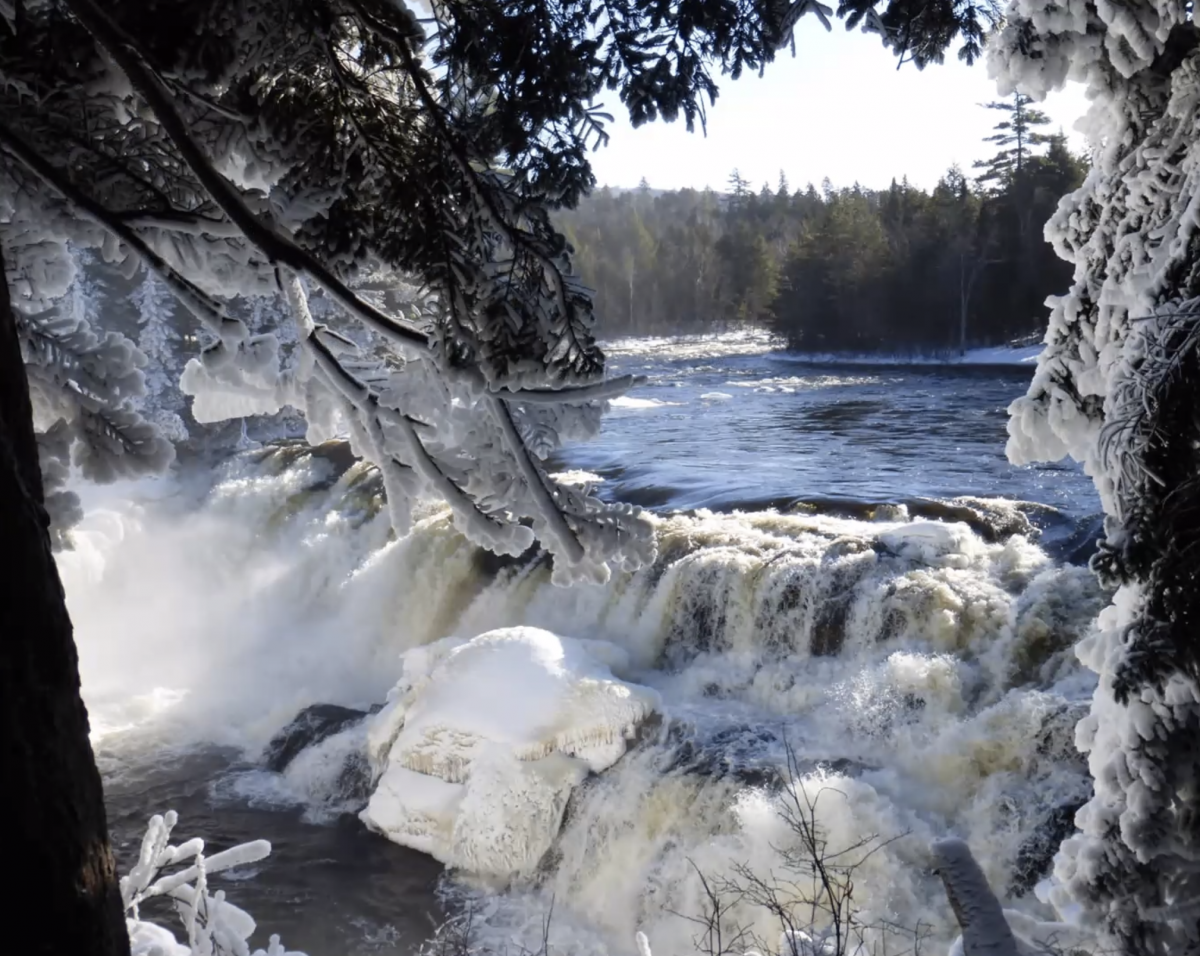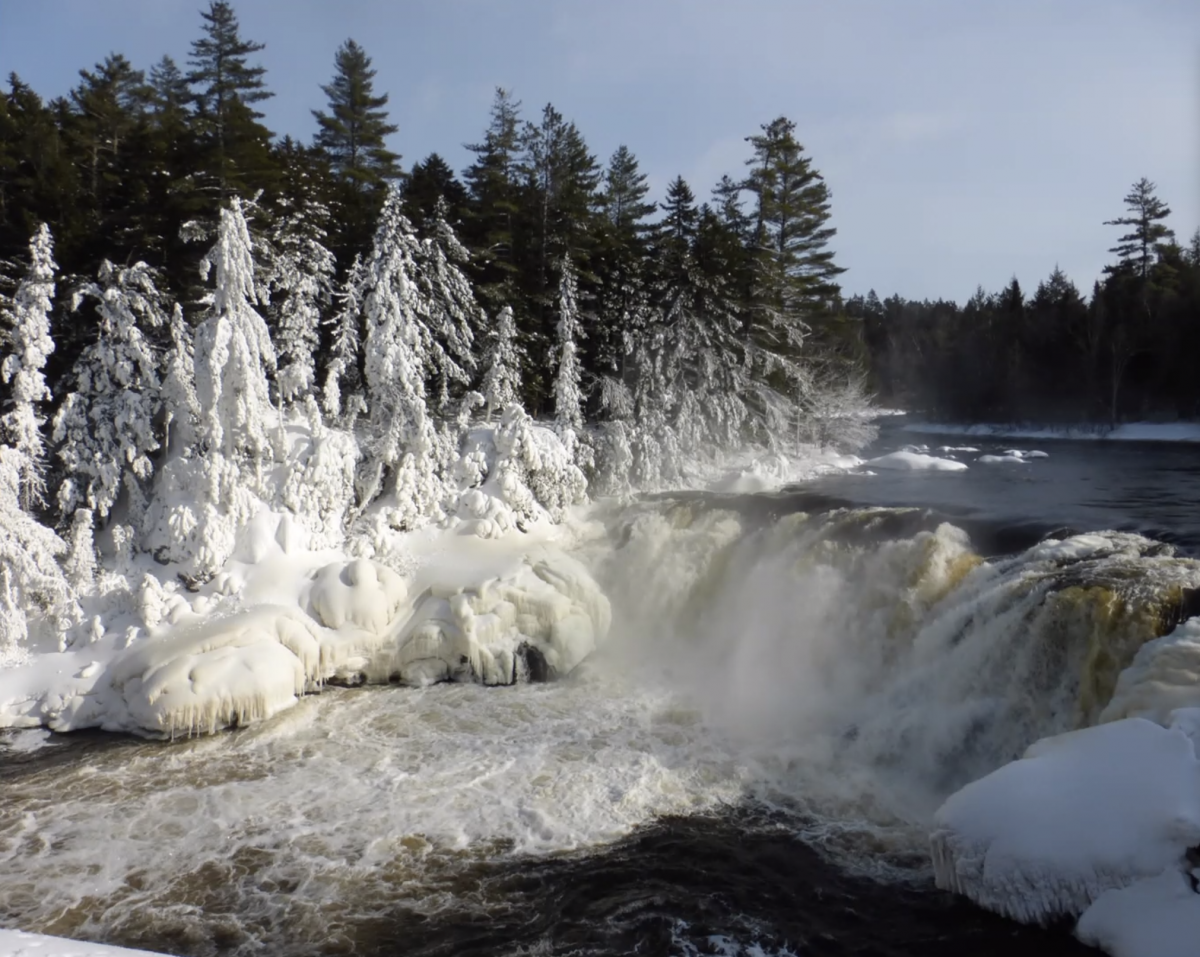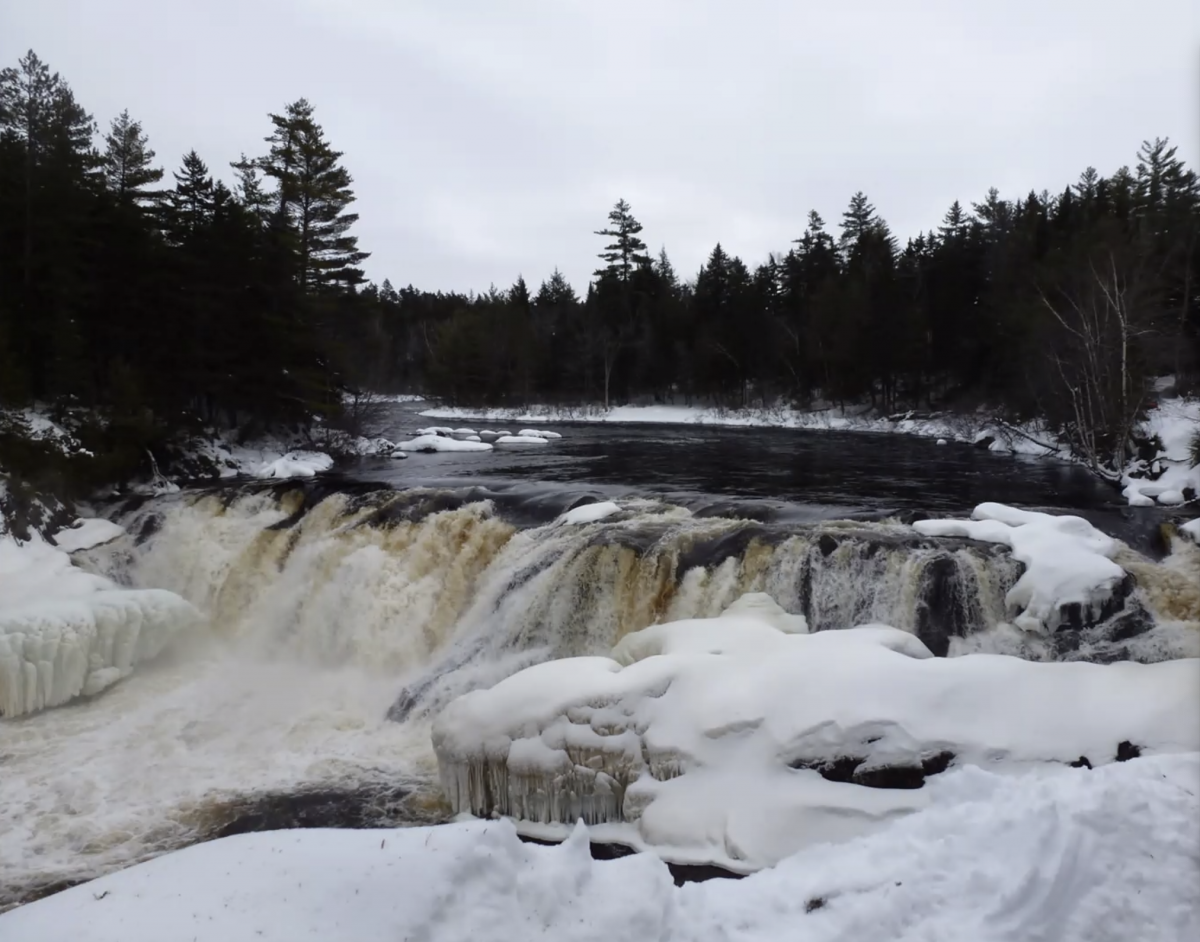 The Wildlife
Breathtaking views of water, ice, and snow are not the only things you'll see out on the trail.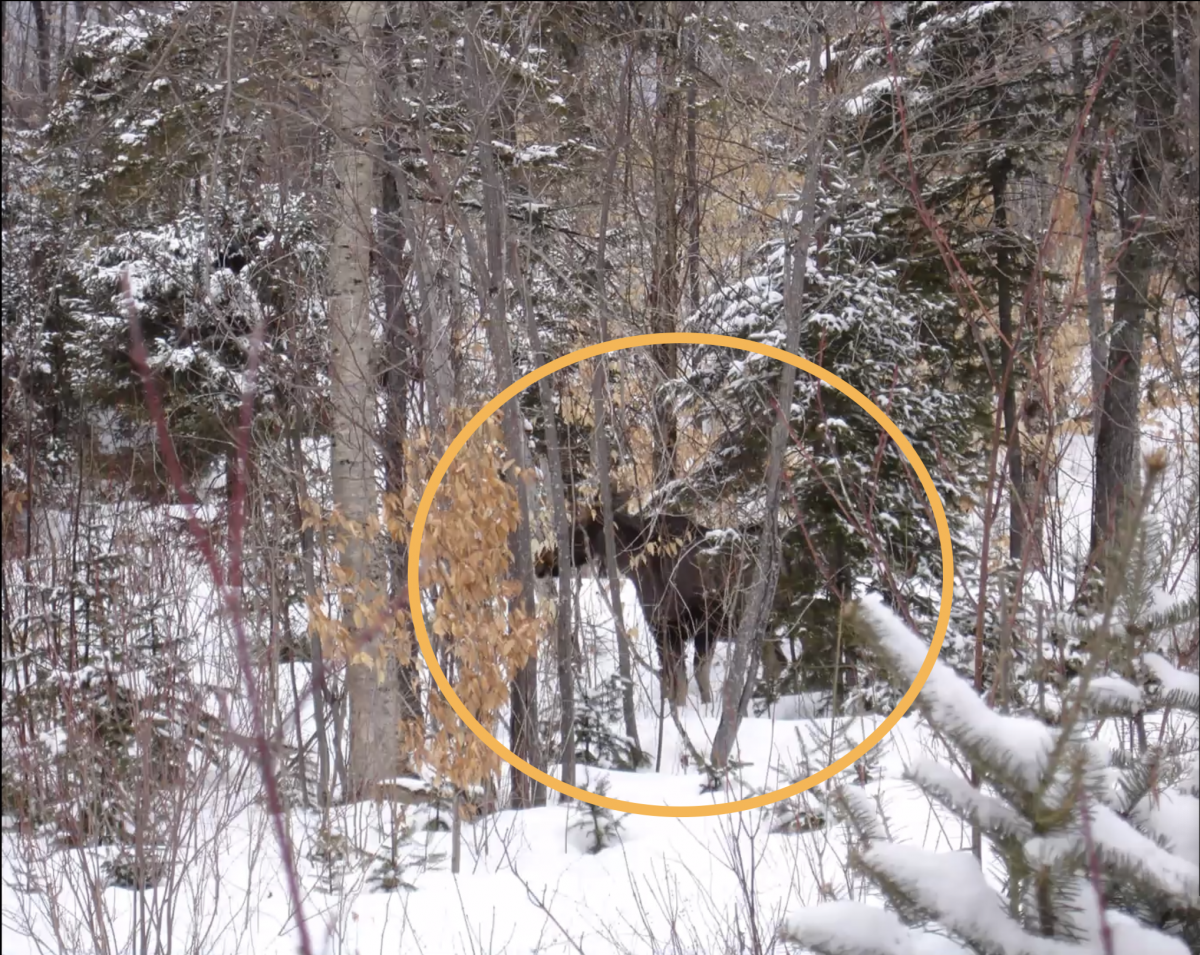 It's not unusual to see moose hidden back deep in the woods like this one.
Or sometimes, if there's been a recent heavy snowfall, the moose will join you out on the trail! This makes sense since the nice groomed snowmobile trail is easier for them to walk on than trudging through knee-deep snow.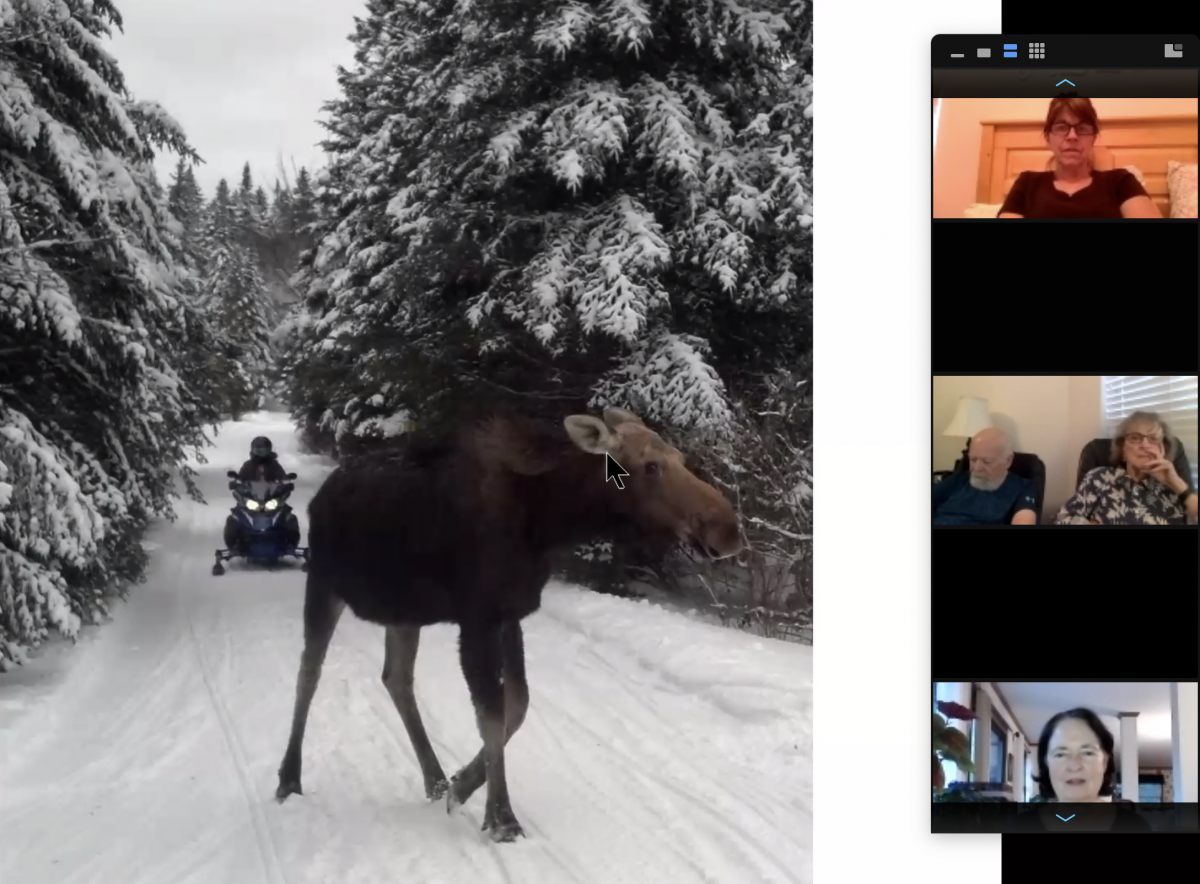 Occasionally, you'll get people who don't fully understand that they should keep their distance. Moose are wild animals and can be quite territorial. These people in the photo below (not members of Mike's tour group) could have been in some real danger since this young moose's protective mother is likely nearby.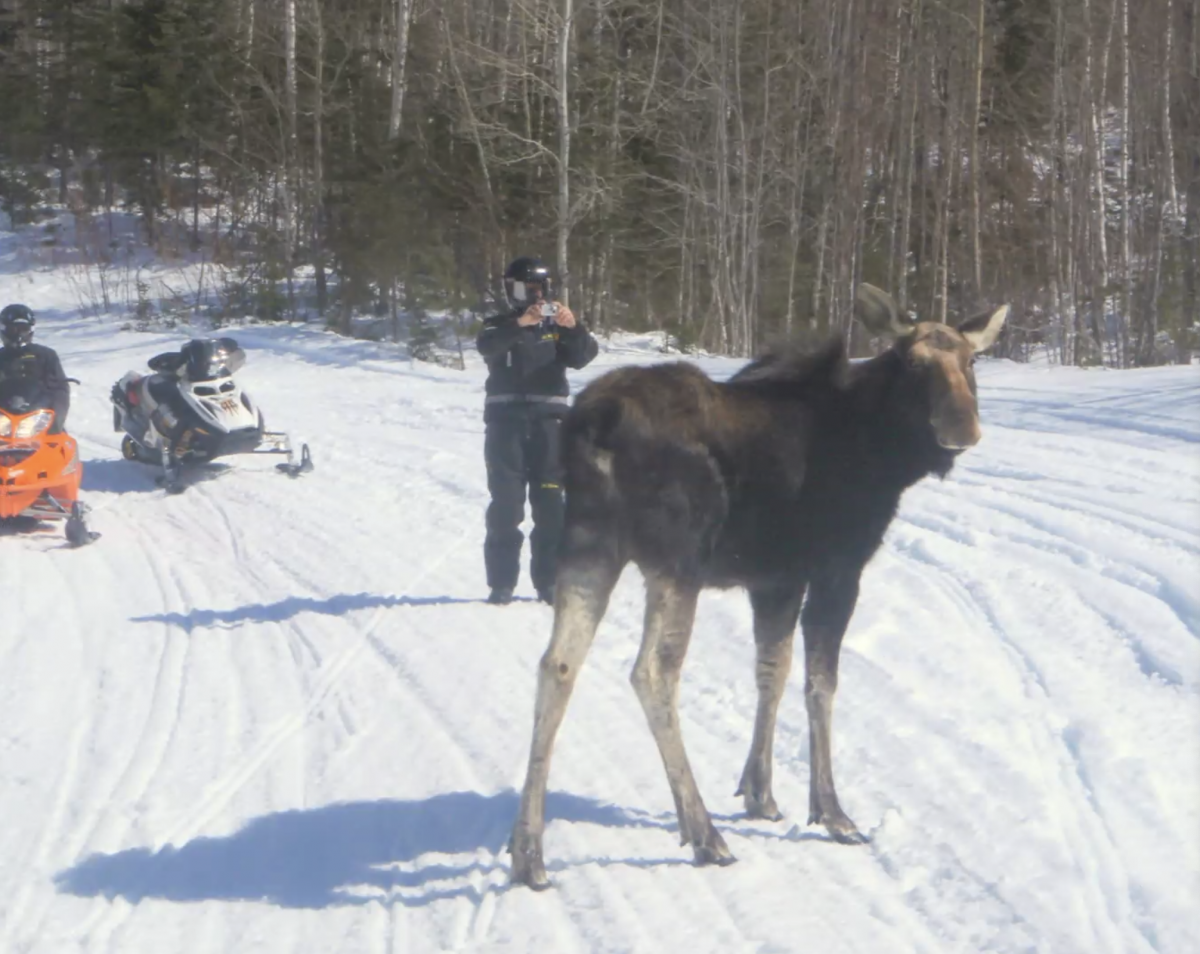 Exciting times out on the trail!
Plan your trip!
Mike invites us all to check out Sled Head Ventures and would love to take you around the frozen North East next winter.
Thanks so much Mike for sharing the highlights of your awesome sport and guided tours with us. We all really enjoyed it and can't wait for our own chance to go have an adventure in Maine!
Make friends. Host well. Travel savvy.
Make friends. Host well. Travel savvy. is the motto of the Evergreen Club. Mike and Valerie certainly do that!
We really do live in a beautiful world. There are so many fascinating places to go see. The Evergreen Club is here to help make that a reality for our members. We love the idea of making extraordinary travel available to more people by providing consistently rock-bottom prices and plenty of clean, friendly places to stay. Perhaps most rewarding is the ability to "pay it forward" by helping others have equally wonderful experiences by agreeing to host them on their adventures. In this way, we make one of the most fun, adventurous, interesting, well-traveled, and unselfish communities out there. Thank you for being part of the club.
Join us next Sunday at 7:00pm EDT for our next VTE. See you there!