Top Places to Visit in Utah
Published by
Kayleigh Ebenrick
on July 16, 2020
Have you ever been to Utah? If not, or even if you have, here is your complete travel guide of the best parks and attractions to see. Here's a map so you can orient yourself.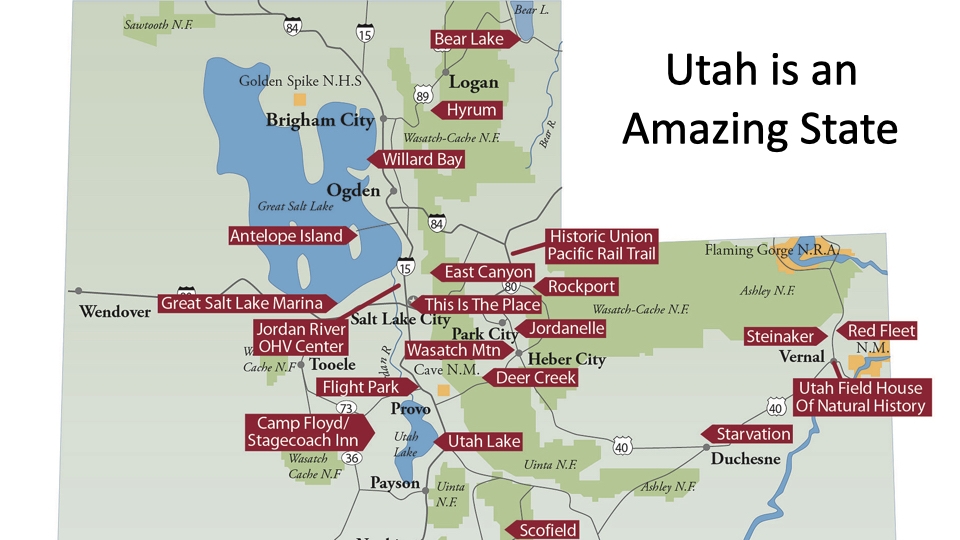 Evergreen B&B Club members, Billy & Lanee W. have traveled far and wide and both agree that Utah is their favorite state. They were kind enough to share with our Evergreen group their experience on their Utah adventure. All the photos were taken by the very talented Billy on his fancy camera! Enjoy!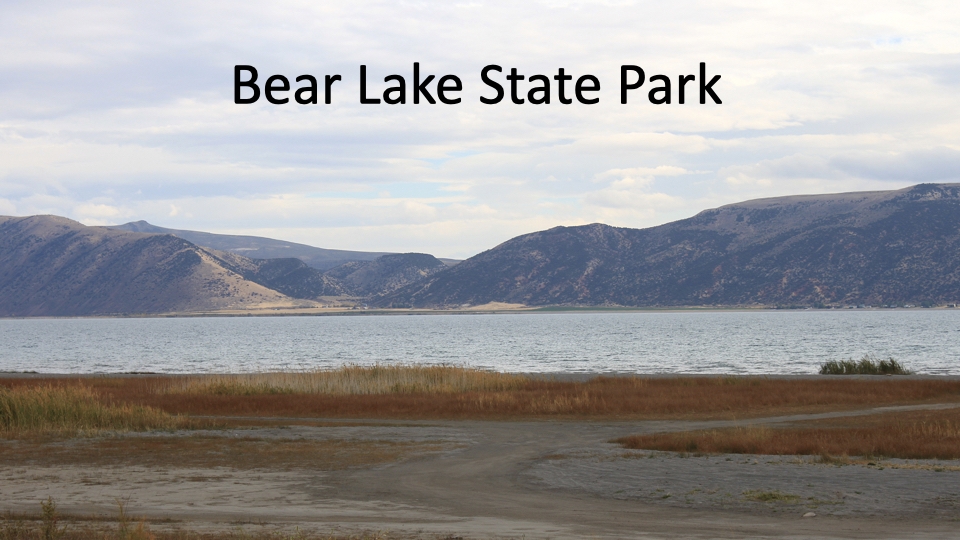 Kicking us off, Billy & Lanee stopped by Bear Lake State Park. The beautiful wide-sweeping vistas leave room for the imagination to wonder why it's named Bear Lake. It's recommended that visitors check over their shoulder every once and a while!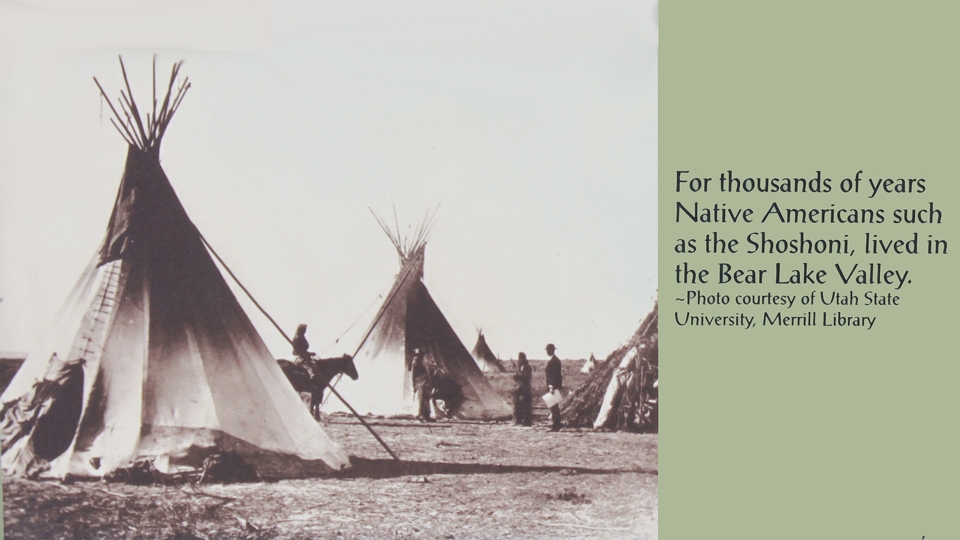 For thousands of years, Native Americans such as the Shoshoni, lived in the Bear Lake Valley. And you can imagine why! Look at how beautiful these great plains are!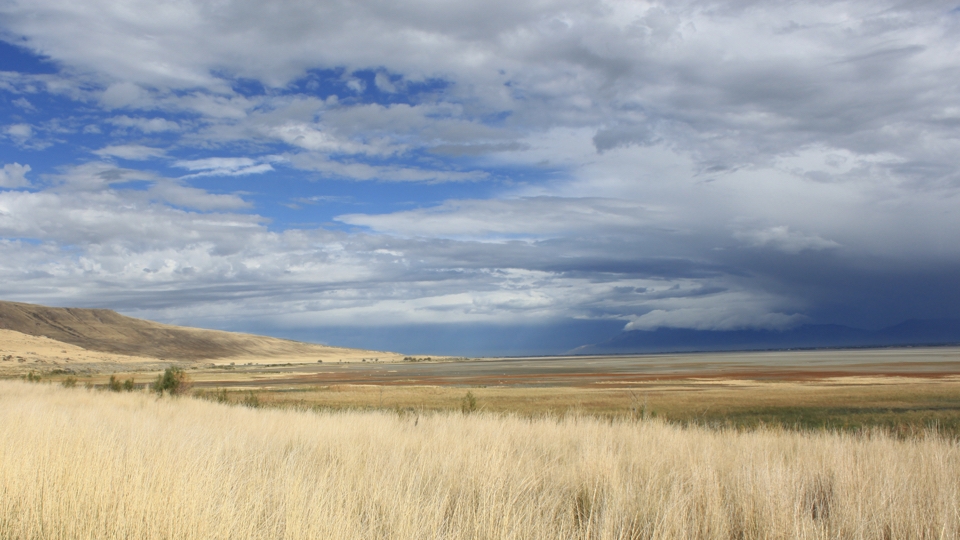 Buffalo roamed these plains and were a source of food to the Native American tribes.
The Bison of Antelope Island is one of the largest herds of bison in the U.S. Antelope Island is a bison refuge located in the middle of the Great Salt Lake.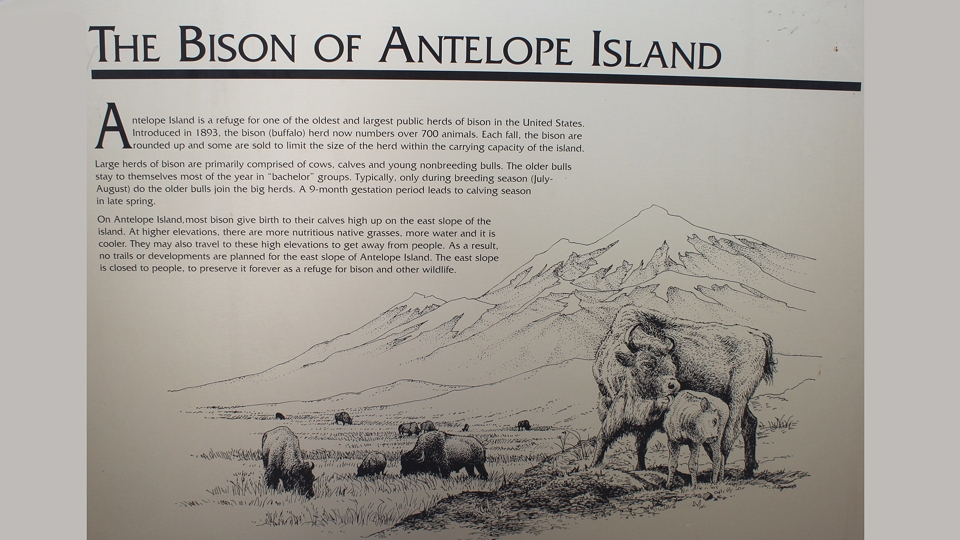 Attractions in the City
Always interested in learning more about their heritage and ancestry, Lanee & Billy visited the Genealogical Society of Utah. According to their Wiki site, their Organizational Purposes include: "Benevolent in collecting, compiling, establishing and maintaining a genealogical library for the use and benefit of its members and others, and Educational in disseminating information regarding genealogical matters."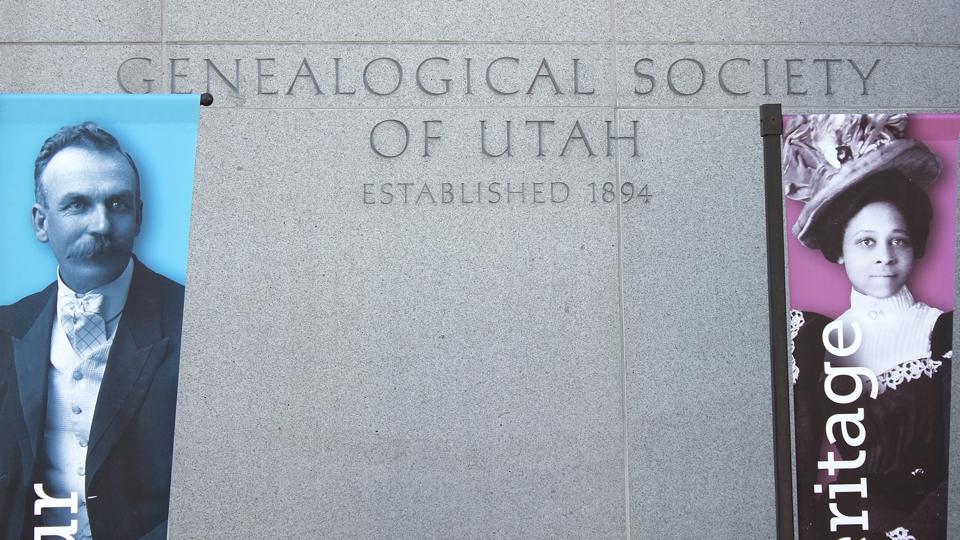 Next on the list of places Billy and Lanee visited is the "This Is The Place" Monument in Salt Lake City.
Their website says, "Step back in time and see the West as it was in the early settlement of Utah. Visit the Native American Village, which celebrates heritage before the arrival of the settlers. Authentic Navajo Hogan's and Shoshone teepees stand in a quiet circle on the hillside. Grind corn and make arrowhead necklaces. And don't miss the Native American dancers, a crowd favorite!
Interact with a blacksmith, tinsmith, and saddle maker and try your hand at some old-fashioned pioneer chores, or at spinning and carding wool. And there's endless old-fashioned fun from the bucket brigade to the Candy Cannon that shoots salt-water taffy during special events. The streets are alive with a variety of musical performers, and be on the lookout for a train robbery!
Cool off in Irrigation Station splash pad and learn why the Salt Lake Valley "blossomed as a rose!"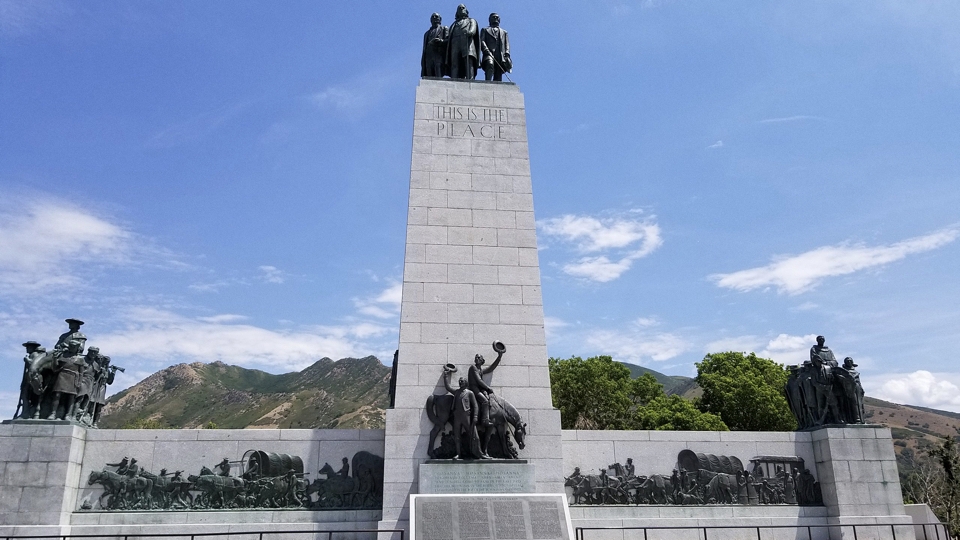 Rockport State Park
Their website, https://stateparks.utah.gov/parks/rockport/ says Rockport is, "Find first-rate, year-round recreation at this northern Utah destination. During summer, fish, boat, and water ski on Rockport Reservoir. Tent or RV camp in one of five developed and primitive campgrounds. During winter, ice fish and access nearby snowmobile trails."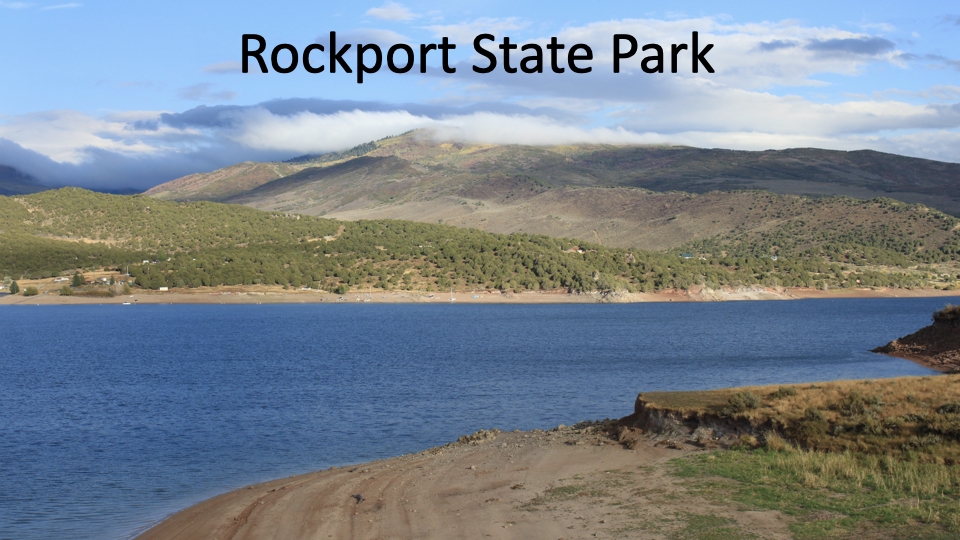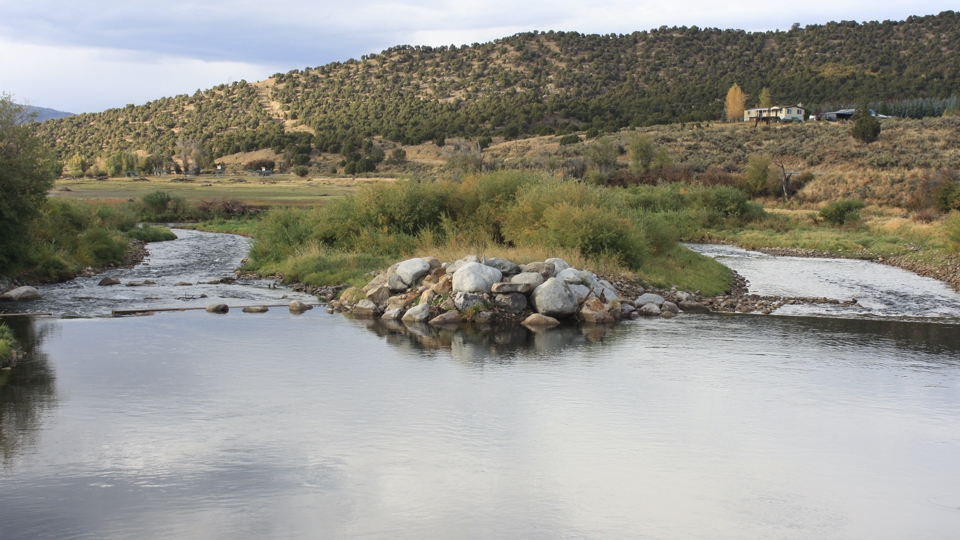 Continuing South in a clockwise direction on Highway 80, we come next to Jordanelle State Park where you get sweeping views of mountains and water in every direction.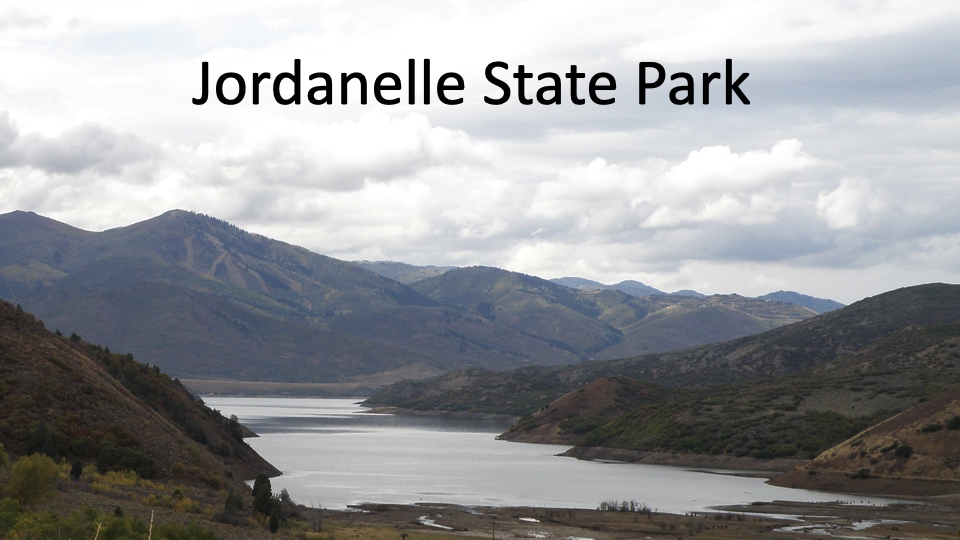 As you continue down that road, headed toward Provo, you'll find Deer Creek State Park. Known for their watersports, Deer Creek State Park is an excellent place to cool off from the blazing Utah sun. Their website says, "Windsurf, boat, zip line, swim and fish on the cool waters of Deer Creek Reservoir. After a day on the water, camp under the night sky at one of several campgrounds, all with spectacular views of nearby Mount Timpanogos"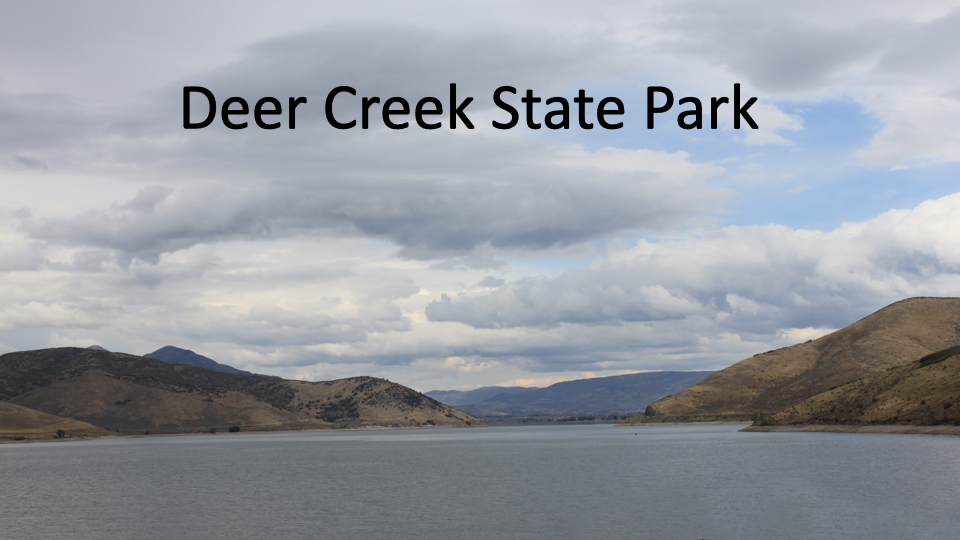 Size Up
If you're looking for a real show stopper, Bridal Veil State Park will do the job. Located up Provo Canyon (Hwy. 189) Provo, UT 84604, it's got paved trails for biking as well as some serious rugged rock climbing, if that's your thing. www.Utahvalley.com says, "Bridal Veil Falls is a beautiful natural waterfall in scenic Provo Canyon. It's easily accessible via a trail that connects to the parking lot. The trail to the falls is open year-round, although accessibility may be limited in the winter months due to snow."
It goes on to say, "Just a short drive from the mouth of the canyon on Hwy 189, Bridal Veil Falls Park has picnic tables with barbecue grills, plenty of parking (in a couple of parking lots), as well as grassy picnic spots. Bridal Veil Park sits next to the Provo River and is a short walk down the paved Provo River Parkway Trail to Bridal Veil Falls. The Bridal Veil Falls Tram is permanently closed. It was destroyed in an avalanche in 1996 and no longer operates."
In the middle shot of the photo below, look down close to the bottom. You'll see some little red and blue specks... those are people! Now you've got some perspective on the scale of this thing! Definitely worth the visit.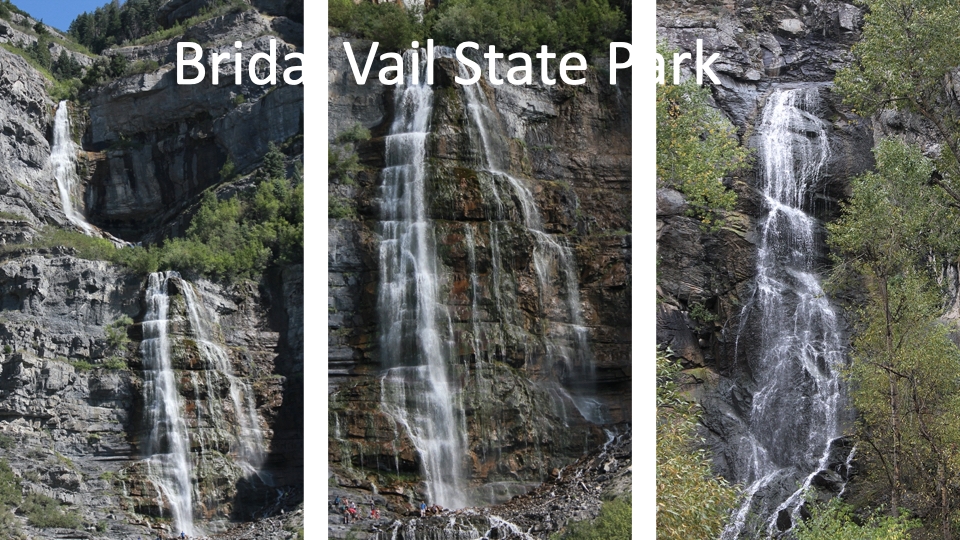 Next on Billy & Lanee's adventure takes them to the astounding colors of Flaming Gorge National Recreation Area. According to www.Utah.com, "Flaming Gorge Reservoir has been a popular Utah attraction for years. It is a huge reservoir providing outstanding opportunity for boating, fishing, skiing, jet skiing, houseboating and other water sports. Three full-service marinas offer launching, storage and maintenance facilities." You can stay at the Flaming Gorge Resort, hike & bike the many trails, or even ride the rapids on Dinosaur River in your own heavy-duty inflatable raft.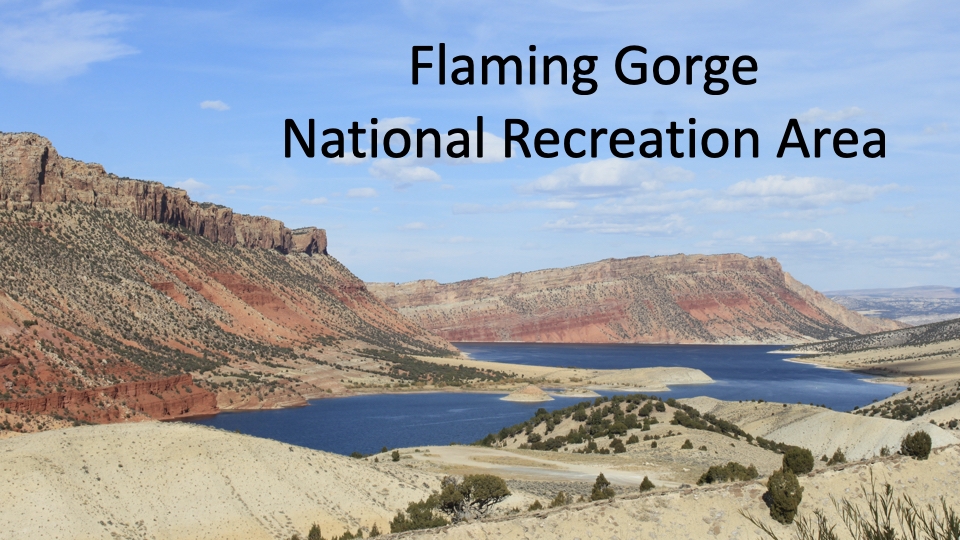 Check out these astonishing slopes! Look how teeny-tiny the people are! -- Sure gives you a sense of scale. Everything in Utah is so big!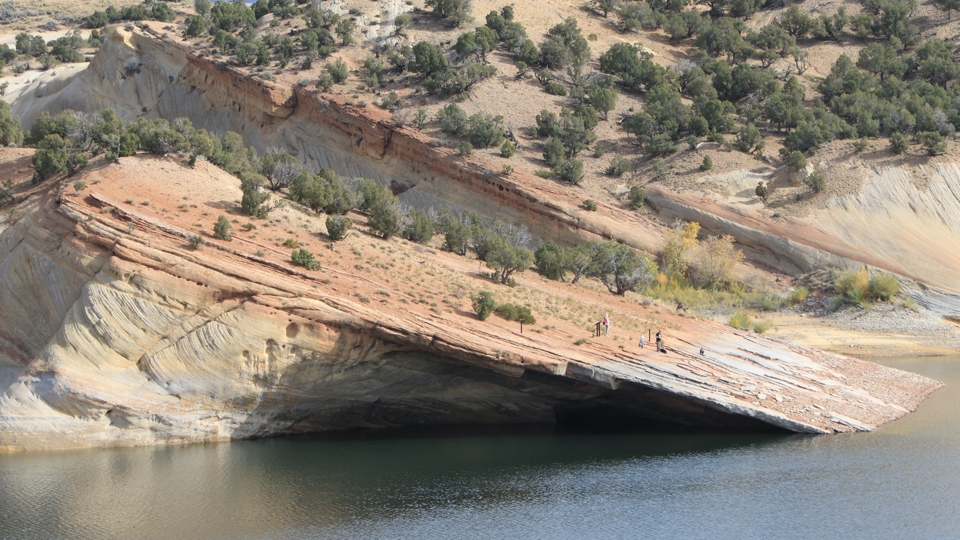 ... Including the Dinosaurs! 200 million years ago, meat-eating dinosaurs roamed this area! The photo below shows a reproduction of one of these footprints. The Red Fleet Dinosaur Trackway has over 300 tracks and 3 distinct trackways. A trackway is three or more footprints in a row from the same dinosaur. Trackways are unique because only a few exist in the United States.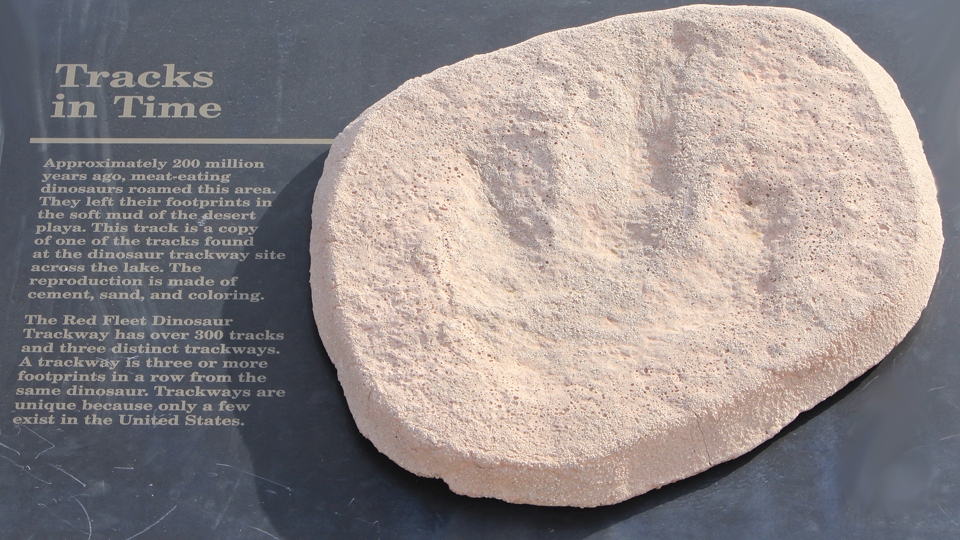 Let's look back at our map.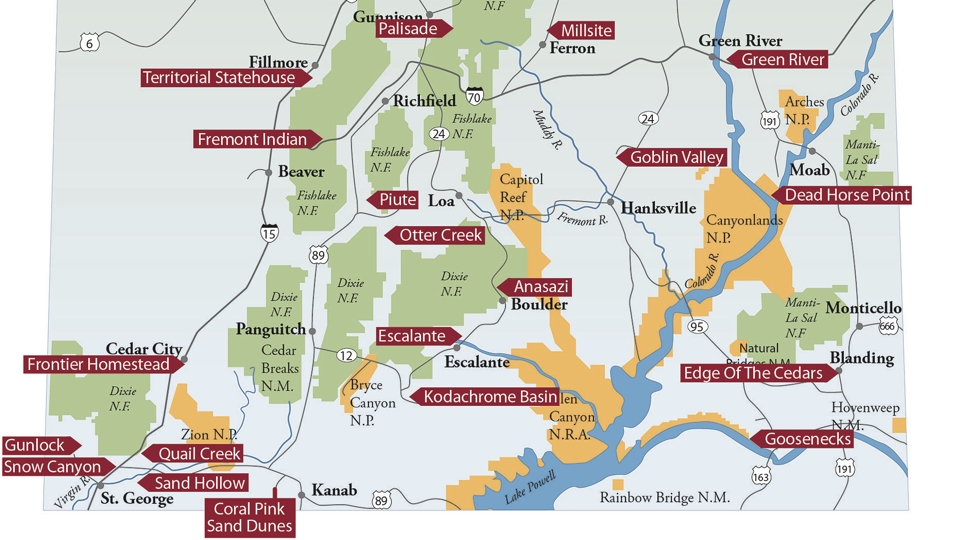 Starting in the upper right hand corner of our map you can find Green River State Park. This park has a lovely campground. You'll find paved roads with plenty of shade. Enjoy a picnic lunch sitting under the shady cover of trees.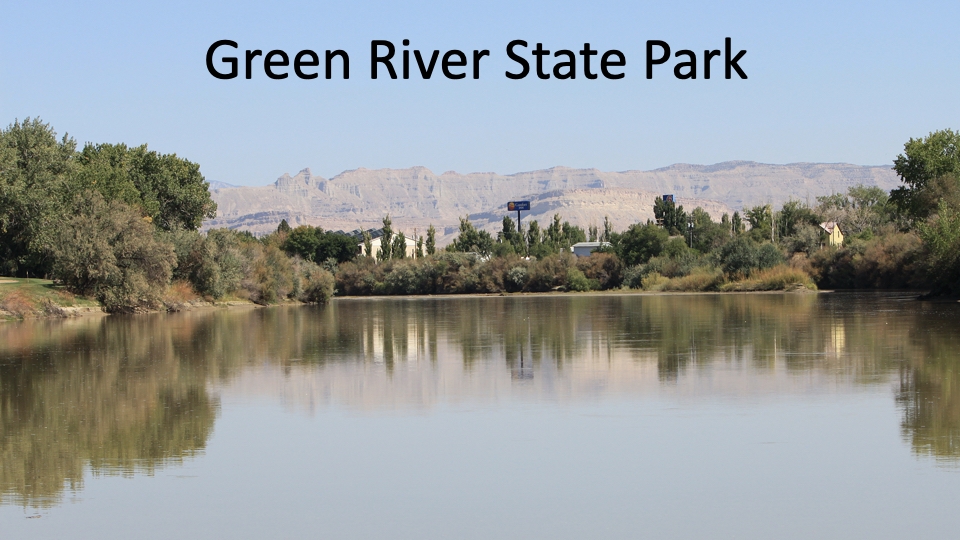 Next we move to one of the most famous parts of Utah: Arches National Park.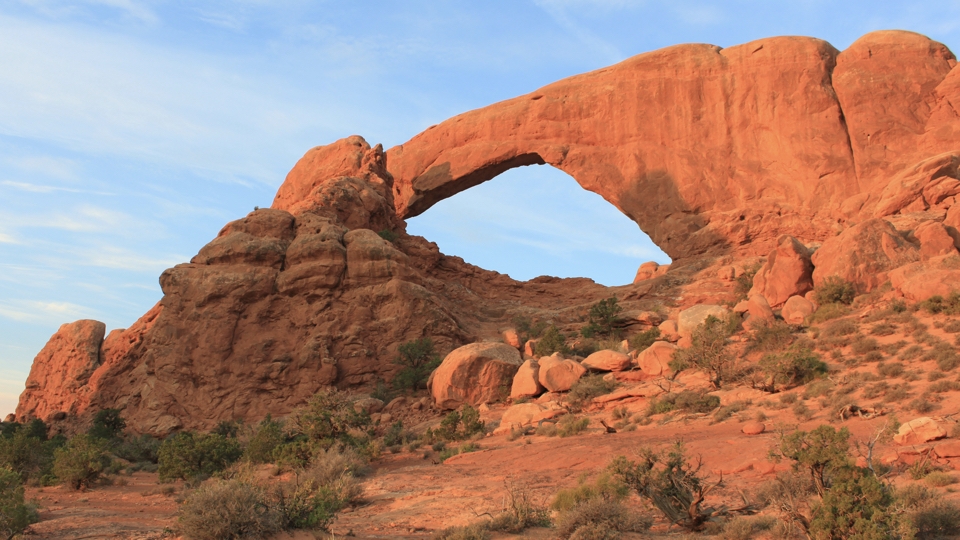 According to "Plan Your Visit" on the Arches National Park website, "Arches National Park is a wonderland of red rocks and blue sky. The red rock landscape at Arches might feel timeless, dream-like, or even other-worldly. People have documented over 2,000 natural stone arches within park boundaries. You can see arches, towers, pinnacles, and balanced rocks from the paved park roads. Take a hike, and you can see even more.

"To learn more about the park, join us on a ranger program. Check out the visitor center, or download a variety of publications. Take a look at the links below to plan your visit."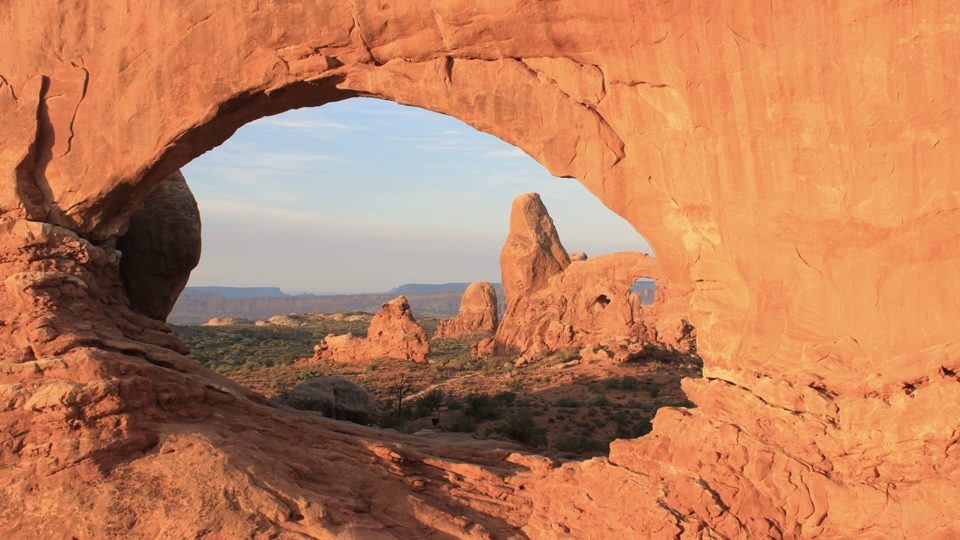 At this extraordinary park, you can tour by car, backpack, bike, camp, climb the canyons, take a commercial guided tour, hike, ride horseback, take photos (see photo guide here), take a ranger-led program, rock climb, and star gaze! There's something for everyone here!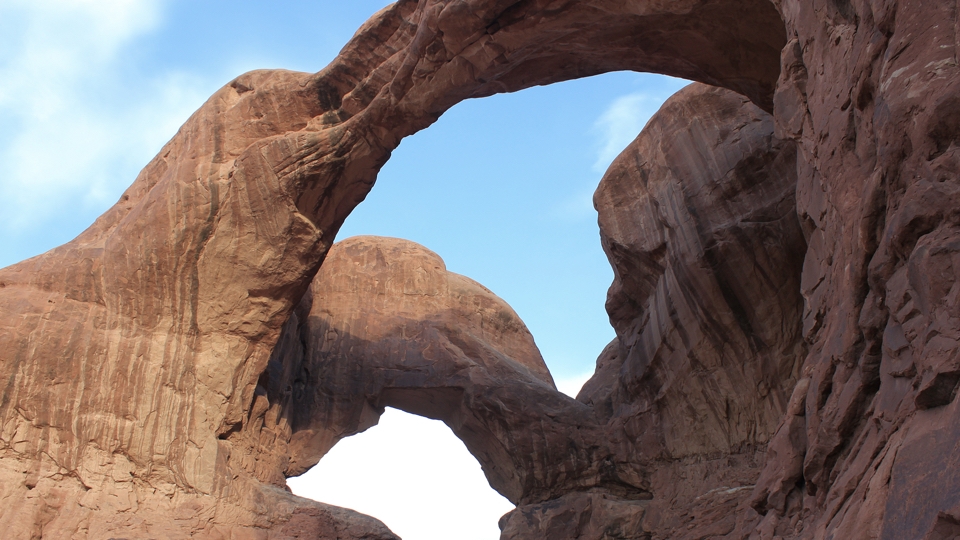 Back on the park's website, it gives a very helpful reminder, "Arches is a very popular national park. Traffic congestion between March and October can quickly bring you back to reality. Bring your patience, visit nearby attractions, or plan a visit during slower seasons. Planning ahead can help make your visit as enjoyable as possible." Good to know!
On the Road Again
Back on the road, we stop to gaze in wonder off of Dead Horse Point. It's a scenic overlook on the highway, so be sure you pull over to take a look. You don't want to miss this!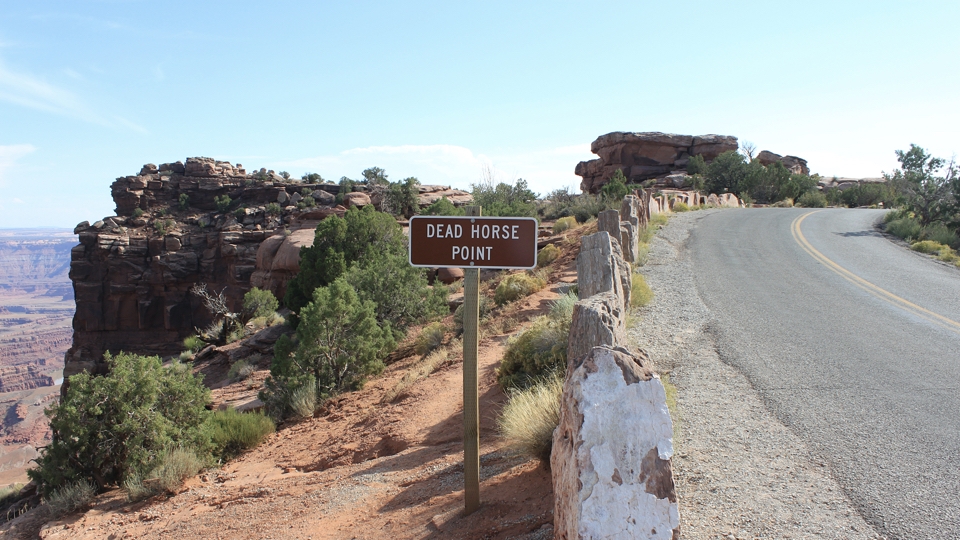 From Dead Horse Point, you get this breathtaking view! Holy smokes! Moments like this can make us feel small, and simultaneously in awe of the Creator.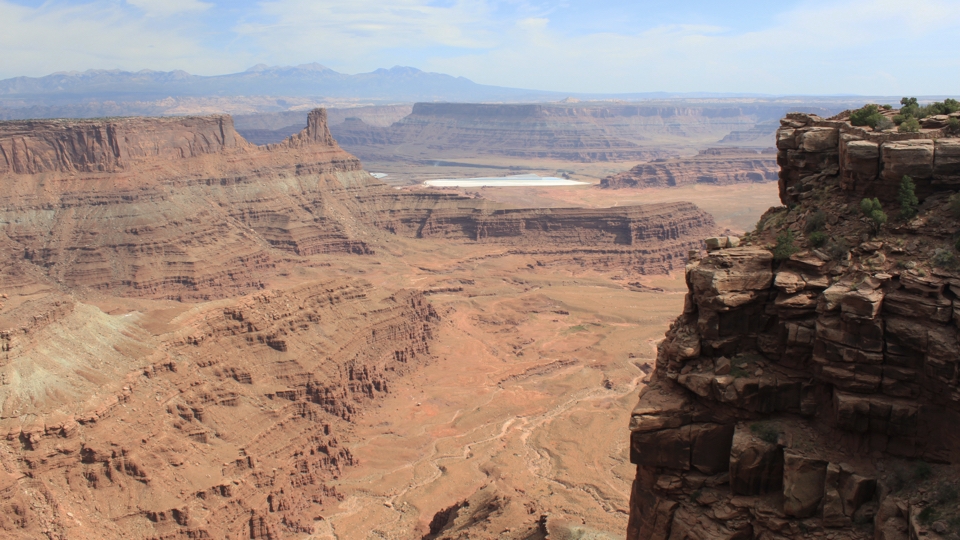 Once you start breathing again, hit the road and continue South toward Canyonlands National Park.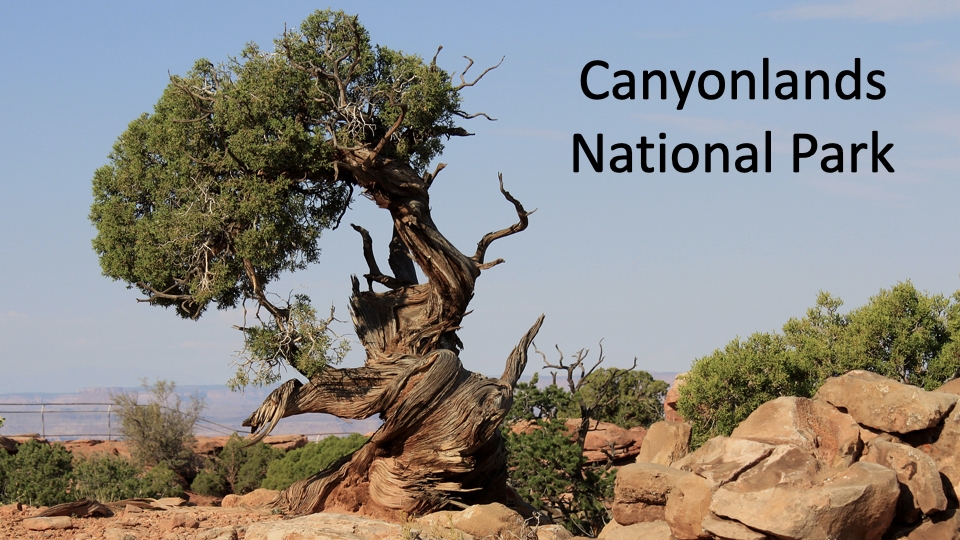 According to Wikipedia, "Canyonlands National Park is an American national park located in southeastern Utah near the town of Moab. The park preserves a colorful landscape eroded into numerous canyons, mesas, and buttes by the Colorado River, the Green River, and their respective tributaries. Legislation creating the park was signed into law by President Lyndon Johnson on September 12, 1964.[4]"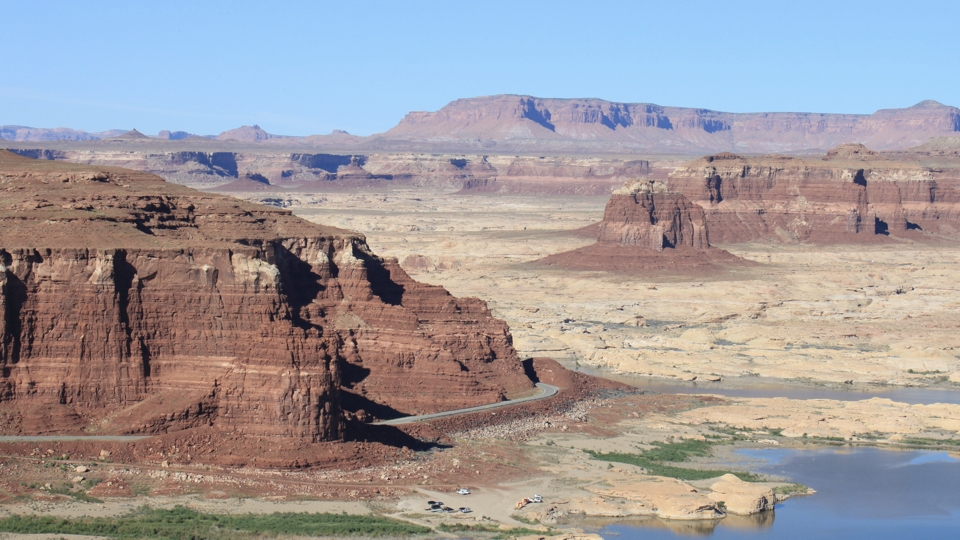 The Wiki page goes on to say, "The park is divided into four districts: the Island in the Sky, the Needles, the Maze, and the combined rivers—the Green and Colorado—which carved two large canyons into the
Colorado Plateau
. While these areas share a primitive desert atmosphere, each retains its own character.
[5]
Author
Edward Abbey
, a frequent visitor, described the Canyonlands as "the most weird, wonderful, magical place on earth—there is nothing else like it anywhere."
[6]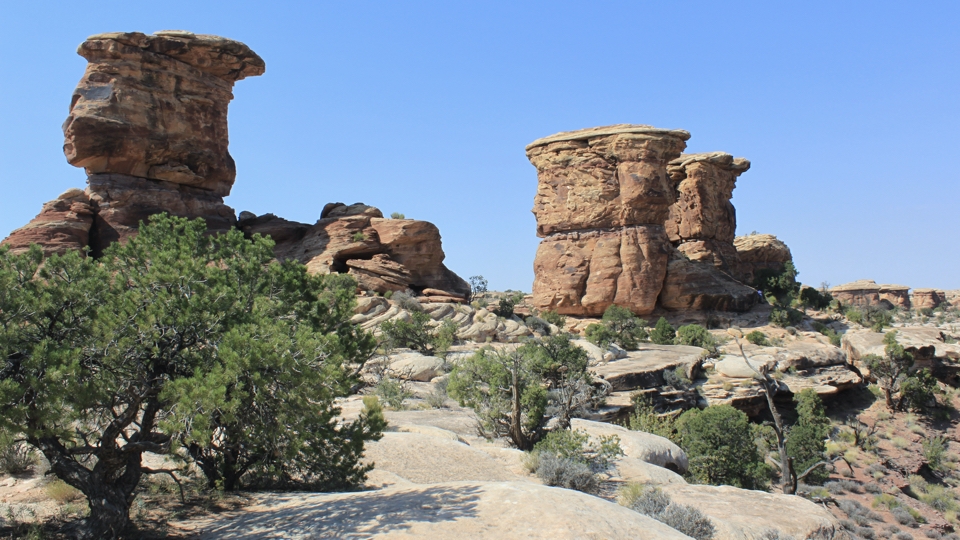 Due west of Canyonlands National Park (on the other side of Hanksville) is Capitol Reef National Park. "The majority of the nearly 100 mi (160 km) long up-thrust formation called the Waterpocket Fold—a rocky spine extending from Thousand Lake Mountain to Lake Powell—is preserved within the park. Capitol Reef is an especially rugged and spectacular segment of the Waterpocket Fold by the Fremont River.[5] The park was named for its whitish Navajo Sandstone cliffs with dome formations—similar to the white domes often placed on capitol buildings—that run from the Fremont River to Pleasant Creek on the Waterpocket Fold. Locally, reef refers to any rocky barrier to land travel, just as ocean reefs are barriers to sea travel.[6]" (Wikipedia).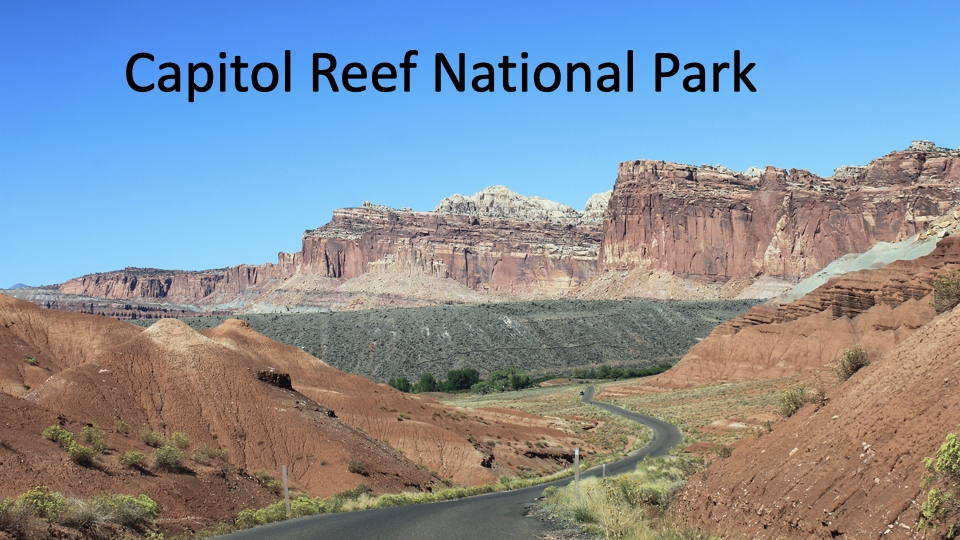 Here's our map again, so we can keep track of where we are.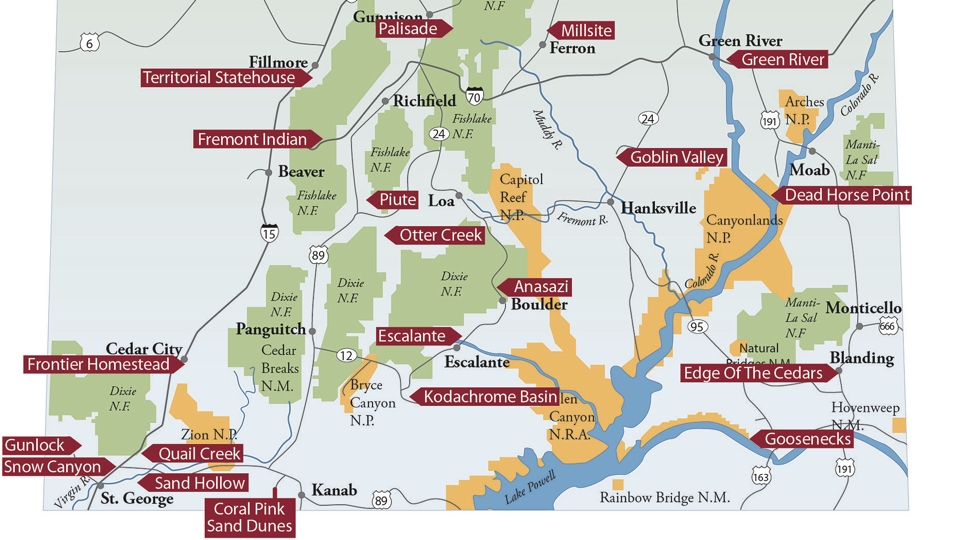 Glen Canyon
"Encompassing over 1.25 million acres, Glen Canyon National Recreation Area offers unparalleled opportunities for water-based & backcountry recreation. The recreation area stretches for hundreds of miles from Lees Ferry in Arizona to the Orange Cliffs of southern Utah, encompassing scenic vistas, geologic wonders, and a vast panorama of human history." - https://www.nps.gov/glca/index.htm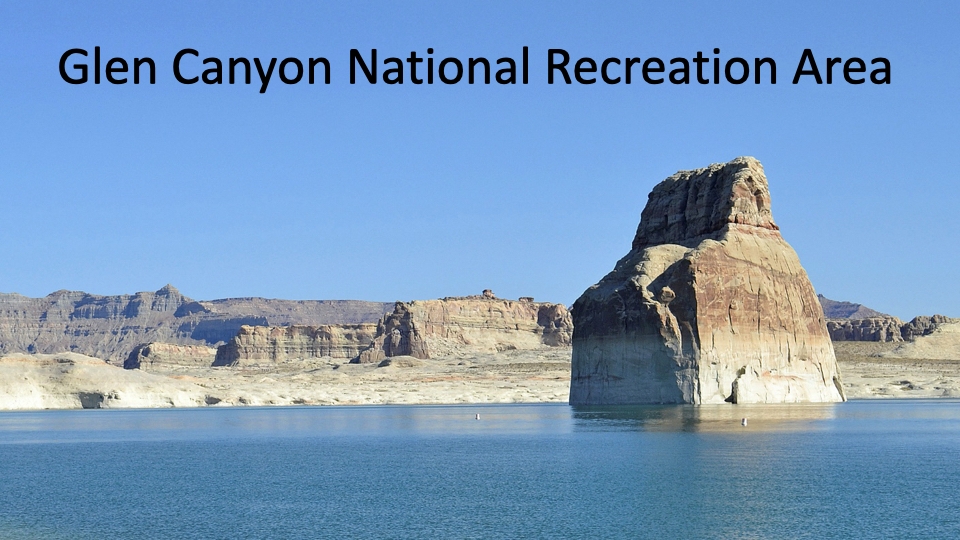 Glen Canyon: Hole-In-The-Rock Road
According to the nps.gov website, "This 62 mile (100 km) drive (one way) runs from Escalante, Utah to the Hole-in-the-Rock on the western shore of Lake Powell following the general route of of the original Hole-in-the-Rock Expedition. Most of the road is in Grand Staircase-Ecalante National Monument, however the last approximately 5 miles are within the boundaries of Glen Canyon NRA. Most of the road on BLM land is passable to high-clearance, two-wheel drive vehicles in dry weather. The last few miles within Glen Canyon are best travelled by foot, bicycle, or four-wheel drive vehicle. There are numerous side-roads that leave this main road. Nearly all of these are only recommended for four-wheel drive.
"Persons travelling this road should carry plenty of water (at least one gallon--4 liters--per person per day) and be equipped to get themselves out of any difficulty they might encounter. This road is not routinely patrolled by any agency. Temperatures can range over 100° F (38°C) in summer to near 0° F (-17°C) in winter. Sudden heavy rains, especially in summer months may make this road impassable. If you are caught near the end of the road during a heavy storm, you may not be able to make it back to the paved highway, even with a four-wheel drive."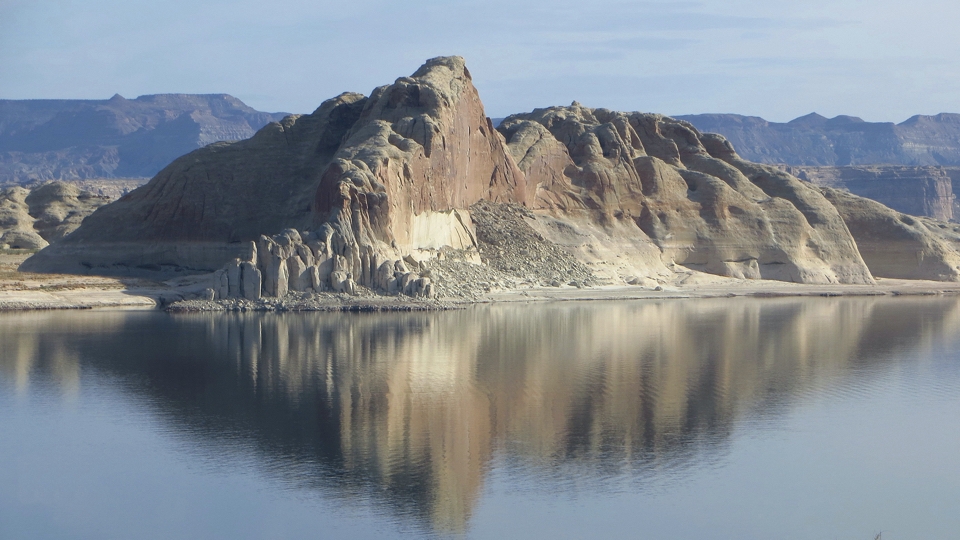 Northwest from Glen Canyon is the Escalante Petrified Forest State Park.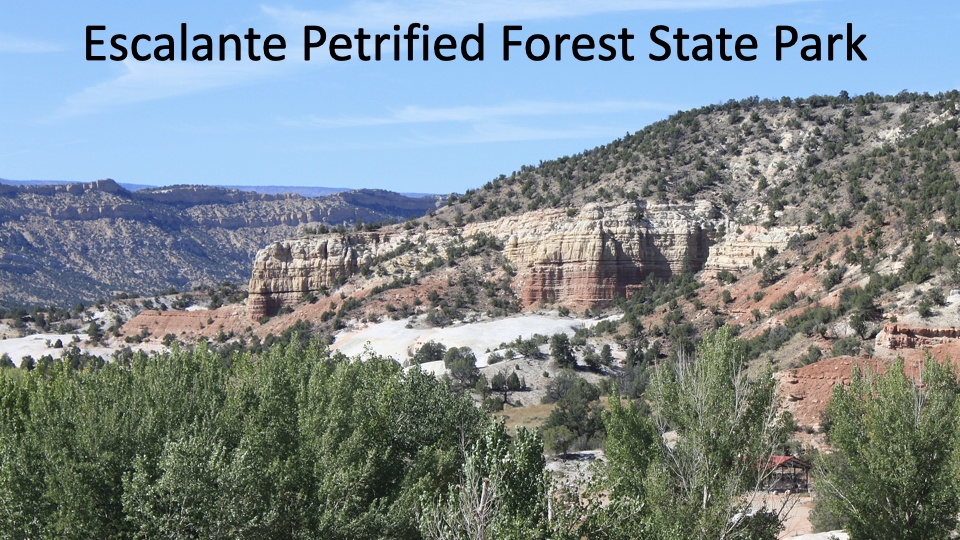 The park website says, "Camp along the shores of Wide Hollow Reservoir, or rent a canoe, kayak or paddle board on its clear waters. Hike along park nature trails through a petrified forest, but remember to take only photographs. Some say the petrified wood is haunted and removing a piece brings the taker nothing but bad luck. Watch this and decide for yourself!"
Next on our journey is Kodachrome Basin State Park. This park features "67 monolithic stone spires, called sedimentary pipes, accentuate multihued sandstone layers that reveal 180 million years of geologic time. The color and beauty found here prompted a National Geographic Society expedition to name the area Kodachrome, after the popular color film, in 1948" (https://stateparks.utah.gov/parks/kodachrome-basin/)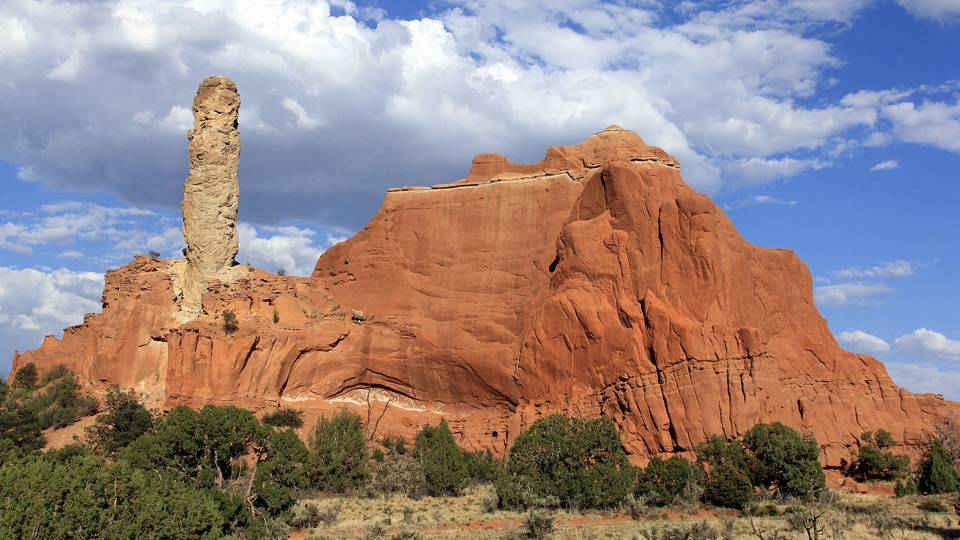 These colors are just astounding! It's a must for all photographers and painting enthusiasts.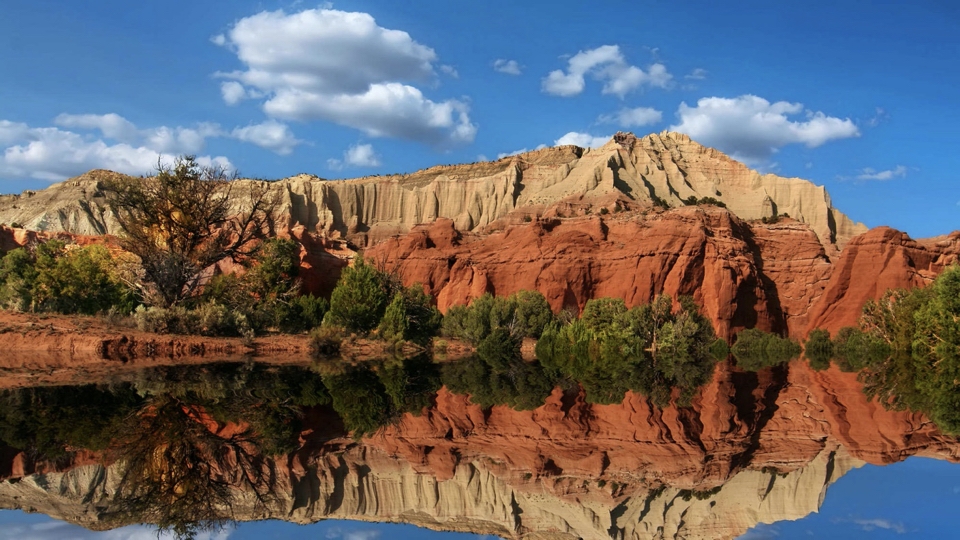 One of the more famous parks on our journey is Bryce Canyon National Park. Its fame comes from the distinctive "hoodoos" or rock spires.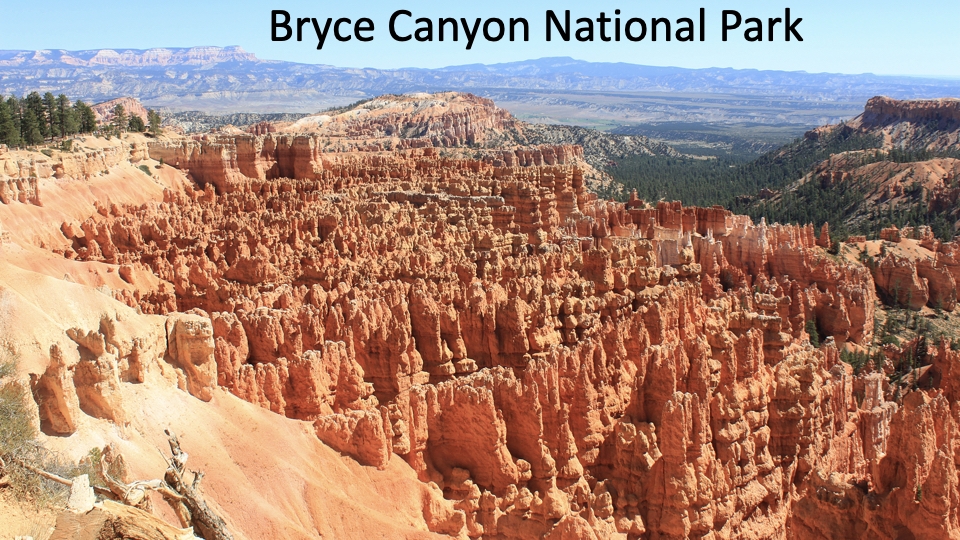 "Bryce Canyon National Park (/braɪs/) is an American national park located in southwestern Utah. The major feature of the park is Bryce Canyon, which despite its name, is not a canyon, but a collection of giant natural amphitheaters along the eastern side of the Paunsaugunt Plateau. Bryce is distinctive due to geological structures called hoodoos, formed by frost weathering and stream erosion of the river and lake bed sedimentary rocks. The red, orange, and white colors of the rocks provide spectacular views for park visitors. Bryce Canyon National Park is much smaller, and sits at a much higher elevation than nearby Zion National Park. The rim at Bryce varies from 8,000 to 9,000 feet (2,400 to 2,700 m)." (Wikipedia)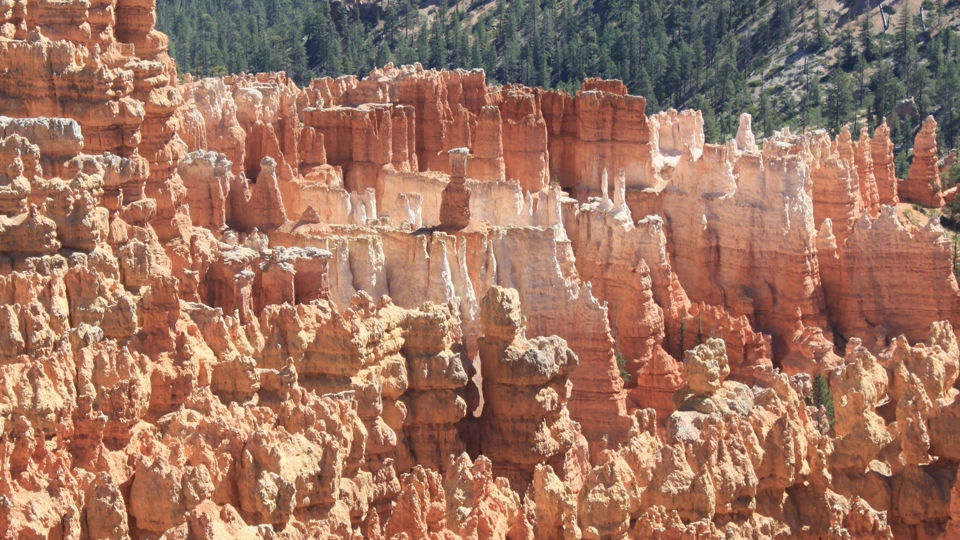 Red Canyon
Utah.com says, "From the Native Americans who traveled the canyons, to people like J.W. Humphry who constructed the tunnels, Red Canyon on the Dixie National Forest has fascinated people for centuries. Unique vermilion-colored rock formation and stands of Ponderosa pines make the canyon exceptionally scenic. Take time to discover all that Red Canyon has to offer.
"The first stop when touring Highway 12 is the Scenic Byway Information Kiosk located at the mouth of Red Canyon. This information pavilion provides an overview of the entire byway and highlights significant features.
"The Red Canyon Visitor Center, open from Memorial Day to Labor Day, has information on hiking, camping, picnicking, and sightseeing. A U.S. Forest Service campground is across the road from the visitor center.
"For a closer look at the unique scenery, Red Canyon features an extensive and well-maintained trail system that provides something for everyone. The Birdseye Trail is a moderate .8-mile hike offering spectacular close-up views of the red rock formations. The 3-mile Losee Canyon Trail provides a more rugged look at some of the Red Canyon area "crown jewels". Off-highway vehicle (OHV) use is allowed on the Casto Canyon Trail. Please check with the visitor center for trail use."
Geology, Wildflowers and Night Skies at 10,000 Feet
Next up is Cedar Breaks National Park. nps.gov says, "Discover one of America's most special parks! Crowning the grand staircase, Cedar Breaks sits at over 10,000 feet and looks down into a half-mile deep geologic amphitheater. Come wander among timeless bristlecone pines, stand in lush meadows of wildflower, ponder crystal-clear night skies and experience the richness of our subalpine forest."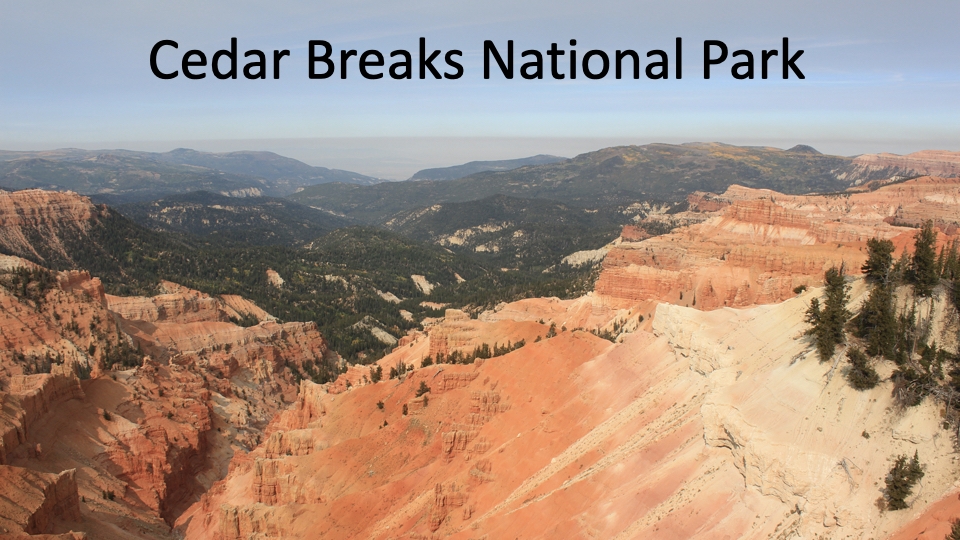 Visit Utah's First National Monument
Nps.gov recommends another park, Natural Bridges National Park: "Three majestic natural bridges invite you to ponder the power of water in a landscape usually defined by its absence. View them from an overlook, or hit the trails and experience their grandeur from below. Declared a National Monument in 1908, the bridges are named "Kachina," "Owachomo" and "Sipapu" in honor of the ancestral Puebloans who once made this place their home."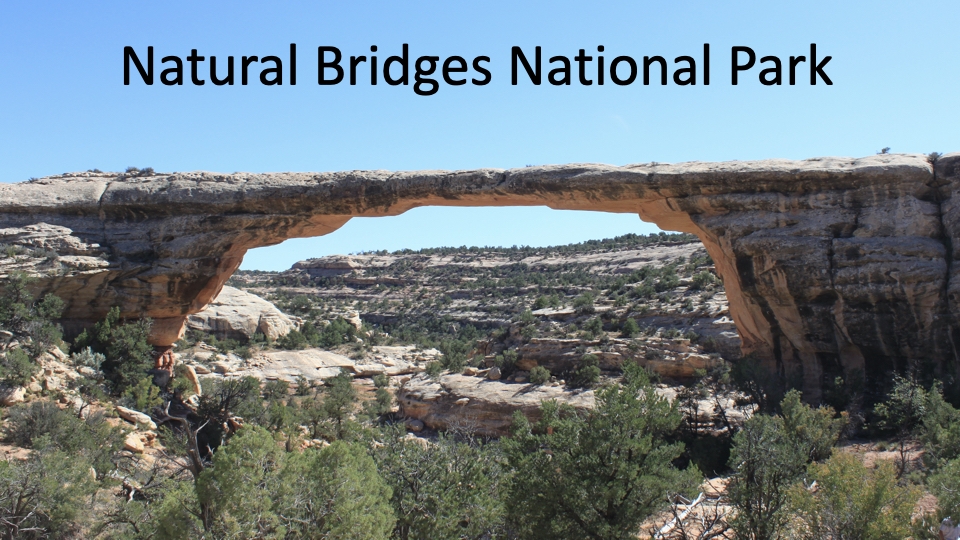 One of the most photographed parks in Utah is the stunning Goosenecks State Park. "The San Juan River makes a series of tight turns - goosenecks - below this viewpoint. The river has carved a deep canyon here, dropping about 1,000 feet below the viewpoint. Geologists say this erosion has uncovered a rock record exposing some 300 million years of time." - Utah.com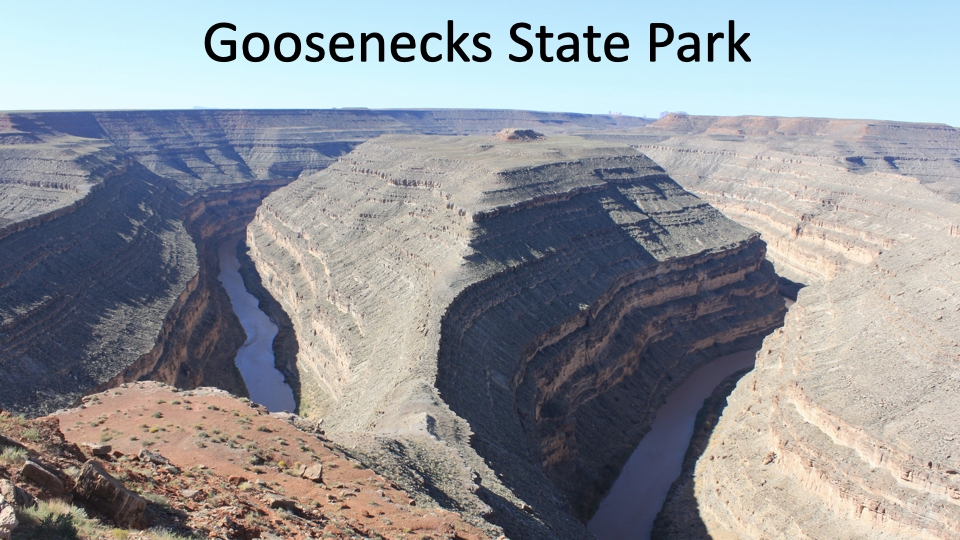 Hike The Wave
Get ready for a hike of a lifetime. Mindblowing color creates an otherworldly scene at The Coyote Buttes North Wilderness.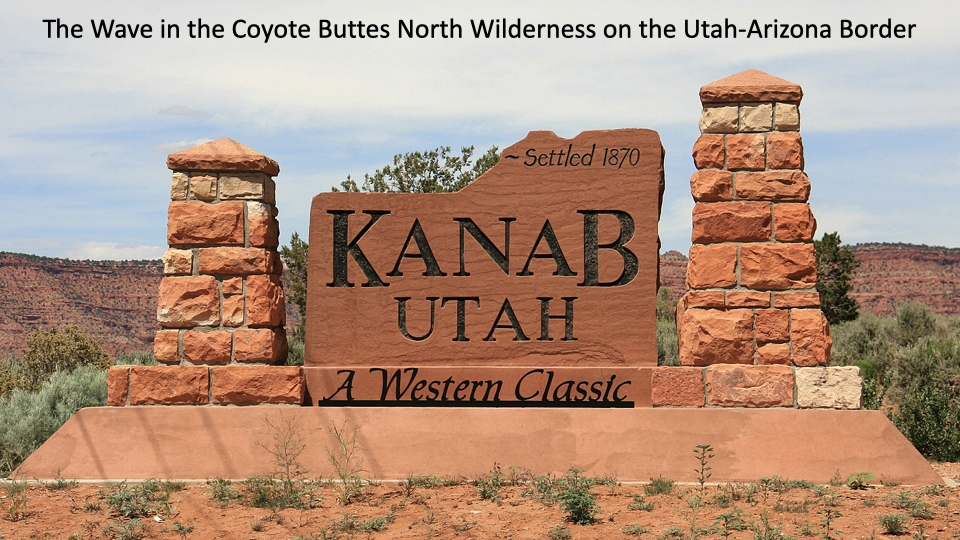 On the Zoom Session last night someone offered clarification about going to the Wave south of Kanab, Utah. It requires a permit. The information below was obtained from the web site https://bearfoottheory.com/hiking-the-wave-in-arizona/ (one of many with information).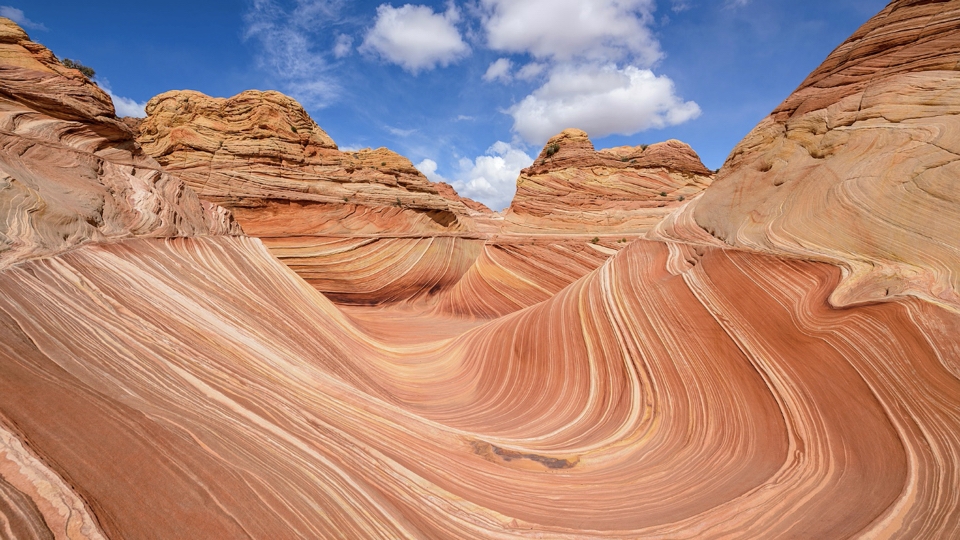 "There are two ways to obtain a permit for hiking the Wave in Arizona. If you can plan ahead, you should try your luck in the advanced online lottery. However, if your trip is last minute or you are unsuccessful in the online Wave lottery, you can also enter the in-person lottery at the Visitors Center in Kanab, Utah. Only 20 people are issued permits for the Wave each day – half in the advanced lottery and half in-person. The cost is $7 per person per day. The online lottery costs an additional $5 and is non-refundable, even if you are unsuccessful.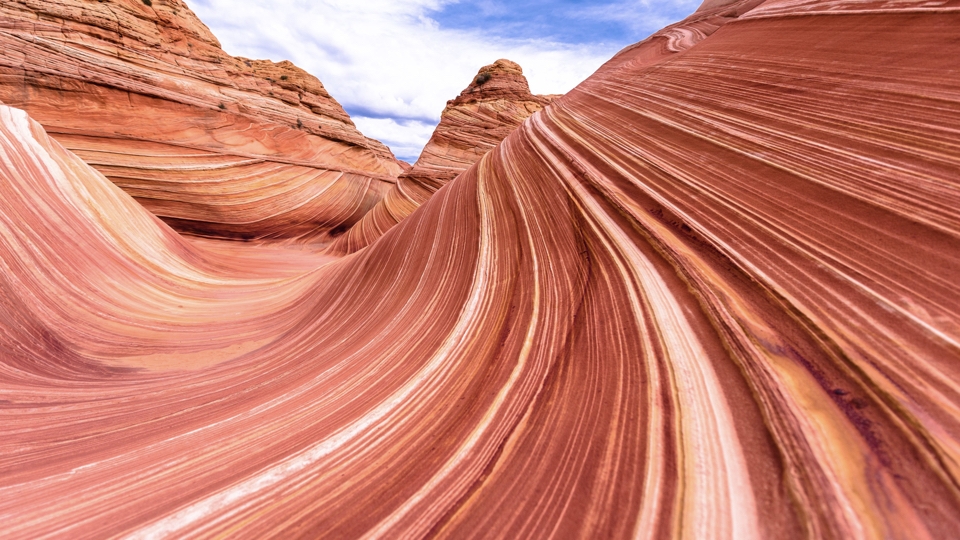 Most people access the Wave from the Wire Pass Trailhead located in the North Coyote Buttes permit area of the Vermilion Cliffs National Monument.
Trail Type: Out-and-back
Length: 5.2 miles
Elevation Change: +/- 400 feet
Dogs Allowed: Yes, for an additional $7/per dog/per day (They must be under your control at all times and you are required to pack out your waste)
Best Season: Spring and Fall (best weather)
Time: 2-4 hours
Permit Required: YES
Water Availability: None (You are in the desert…Take Water).
Here's an example of how this works. Let's say you want to hike The Wave sometime in May. You must submit your online application sometime between January 1st and January 31st. When applying you are allowed to enter three different hiking dates for the month of May. The lottery then takes place on the morning of February 1st, after which you will be notified by email whether or not you were successful. If you were successful, then you have 14 days to confirm and pay for your permit online. If you don't confirm during this time, your permit is released back into the system.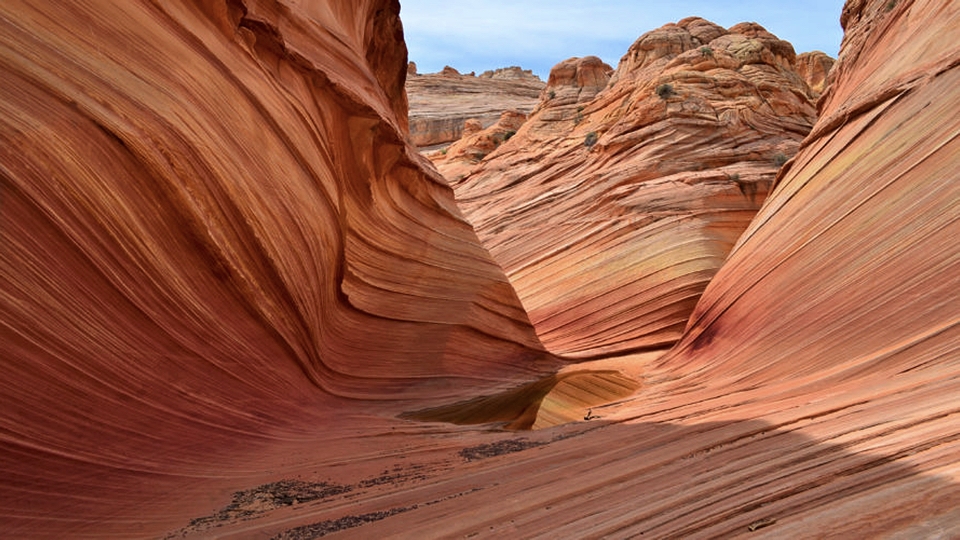 If you are a photographer 82 miles from Kanab, Utah is Antelope Canyon, Arizona.
One of the most popular questions before visiting the Canyon is whether or not you should book a tour guide. Please know that you can not enter Antelope Canyon without a native Navajo guide. Therefore it is not only recommended to book a tour, but absolutely necessary.
There are two departure points for tours – Upper and Lower Antelope Canyon. Upper is more popular, particularly if you're after great photos. Navajo Tours charged $40 per person to enter at the premium lighting time for tours (10:00 a.m.); this is the best chance to take great photos inside the Canyon, when the light begins to pour in through the slots. If you want a photo tour it is $80. The last time I tried it was six weeks before the first opening.
For more information https://antelopecanyon.az/why-you-should-book-in-advance/
Zion National Park
The U.S. National Park Service says, "Follow the paths where ancient native people and pioneers walked. Gaze up at massive sandstone cliffs of cream, pink, and red that soar into a brilliant blue sky. Experience wilderness in a narrow slot canyon. Zion's unique array of plants and animals will enchant you as you absorb the rich history of the past and enjoy the excitement of present day adventures."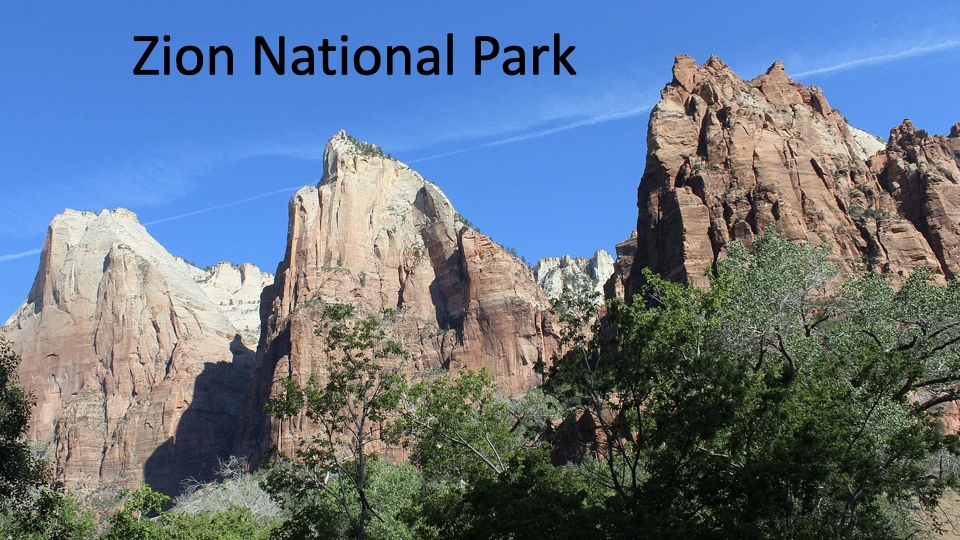 The next to last stop on our epic Utah tour is Snow Canyon State Park. It's a state park of Utah, "featuring a canyon carved from the red and white Navajo sandstone in the Red Mountains. The park is located near Ivins, Utah and St. George in Washington County. Other geological features of the state park include extinct cinder cones, lava tubes, lava flows, and sand dunes." - Wikipedia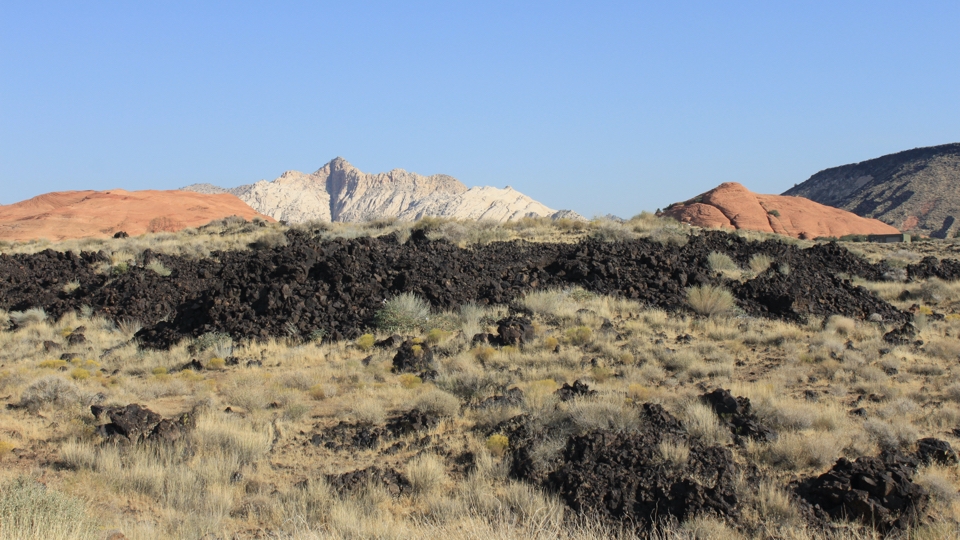 Pine Canyon
And finally, Pine Canyon. Alltrails.com says the hike on "White Pine Canyon Trail is a 3.5 mile moderately trafficked out and back trail located near Tooele, Utah that features beautiful wild flowers and is rated as moderate. The trail is primarily used for hiking, walking, nature trips, and bird watching and is best used from April until October."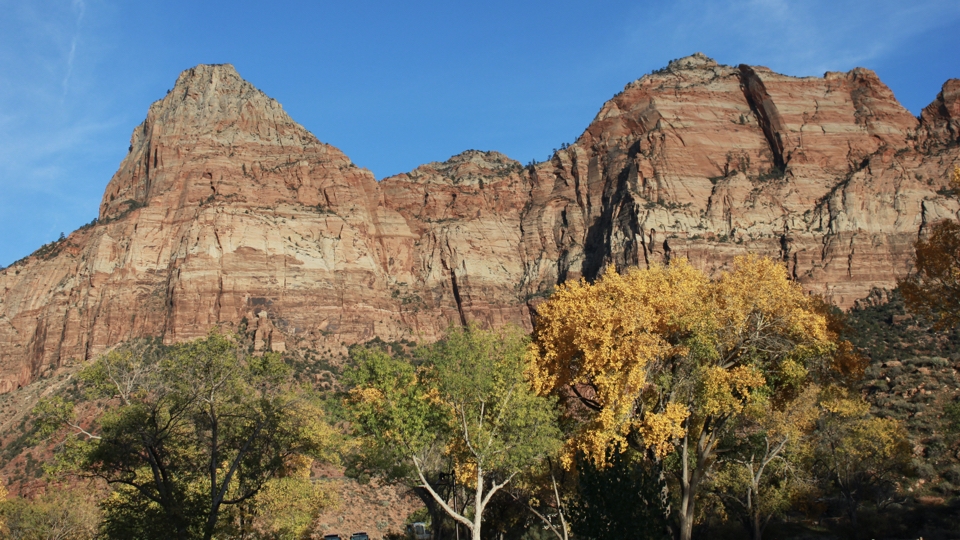 I think we can all agree that Utah looks like Mars more than anything we've seen on earth. It's so rugged and beautiful, with colors that seem almost unbelievable. So who's ready to go?!
A huge thank you to Billy & Lanee W. again for sharing you wonderful experience with all of us.
Join us next week for yet another fun-filled VTE via Zoom call. See you at 7:00pm EDT. Cheers!