Top Places to Visit in New Mexico
Published by
Kayleigh Ebenrick
on July 26, 2020
Have you ever been to New Mexico? It's called the Land of Enchantment, and it's not hard to see why. In this blog post, you'll read about some of the very best places in the state, from the first-hand experience of our wonderful Evergreen members Billy & Lanee W., from Texas. They've traveled far and wide and have shared their beautiful photographs with us here.
Let's get started: Here's a map so you can orient yourself.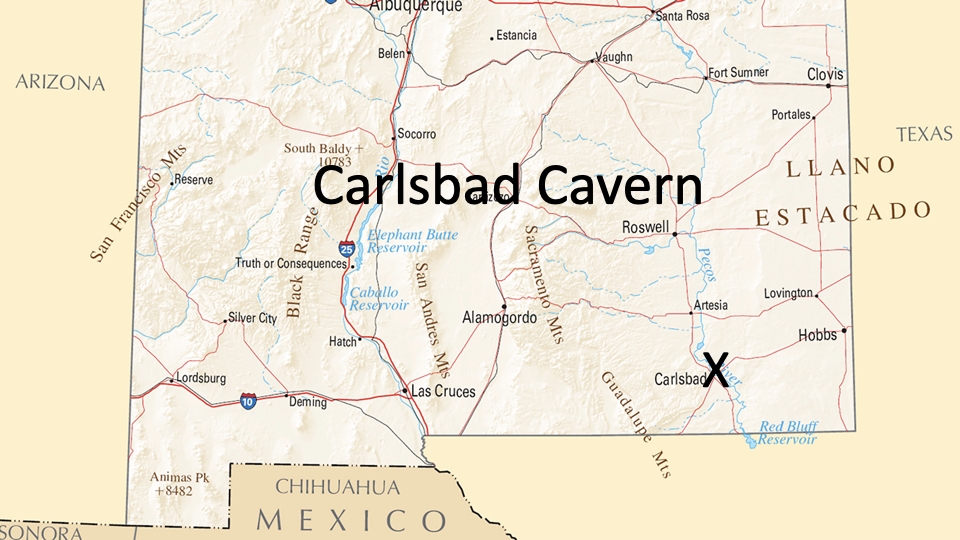 Carlsbad Cavern
Not sure who Carl is and why he was so bad, but this cavern sure is a great way to start off our adventure. The scenes from this underground lair are otherworldly and start us off with some stunning visuals. Tours run year-round.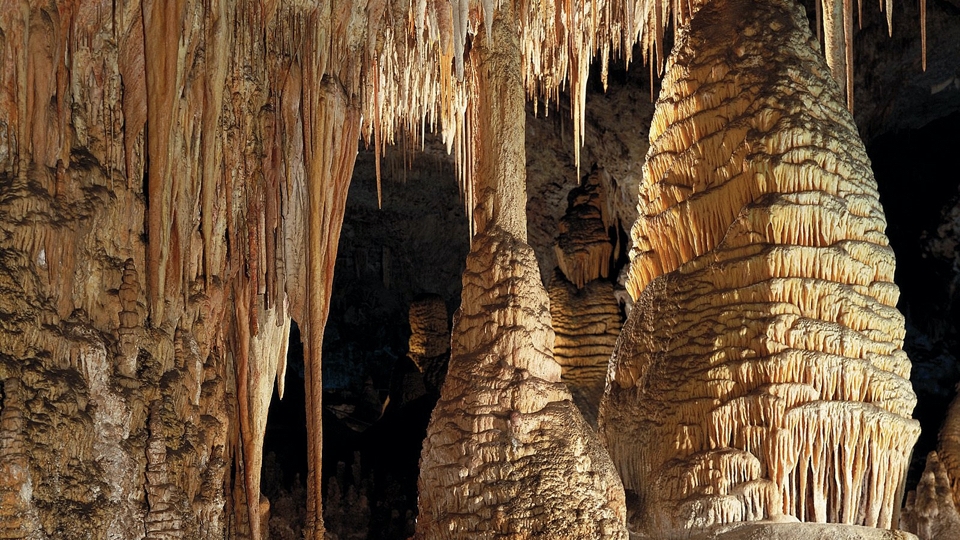 White Sands National Park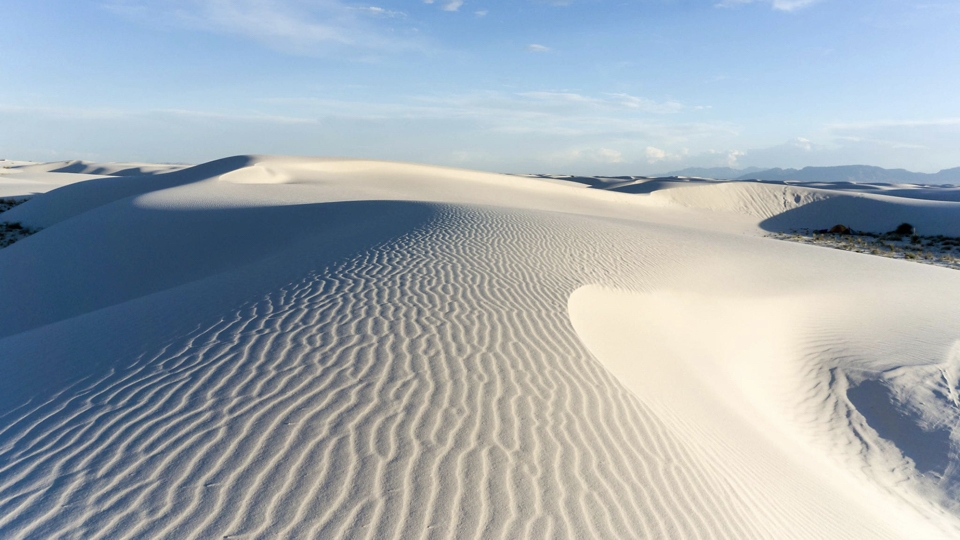 Las Cruces and New Mexico State University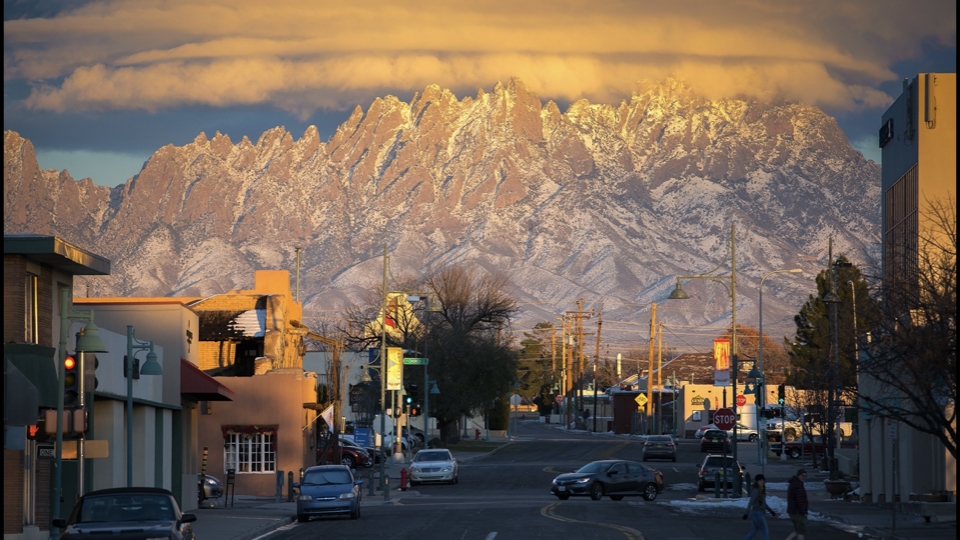 They're Out There
Next on our list is the quirky Roswell, New Mexico, home of the alleged alien crash site.
We'll let you be the judge...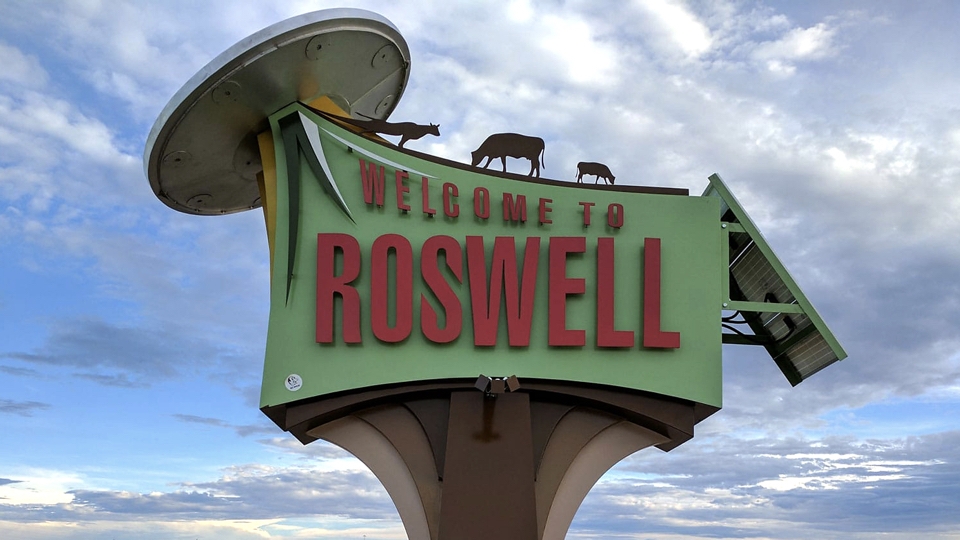 According to History.com, "In the summer of 1947, a rancher discovered unidentifiable debris in his sheep pasture outside Roswell, New Mexico. Although officials from the local Air Force base asserted that it was a crashed weather balloon, many people believed it was the remains of an extraterrestrial flying saucer; a series of secret "dummy drops" in New Mexico during the 1950s heightened their suspicions. Nearly 50 years after the story of the mysterious debris broke, the U.S. military issued a report linking the incident to a top-secret atomic espionage project called Project Mogul. Still, many people continue to embrace the UFO theory, and hundreds of curiosity seekers visit Roswell and the crash site every year."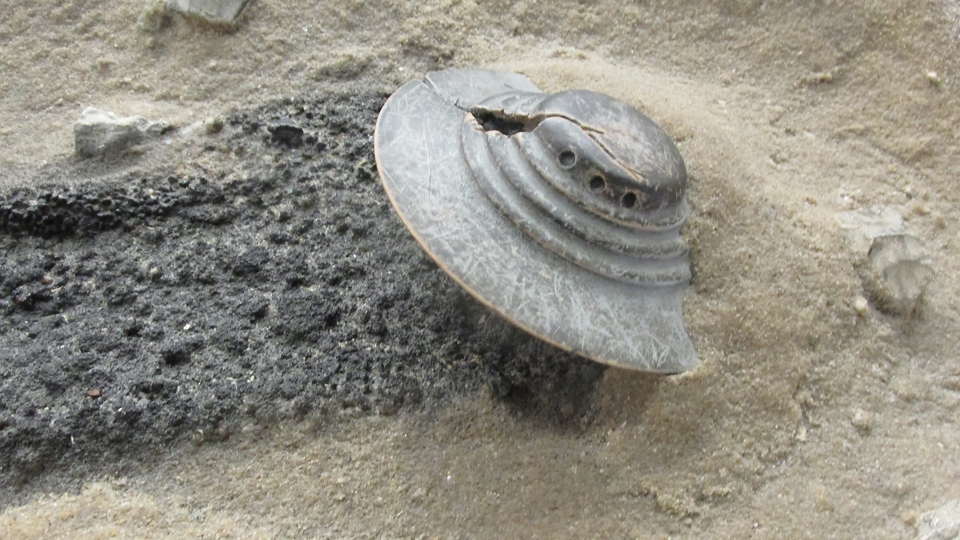 After you do your research on the Visitors from Space, check out yet another phenomena: the Bottomless Lake State Park.
The New Mexico Parks website says, "The unique lakes at this park are sinkholes, ranging from 17 to 90 feet deep. The greenish-blue color created by aquatic plants is what gives the lakes the illusion of great depth."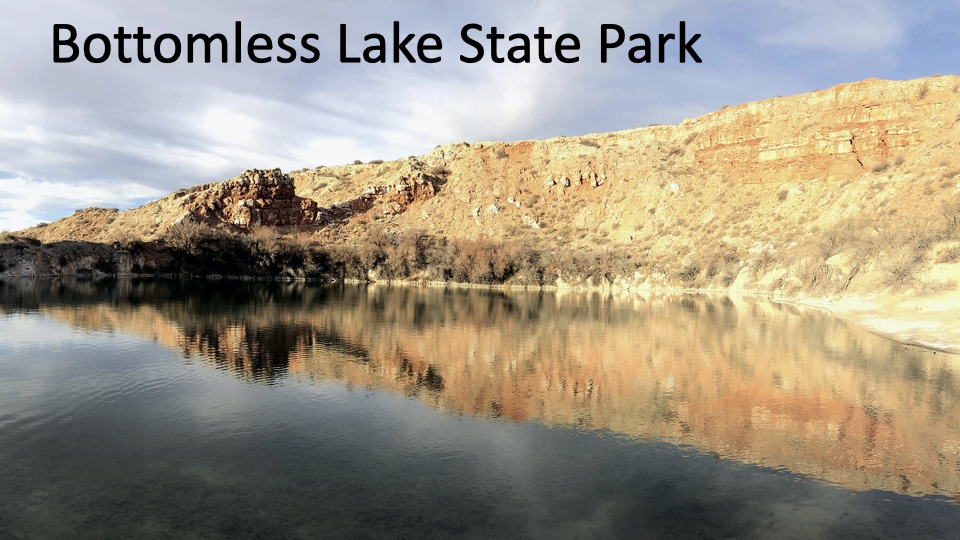 Next we're back to the map. As you can see, we're making our way west towards the middle of the state.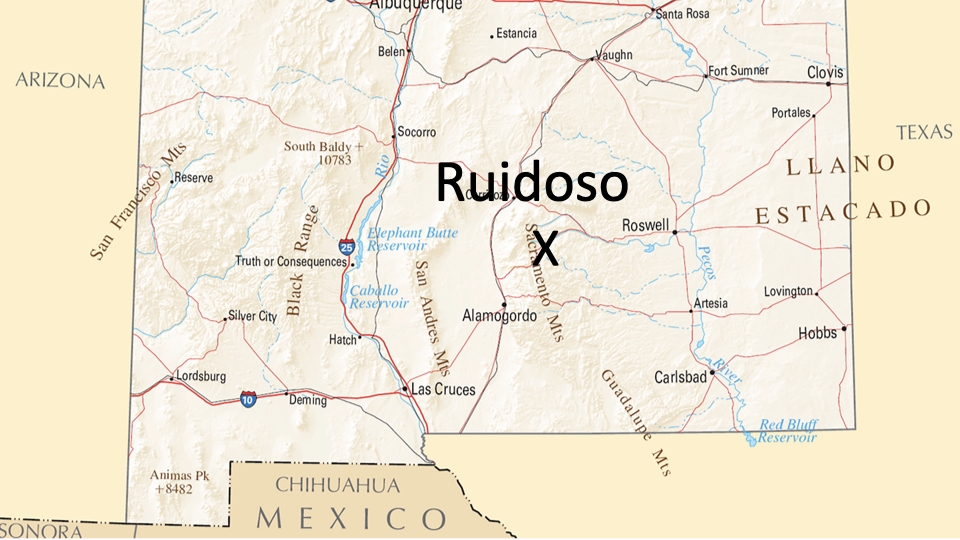 Feelin' Lucky? (a.k.a. unwise)
You can take a chance with some horse racing at Ruidoso at the Ruidoso Downs Race Track and Casino. Check out Ruidoso Downs website for all the details.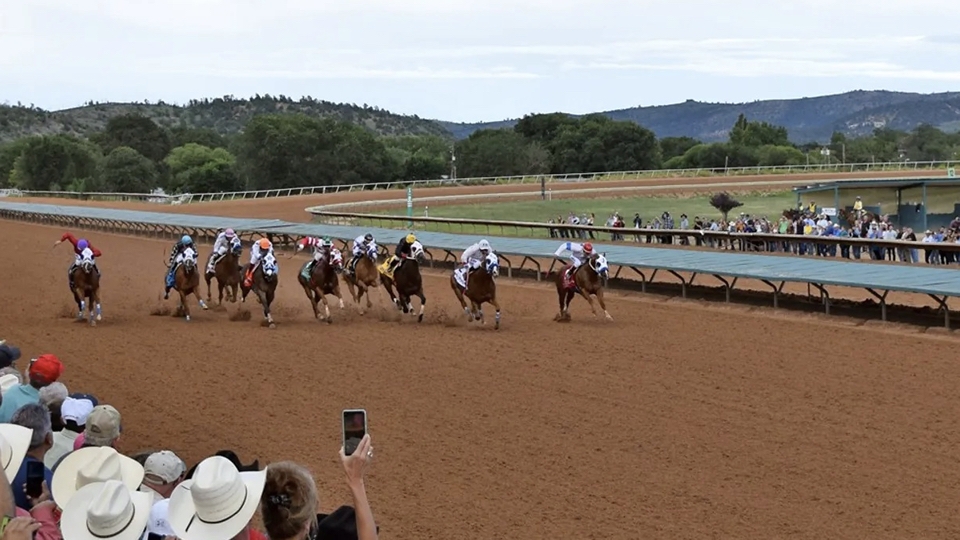 Head Up
Now we'll head further West and slightly North for some snow skiing! Right next to Elephant Butte, off Highway 25, you'll find some awesome downhill skiing.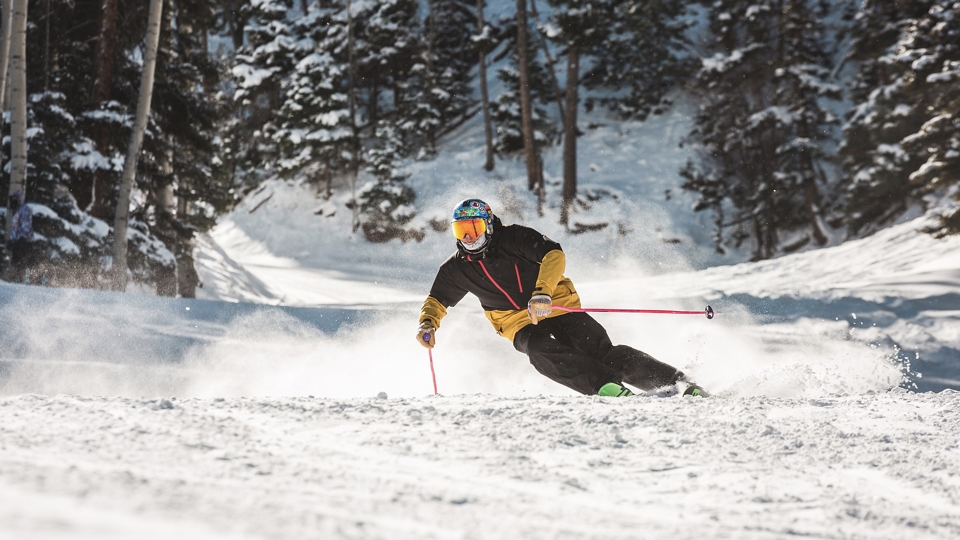 And don't forget to look up!
In some of these romote parts of the state, especially in the high altitude, you'll be amazed by the night sky. You may have never seen such dazzling stars or a such a clear view of the Milky Way!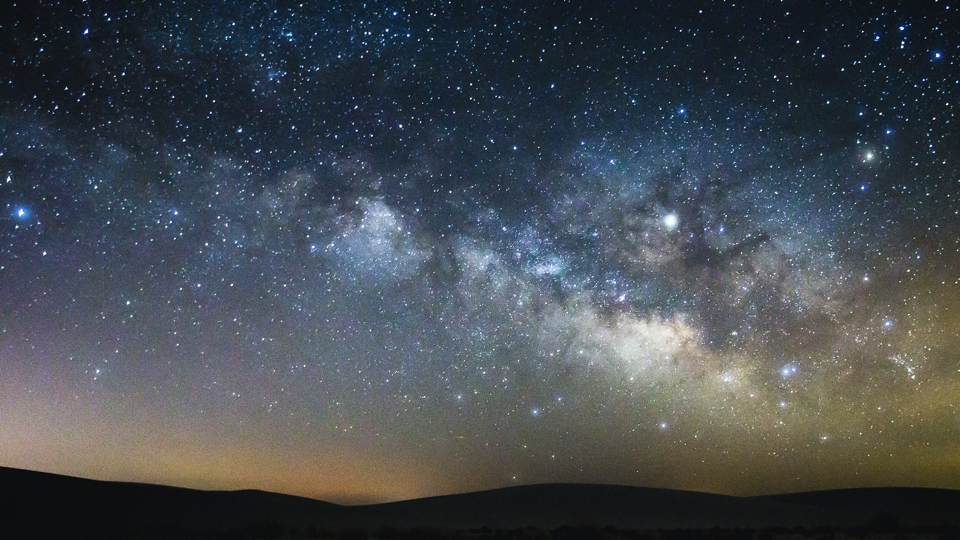 On a Mission
So next, we'll head North again, up Hwy 25 to see some of the oldest missions in the U.S.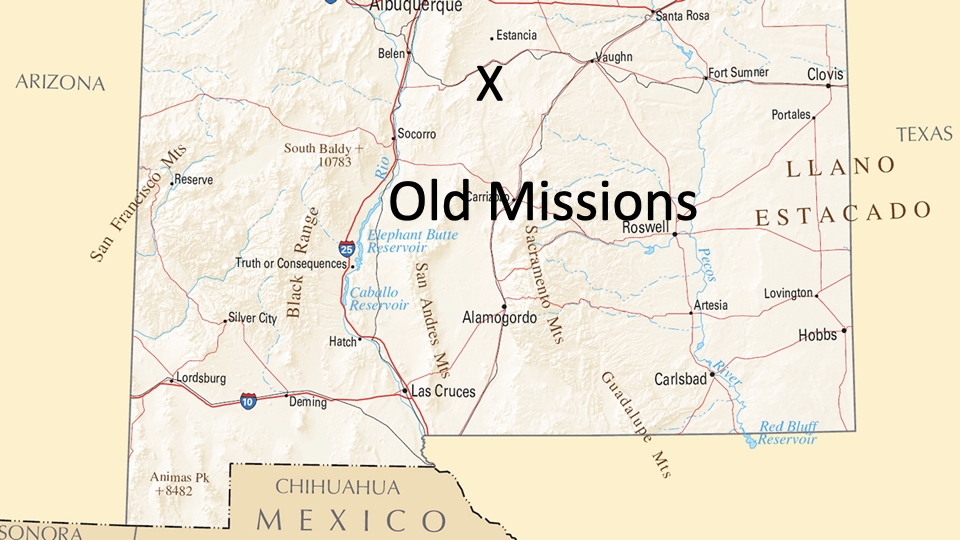 Salinas Pueblo Missions National Monument is certainly worth the stop. According to americansouthwest.net, "Three historic sites in the sparsely-populated grasslands of central New Mexico, southeast of Albuquerque, are protected as Salinas Pueblo Missions National Monument, a relatively little-known preserve with low annual visitation. Centerpiece of each are the ruins of 17th century Spanish Franciscan missions, dating from the earliest period of European colonization, when the settlers began to spread Christianity to the local Tompiro and Tiwa Indians. The sites also have relics of ancient pueblos, mostly overgrown and unexcavated but one village is large and well preserved. Although all structures are ruined and have been abandoned for over 300 years (since around 1677), the general remoteness and lack of subsequent settlement in this part of the state have left the remains in excellent condition."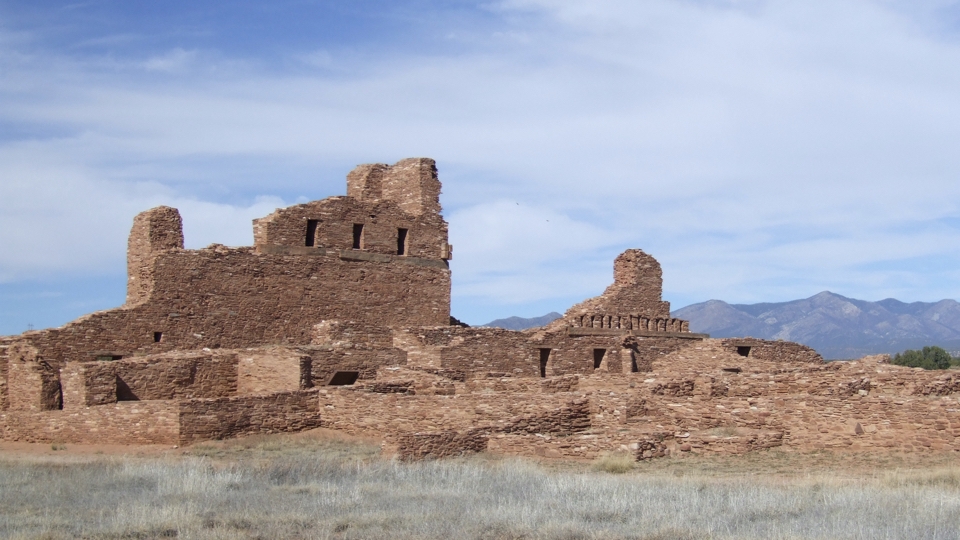 Route 66
You'll be spending a lot of time on the historic Route 66 during this driving trip.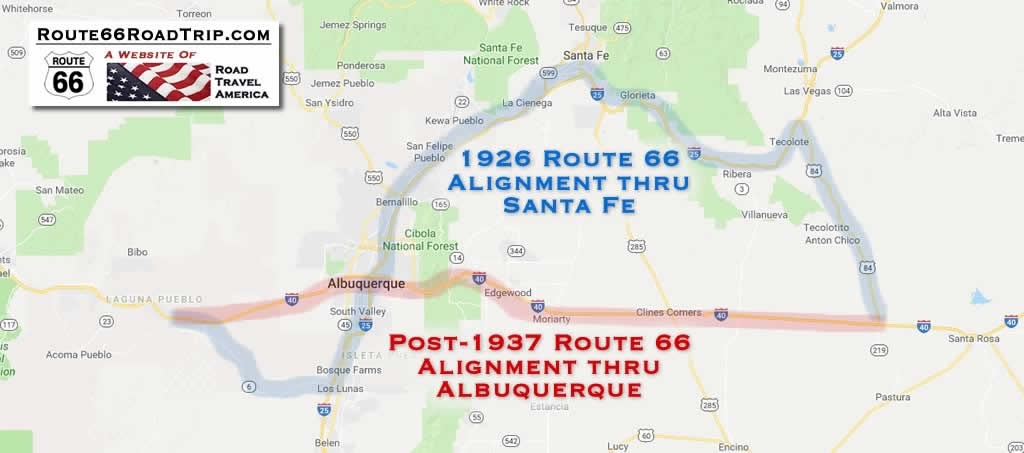 Be sure to stop off and see some of the classic Americana.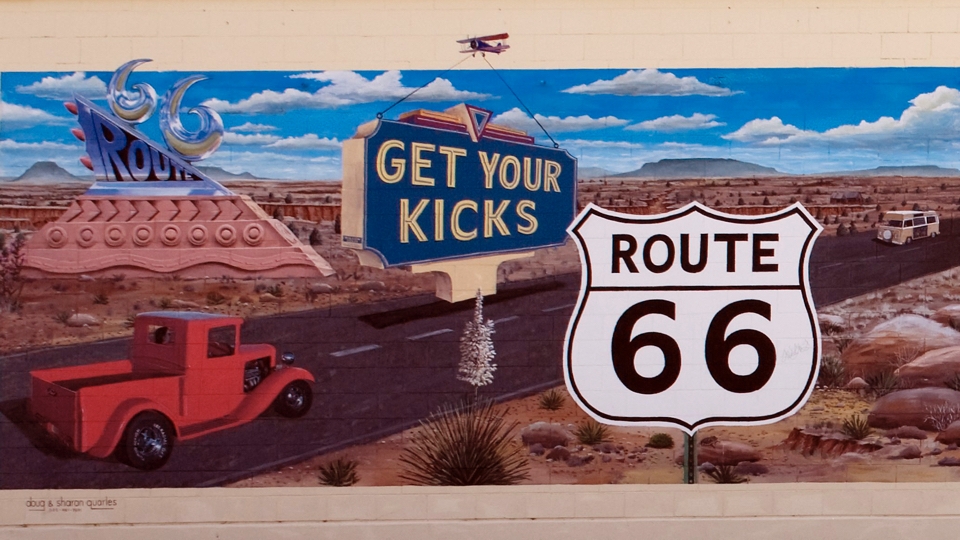 For the gearheads in our group, check out the Auto Museum in Santa Rosa, right on Route 66. It's packed with classic cars and hotrods. You'll love it!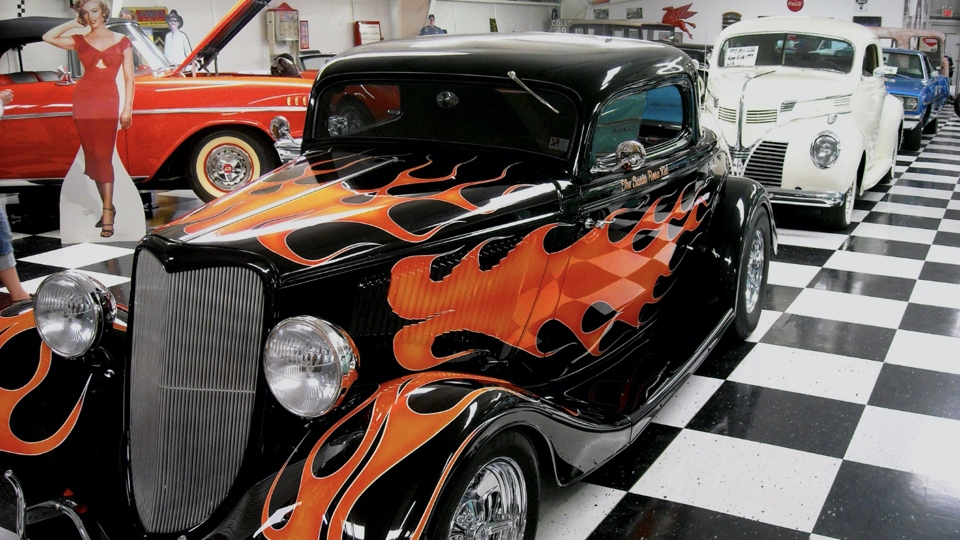 Now we're in Deep
The Blue Hole is an oasis of azure water that further supports New Mexico's name as the Land of Enchantment. The Blue Hole has a depth of 81 feet, a diameter of 60 feet, has an outflow of an astounding 3000 gallons /minute, and is a chilling 61 degrees F. year-round!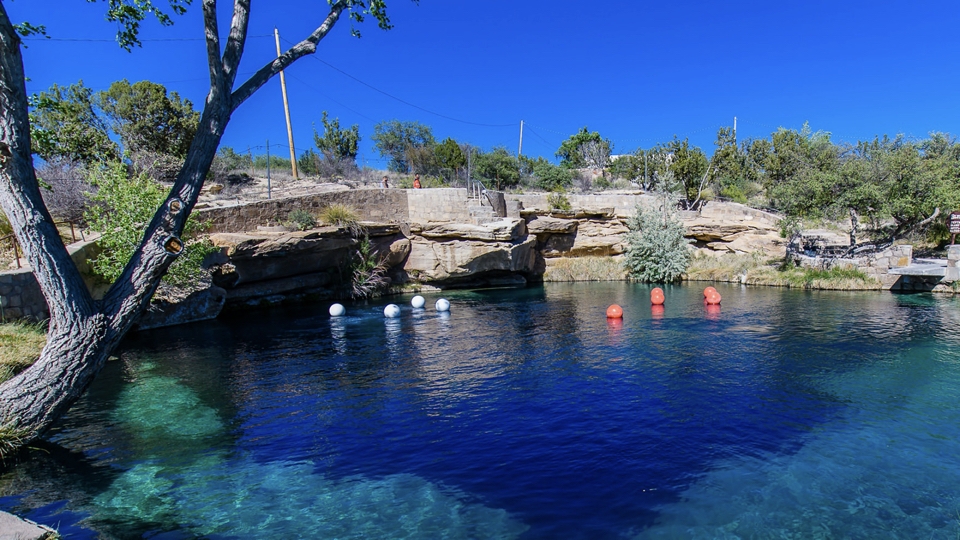 Albuquerque
A quick Google search tells us that, "Albuquerque, New Mexico's largest city, sits in the high desert. Its modern Downtown core contrasts with Old Town Albuquerque, dating to the city's 1706 founding as a Spanish colony. Old Town is filled with historic adobe buildings, such as San Felipe de Neri Church, 5 museums, and shops selling Native American handicrafts. Nearby, The Indian Pueblo Cultural Center traces the area's tribal history." It sits at an elevation of 5,312 feet.
Their famous Hot Air Balloon Fiesta is usually held in October of each year, but due to public health concerns in 2020, the Fiesta will be rescheduled for October 2021.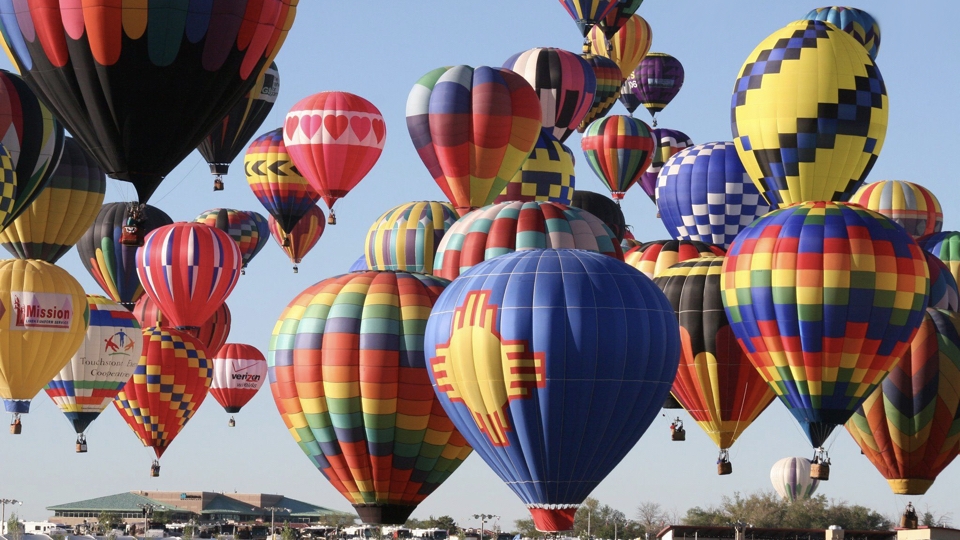 In Albuquerque, you can see traditional dances by various Native American tribes and learn about their cultures. The Gathering of Nations (GON) Pow Wow is usually held in the springtime. It will be held on the Pow Wow Grounds at Tingley Coliseum/Expo NM. Competition Native American Singing and Dancing, featuring over 3,000 participants from various Tribes across North America.
Santa Fe
Known for its incredible artwork, food, and culture, Santa Fe, New Mexico's capital, sits in the Sangre de Cristo foothills. It's renowned for its Pueblo-style architecture and as a creative arts hotbed. Founded as a Spanish colony in 1610, it has at its heart the traditional Plaza. The surrounding historic district's crooked streets wind past adobe landmarks including the Palace of the Governors, now home to the New Mexico History Museum. The city sits at an elevation of 7,199 feet.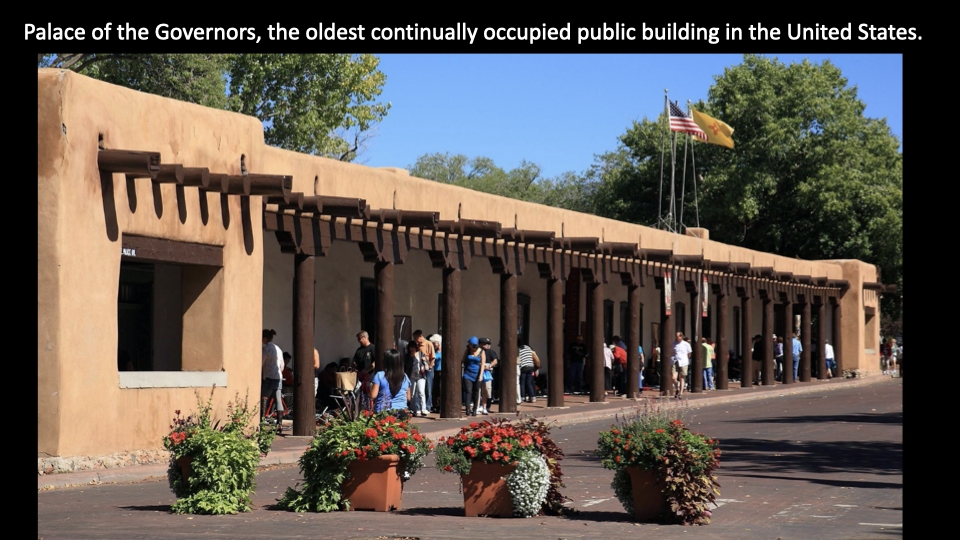 Local artisans sell their wares on the street. You'll find gorgeous handmade turquoise and silver jewelry.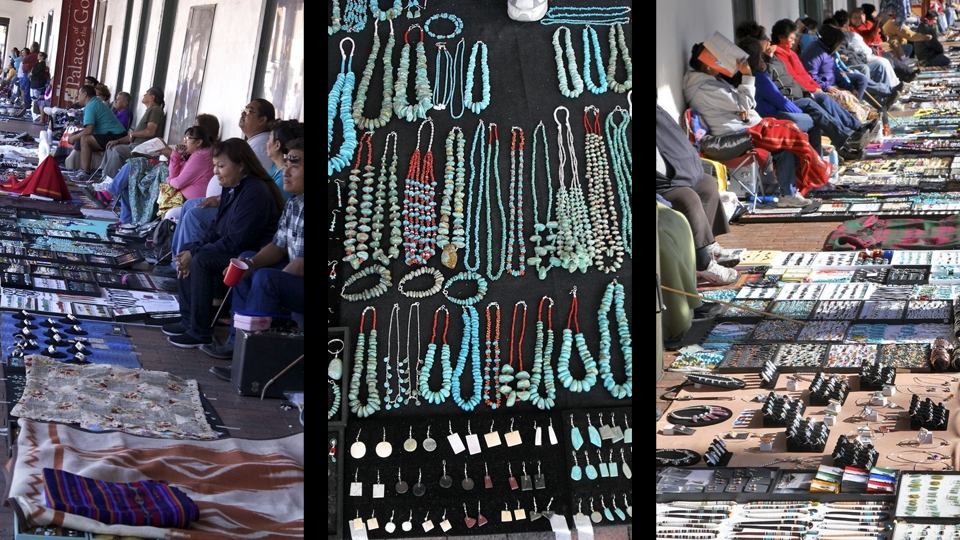 Loretto Chapel, a Santa Fe legend according to wikipedia, "is a former Roman Catholic church that is now used as a museum and a wedding chapel. It is known for its unusual helix-shaped spiral staircase (the "Miraculous Stair"). The Sisters of Loretto credited St. Joseph with its construction. It has been the subject of legend, and the circumstances surrounding its construction and its builder were considered miraculous by the Sisters of Loretto." It was commissioned to be built in 1873.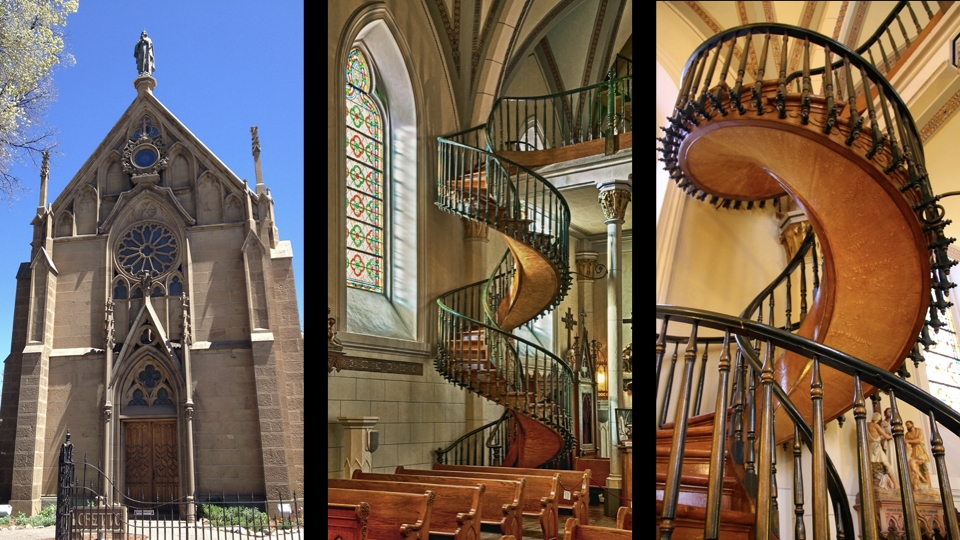 Can you imagine making that staircase at all, let alone in 1873 - without electricity or powertools?! That's some serious math and woodworking skill!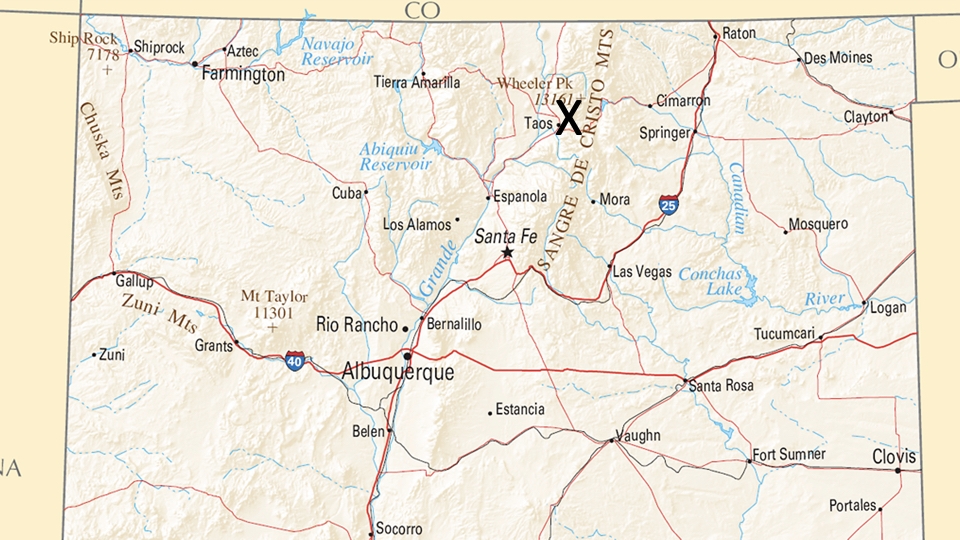 Next, we journey up to Taos, an artist's mecca. Grab your paints and head out for a day of Plein Air painting.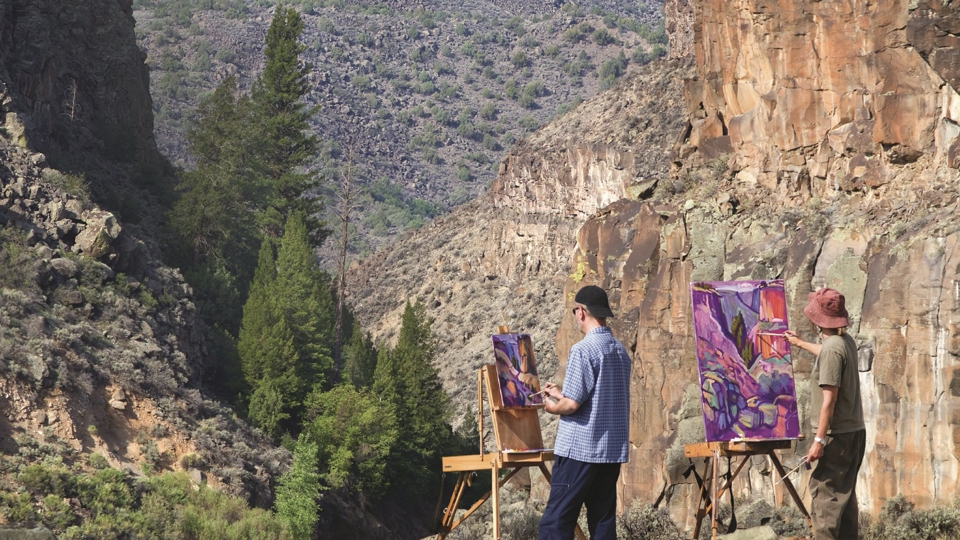 Heading west from Taos, you enter the magical land of Abiquiú that inspired Georgia O'Kieffe's stunning paintings. According to Wikipedia, "Ghost Ranch is a 21,000-acre (85 km2)[1] retreat and education center located close to the village of Abiquiú in Rio Arriba County in north central New Mexico, United States. It was the home and studio of Georgia O'Keeffe, as well as the subject of many of her paintings".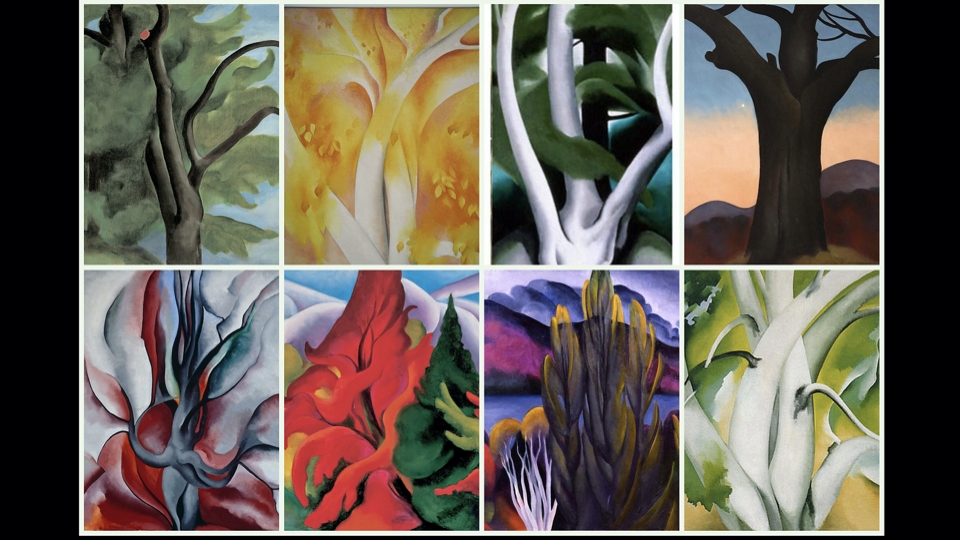 Way up near the border of Colorado, in the middle of the state, is Chama, where you can view the Cumbres & Toltec Scenic RR. (Scenic Line of the West).
As you head way west out to Farmington, NM, you can check out this stunning rock formation.
Angel Peak Scenic Area offers more than 10,000 acres of rugged terrain and is recognized for its scenic and scientific wonders. The nearly 7,000-foot "Angel Peak" is visible for miles in any direction and is surrounded by the Kutz Canyon badlands. County Road 7175 off of Hwy. 550, South of Bloomfield, NM.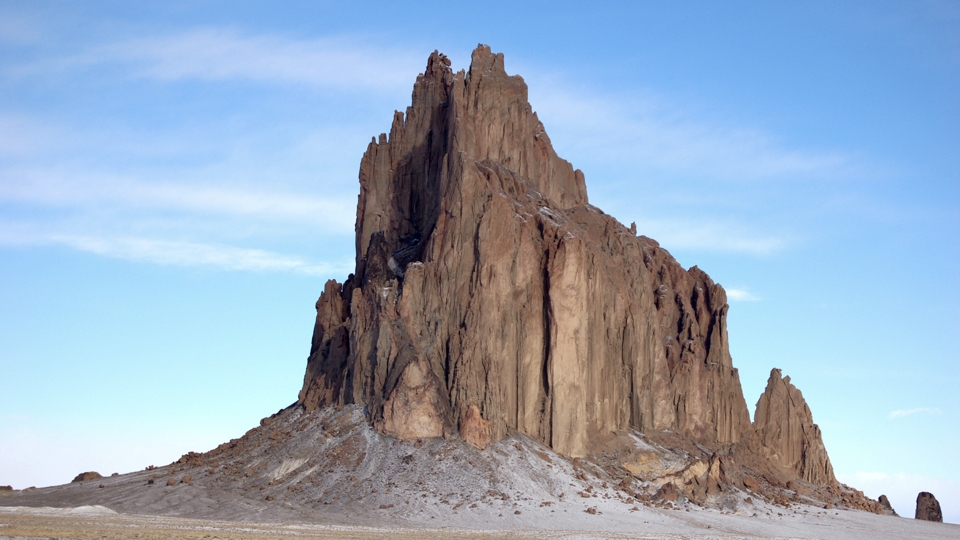 You can find yourself in four different states at once: liquid, solid, gas... just kidding! You can stand at the intersection of the four corners of New Mexico, Arizona, Utah, Colorado. You really can be in more than one place at a time!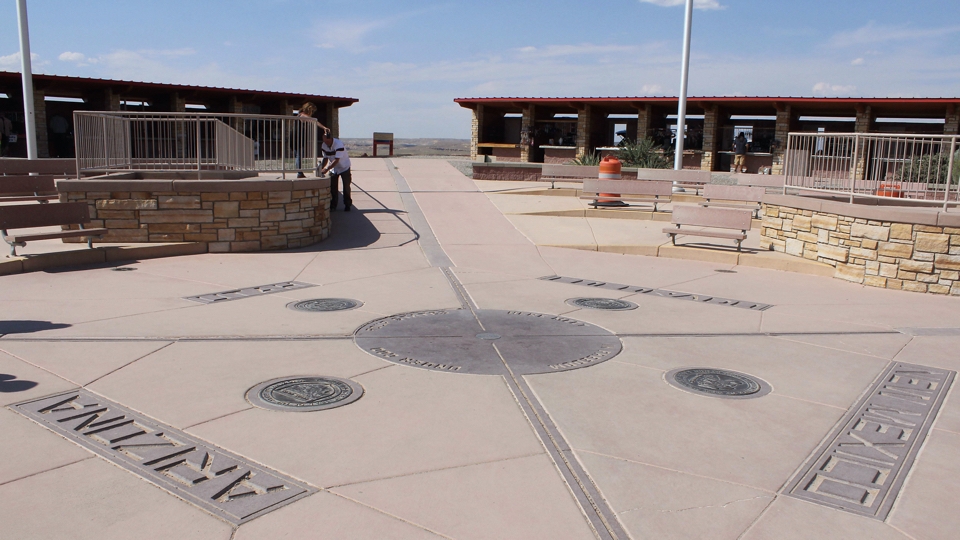 Okay that wraps up our amazing journey through New Mexico. We hope you enjoyed it!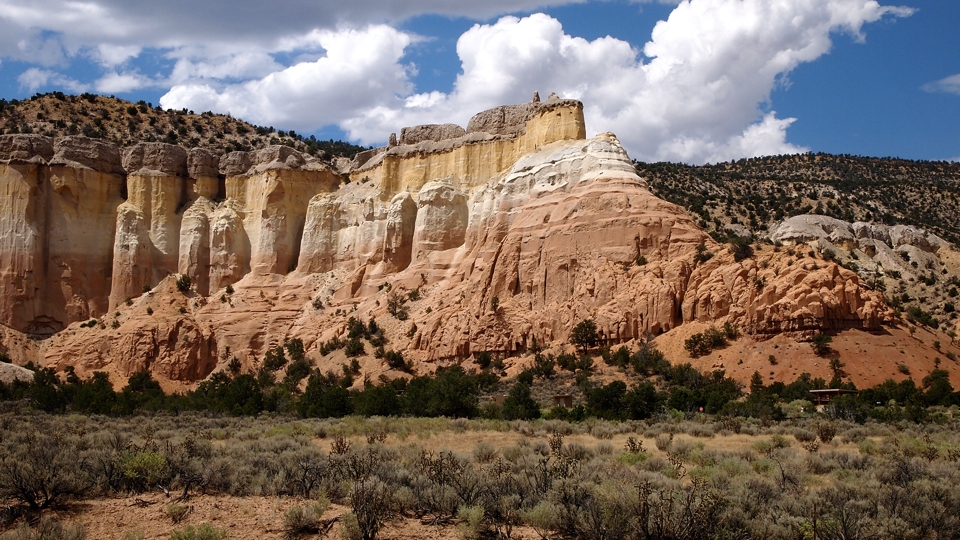 New Mexico has all the inspiring mystery and magic of the southwest. No wonder it's been inspiring artists and holywood for so many years. It's so rugged and beautiful, with colors that seem almost unbelievable. Who's ready to go?!
A huge thank you to Billy & Lanee W. again for sharing you wonderful experience with all of us.
Join us next week for yet another fun-filled VTE via Zoom call. See you at 7:00pm EDT. Cheers!